PENINGKATAN KREATIVITAS BERKARYA ANAK USIA 5-6 TAHUN MELALUI PEMBELAJARAN JARAK JAUH BERBASIS STEAM DENGAN MEDIA LOOSE PARTS
Anita Damayanti

Universitas Muhammadiyah Jakarta

Sriyanti Rahmatunnisa

Universitas Muhammadiyah Jakarta

Lia Rahmawati

Universitas Muhammadiyah Jakarta
Keywords:
Creativity, STEAM, Loose Parts
Abstract
The purpose of this study is to describe the process and learning outcomes through STEAM based on loose parts that can improve the creativity of working children aged 5-6 years in group B Kindergarten Juara Bekasi City in 2019. The subjects of this study were 12 children. The research method used in this study is Classroom Action Research by Kemmis and Mc. Taggart which includes four stages, namely planning, action, observation, and reflection. This study consisted of 2 cycles, each cycle consisting of 4 meetings. The data analysis technique used in this study is qualitative and quantitative data analysis. Qualitative data analysis by analyzing data from observations, documentations, and interviews. Quantitative data analysis uses descriptive statistical analysis that compares results obtained from pre-intervention, first cycle and second cycle. The results of this study indicate an increase in early childhood creativity through STEAM learning based on loose parts, it can be proved  completeness of pre-intervention creativity by 31%. Then it increased in the first cycle by 56,50% and the second cycle by 83,70%. It was concluded that to improve the creativity of working children aged 5-6 years, teachers can use STEAM learning based on loose parts.
Abstrak
Tujuan penelitian ini untuk mendeskripsikan proses dan hasil pembelajaran Jarak Jauh berbasis STEAM dengan Media loose parts yang dapat meningkatkan kreativitas berkarya anak usia 5-6 tahun kelompok B TK Juara Bekasi Tahun 2020. Subjek penelitian ini berjumlah 12 anak. Metode penelitian yang digunakan dalam penelitian ini adalah Penelitian Tindakan Kelas model Kemmis dan Mc. Taggart yang meliputi empat tahap yaitu perencanaan, tindakan, pengamatan, dan refleksi. Penelitian ini terdiri dari 2 siklus, masing-masing siklus terdiri dari 4 kali pertemuan. Teknik analisis data yang digunakan dalam penelitian ini adalah analisis data kualitatif dan kuantitatif. Analisis data kualitatif dengan cara menganalisis data dari hasil observasi, dokumentasi, dan wawancara selama penelitian. Analisis data kuantitatif menggunakan analisis statistik deskriptif yaitu membandingkan hasil yang diperoleh dari pra-siklus, siklus pertama dan siklus kedua. Hasil penelitian ini menunjukkan adanya peningkatan kreativitas berkarya anak usia5-6 tahun melalui pembelajaran berbasis STEAM dengan media loose parts, dapat dibuktikan ketuntasan kreativitas pra-intervensi sebesar 31%. Kemudian mengalami peningkatan pada siklus I sebesar 56,50% dan siklus II sebesar 83,70%. Disimpulkan bahwa untuk meningkatkan kreativitas berkarya anak usia 5-6 tahun, guru dapat menggunakan pembelajaran Jarak Jauh berbasis STEAM dengan media loose parts.
Kata Kunci:  Kreativitas, STEAM, Loose Parts
References
Al Khailili, A. A. (2005). Mengembangkan Kreativitas Anak. Jakarta: Pustaka Al Kautsar.
Alviani, & Gracelia. (2020). Kompetensi Pedagogik Guru PAUD dalam Perencanaan dan Pelaksanaan Pembelajaran. Jurnal Obsesi: Jurnal Pendidikan Anak Usia Dini ISSN: 2549-8959 (Online) 2356-1327 (Print). DOI: 10.31004/obsesi.v4i2.287
Amini, & Mukti. (2014). Hakikat Anak Usia Dini, Modul 1 PAUD 4306 Pengembangan Anak Usia Dini (pp. 14-18). Jakarta : Dirjen PAUD.
Anon. (2016). Creative Play Helps Children Grow (www. nnc.org). (diakses 14 Juni 2020)
ANNA CRAFT. (2010). The Open Creativity Centre , The Open University , Milton Keynes, UK. Informa Ltd Registered in England and Wales Registered Number: 1072954 Registeredoffice: Mortimer House, 37-41 Mortimer Street, London W1T 3JH, UK. Routledge Published online DOI: 10.1080/09575140303105
Artobratama, & Irman. (2018). Pembelajaran STEM Berbasis Outbound Permainan Tradisional. Indonesian Journal of Primary Education., vol.2, no.2, (pp. 40-43). Bandung : IJPE. http://ejournal.upi.edu/index.php/IJPE/index
Aziza, & Ageng. (2020). Pengaruh Metode Montessori dalam Meningkatkan Pemahaman Konsep Matematika Anak Usia Dini. Al Athfal: Jurnal Pendidikan Anak, 6 (1) http://dx.doi.org./10.14421/al-athfal.2020.61-02
Csikszenmihalyi, M. (1996). Creativity, Flow and the Psychology of Discovery and Invention. New York: Harpers Collins Publisher.
Helista, C.N. (2019). "SEAM", PGPAUD Universitas Negeri Semarang, 19 Juni. 2019 [Online]. Tersedia : http://pgpaud.unnes.ac.id/seminar-nasional-tiga-pakar-bedah-steamuntuk-anak-usia-dini/ (diakses 12 maret 2020)
Hurlock, E.B. (1985). Child Development. Singapore: Mc. Graw-Hill Book Company.
Imaduddin, M. (2017). Menderai Ulang Pembelajaran Sains Anak Usia Dini yang Konstruktif Melalui STEAM Project-Best Learning yang Bernuansa Islami. Dalam Proceedings ANCOMS 2017. pp. 951-952, 2017.
Jalaluddin. (1998). Psikologi Komunikasi. Bandung: Remaja Rosdakarya.
Nugraheni, & Dewi, K.(2019). Penguatan Pendidikan Bagi Generasi Alfa Melalui Pembelajaran STEAM Berbasis Losse Parts Pada PAUD. Prosiding Seminar Nasional Pendidikan dan Pembelajaran "Reorientasi Profesionalisme Pendidik dalam Menghadapi Tantangan Revolusi Industri 4.0" ISBN: 978-602-0791-28-9
Pamela, B., & Burnard. (2010). Pupil perceptions of learning with artists: A new order of experience? Journal Elsevier.
Retnowati, T.H. (2012). The Development of Assessment Instrument for Elementary School Student Painting. Jurnal Penelitian dan Evaluasi Pendidikan, 16(2)492-510. https://journal.uny.ac.id/index.php/jpep/article/viewFile/1406/1193 (diakses 14 juni 2020).
Santrock, J.W. (1997). Life-Span Development, Chicago: Brown and Benchmark Publishers.
Sudono, A. (2010). Sumber Belajar dan Alat Permainan. Jakarta: Grasindo.
Viktor, L., & Lambert. (1983). Creative and Mental Growth,Seven Edition, New York: Macmillan Publishing Co.Inc.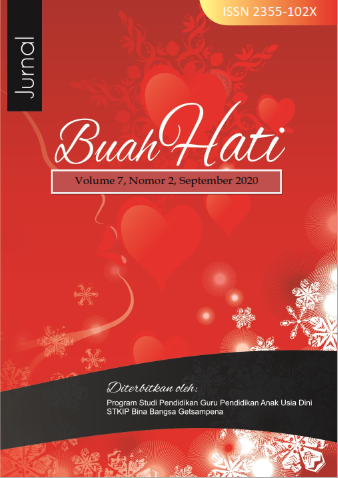 Article Metrics

Abstract views:
6721

pdf
downloads:
487
How to Cite
Anita Damayanti, Sriyanti Rahmatunnisa, & Lia Rahmawati. (2020). PENINGKATAN KREATIVITAS BERKARYA ANAK USIA 5-6 TAHUN MELALUI PEMBELAJARAN JARAK JAUH BERBASIS STEAM DENGAN MEDIA LOOSE PARTS. Jurnal Buah Hati , 7(2), 74-90. https://doi.org/10.46244/buahhati.v7i2.1124