KETAHANAN MENTAL KELUARGA ANAK BERKEBUTUHAN KHUSUS DALAM MENGHADAPI NEW NORMAL
Nurhastuti Nurhastuti

Universitas Negeri Padang

Zulmiyetri Zulmiyetri

Universitas Negeri Padang

Setia Budi

Universitas Negeri Padang

Iga Setia Utami

Universitas Negeri Padang
Keywords:
Family Resilience, Children with Special Needs, New Normal
Abstract
The Covid-19 pandemic has caused social change. Social changes that occur include the category of unplanned social change. Because of its unplanned nature, surely the community is not ready to face it. New normal form new habits, but not everyone is easy to adapt to new lifestyles. The impact of the heavy Covid-19 pandemic will be more felt by parents who have children with special needs. The social changes caused by Covid-19 Pandemic require mental resilience to deal with it. This study aims to determine the extent of family resilience of children with special needs in dealing with new normal. The method used in this study is mixed methods which is a research step that combines two forms of research, namely quantitative research and qualitative research. Data analysis in this study uses descriptive statistical analysis. The results of this study are the Covid-19 pandemic has a tremendous impact on all lines of life and has a dramatic effect on the welfare of many families and communities. In the current condition each family member who has a child with special needs has a role in strengthening the family's mental endurance and also plays a role in maintaining the integrity and welfare of the family. The first thing to do is managing emotions, managing stress, increasing life motivation, and building connections with family members.
Abstrak
Pandemi Covid-19 telah mengakibatkan perubahan sosial. Perubahan sosial yang terjadi saat ini termasuk kategori perubahan sosial yang tidak direncanakan. Karena sifatnya yang tidak direncanakan, pastilah masyarakat tidak siap menghadapinya. New normal membentuk kebiasaan baru, namun tidak semua orang mudah beradaptasi menghadapi gaya hidup baru. Dampak pandemi Covid-19 yang berat akan lebih dirasakan oleh orangtua yang memiliki anak berkebutuhan khusus. Perubahan sosial yang diakibatkan Pandemi Covid-19 ini memerlukan ketahanan mental untuk menghadapinya. Penelitian ini bertujuan untuk mengetahui sejauh mana ketahanan keluarga anak berkebutuhan khusus dalam menghadapi new normal. Metode yang digunakan dalam penelitian ini adalah mixed methods yakni suatu langkah penelitian yang menggabungkan dua bentuk penelitian yaitu penelitian kuantitatif dan penelitian kualitatif. Analisis data pada penelitian ini menggunakan analisis statistik deskriptif. Adapun hasil penelitian ini adalah pandemi Covid-19 memberi dampak luar biasa di segala lini kehidupan dan memiliki efek dramatis pada kesejahteraan banyak keluarga dan masyarakat. Dalam kondisi saat ini setiap anggota keluarga yang memiliki anak berkebutuhan khusus mempunyai peran dalam memperkokoh ketahanan mental keluarga dan juga berperan dalam mempertahankan keutuhan dan kesejahteraan keluarga. Hal pertama yang harus dilakukan mengelola emosi, mengelola stres, meningkatkan motivasi hidup, dan membina komunikasi dengan anggota keluarga.
Kata Kunci: Ketahanan Keluarga,Anak Berkebutuhan Khusus, New Normal
References
Mirsafian & Savadkouhi. (2019). Archive of SID ɳ ɴɳ ɳ ʆ > ɳ @ ɷʈɮ ɴ ʈ ʆɳɷ > ɳ ʆɳʈɷ ɳɷ Archive of SID. 9(4), 283–301.
Bakhrom, M. (2020). Issues of Ensuring Mental Endurance by Creating a Variety of Unexpected ( Complex ) Conditions. 29(9), 4273–4277.
Chao, R. C. L., Mallinckrodt, B., & Wei, M. (2012). Co-occurring presenting problems in African American college clients reporting racial discrimination distress. Professional Psychology: Research and Practice, 43(3), 199–207. https://doi.org/10.1037/a0027861
Emadwiandr. (2013). Kebijakan Politik Strategis Pemerintah Provinsi Jawa Barat Dibidang Logistik Di Tengah Covid-19. Journal of Chemical Information and Modeling, 53(9), 1689–1699. https://doi.org/10.1017/CBO9781107415324.004
Fakultas, D., & Fatah, R. (2017). Mengelola Kecerdasan Emosi. Tadrib: Jurnal Pendidikan Agama Islam, 2(2), 198–213.
Karaoglu, B., Turan, M. B., & Polat, Y. (2018). The Effects of under Graduate Students' Mental (Psychological) Toughness on the Leadership Level. Online Submission, 4(1), 1–12. https://doi.org/10.5281/zenodo.1100949
Kusno, F., & Muhammadiyah, U. (2020). Pendahuluan.
Meissner, H., Creswell, J., Klassen, A. C., Plano, V., & Smith, K. C. (2011). Best Practices for Mixed Methods Research in the Health Sciences. Methods, 29, 1–39. https://doi.org/10.1002/cdq.12009.
Mohammadi, R. K., Bozorgi, S. A., Shariat, S., & Hamidi, M. (2019). The Effectiveness of Positive Psychotherapy on Mental Endurance, Self-Compassion and Resilience of Infertile Women. Social Behavior Research & Health. https://doi.org/10.18502/sbrh.v2i2.285
RBenjamin, S. (2008). 基因的改变NIH Public Access. Bone, 23(1), 1–7. https://doi.org/10.1038/jid.2014.371
Relevansinya, D. A. N., Penguatan, D., & Karakter, P. (2015). Konsep belajar mengajar kh hasyim asy'ari dan relevansinya dalam penguatan pendidikan karakter bangsa. 05(September), 10–20.
Saban, S. (2017). Efektivitas Media Video Dan Leaflet Terhadap Pengetahuan Tentang Anemia Siswi SMAN 2 Ngaglik Sleman. Naskah Publikasi. Retrieved from http://digilib.unisayogya.ac.id/id/eprint/2982
Sahlin, H., Bjureberg, J., Gratz, K. L., Tull, M. T., Hedman, E., Bjärehed, J., … Hellner, C. (2017). Emotion regulation group therapy for deliberate self-harm: A multi-site evaluation in routine care using an uncontrolled open trial design. BMJ Open, 7(10). https://doi.org/10.1136/bmjopen-2017-016220
Sugiyono. (2017). prof. dr. sugiyono, metode penelitian kuantitatif kualitatif dan r&d. intro ( PDFDrive.com ).pdf.
Siti Rahma Harahap. (2020). Proses Interaksi Sosial Di Tengah Pandemi Virus Covid 19 (The Process of Social Interaction on The Pandemic Covid 19. AL-HIKMAH: Media Dakwah, Komunikasi, Sosial dan Budaya.
Triyanto, & Permatasari, D. R. (2014). Pemenuhan Hak Anak Berkebutuhan Khusus di Sekolah Inklusi. Pendidikan, 25 nomor 2, 176-186.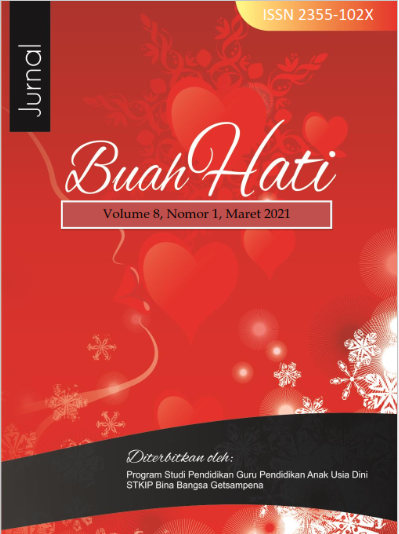 Article Metrics

Abstract views:
359

pdf
downloads:
304
How to Cite
Nurhastuti, N., Zulmiyetri, Z., Setia Budi, & Iga Setia Utami. (2021). KETAHANAN MENTAL KELUARGA ANAK BERKEBUTUHAN KHUSUS DALAM MENGHADAPI NEW NORMAL. Jurnal Buah Hati , 8(1), 20-32. https://doi.org/10.46244/buahhati.v8i1.1204