HUBUNGAN POLA PENGASUHAN ORANG TUA DENGAN PERKEMBANGAN SOSIAL ANAK REKTARDASI MENTAL DI SLB CAHAYA PEUREULAK KABUPATEN ACEH TIMUR
Herlina Herlina

Universitas Bina Bangsa Getsempena
Keywords:
Parenting Patterns, Social Development, Mental Retardation.
Abstract
A B S T R A C T
Mentally retarded children show intellectual function and ability in adaptive behavior under their age so that children with mental retardation are less able to develop the skills and habits possessed by children of their age, because of the difficulty of concentration. However, mentally retarded children can focus on interesting things or media. Meanwhile, to overcome the problem of mentally retarded children who easily forget, then learning can be repeated so that a good parenting role is needed in the child's social development period. The purpose of the study was to determine the relationship between parenting patterns and the social development of mentally retarded children. The type of research used is analytic and cross sectional, this research was conducted on March 19, 2021. With a sample of 50 respondents with a systematic random sampling technique. The results of the study obtained 50. 31 (100%) respondents with positive parenting patterns. where the majority with progress reached 19 (61.3%) respondents. And negative parenting patterns 19 (100%) respondents. where the majority with children's social development is not achieved 13 (68.4%). Based on the results of the chi-square statistic test with a significance level of a = 0.04 a P-Value value of 0.040 was obtained so that Ho was rejected and Ha was accepted, meaning that there was a relationship, the researchers concluded that there is a relationship between parenting patterns and the social development of children with mental retardation. . It is hoped that there is a need for counseling parents about the importance of providing appropriate parenting patterns so that they support children's social development.
A B S T R A K
Anak retardasi mental memperlihatkan fungsi intelektual dan kemampuan dalam perilaku adaptif di bawah usianya sehingga anak yang mengalami retardasi mental kurang mampu mengembangkan keterampilan dan kebiasaan-kebiasaan yang dimiliki anak usianya, karena sulitnya konsentrasi. Namun anak retardasi mental dapat memusatkan perhatian pada hal-hal ataupun media yang menarik. Sedangkan untuk mengatasi masalah anak retardasi mental yang mudah lupa, maka pembelajaran dapat diulang-ulang dengan demikian dibutuhkan peran pengasuhan orang tua yang baik dalam masa perkembangan sosial anak. Tujuan penelitian untuk mengetahui hubungan antara pola pengasuhan orang tua dengan  perkembangan sosial anak retardasi mental. Jenis penelitian yamg digunakan analitik dan cross sectional, penelitian ini telah dilakukan pada tanggal 19 Maret 2021. dengan jumlah sampel 50 responden dengan teknik pengambilan sampel systermatic rondom sampling. Hasil penelitian di peroleh 50. 31 (100%) responden dengan pola pengasuhan positif. dimana mayoritas dengan perkembangan tercapai 19 (61,3%) responden. Dan pola pengasuhan negatif 19 (100%) responden. dimana mayoritas dengan perkembangan sosial anak tidak tercapai 13 (68,4%). Berdasarkan hasil uji statitis chi-square dengan dengan tingkat kemaknaan a = 0,04 di peroleh nilai P-Value 0,040 Sehingga Ho ditolak dan Ha diterima artinya ada Hubungan maka peneliti dapat menyimpulkan bahwa adanya, Hubungan Pola Pengasuhan Orang Tua Dengan Perkembangan Sosial Anak Rektardasi Mental. Diharapkan perlu adanya penyuluhan kepada orang tua tentang penting memberikan pola asuh yang tepat sehingga mendukung pekembangan sosial anak.
References
Al.Tridhonanto & Beranda Agency, Mengembangkan Pola Asuh Dengan demokratis,(Jakarta : PT. Elex Media Komputindo, 2014)

Deni, Pola Pengasuhan Orang Tua Dengan Perkembangan Anak di posyandu Arjuna RW 1V POS 3 kecamatan krembangan Surabaya (2014)

Dinas Sosial Provinsi Jawa Tengah. Data penyandang Kesejahteraan: sosial 2010. Diunduh pada tanggal 24 Mei 2020 di www.jatengprov.go.id TKPK Povinsi Jawa Tengah. Series wilayah menurut indicator sejahteraan sosial: cacat mental retardasi (Tuna Grahita) (Online). akses pada tanggal 24 Mei 2021 di http://tkpkjateng.com.

Development (Perkembangan Masa Hidup) (13th ed.; Sallama N.I, ed.) Jakarta:Erlangga. Soetjiningsih. (2014),

Koirala, NR, Kumar A, Dhas, Bhagat SK. The prevalence of mental retardation by gender, age, and age of diagnosis at Nobel Medical College, Biratnagar. Journal of Nobel Medical College;1:77-81. 2012.

Kemenkes.(2010).Penyandang Cacat Sedunia 2014. Tersedia dalam: http://www.depkes.go.id/profil-kesehatan Indonesia. 3 juni 2021

Kumar SG, Das A, Kotian MS. Prevalence and pattern of mental disability using Indian disability evaluation assessment scale in a rural community of Karnataka. Indian J Psychiatry. 2008 Jan-Mar; 50(1): 21-23. 2008

Macam-Macam Pola Asuh Orang Tua Retardasi Mental Ringan Menurut An-Nadaa 21–25. Duri DR dan Yati Dwi. (2018).

Nasir, abdul dan Muhith, Abdul, (2011), Dasar-Dasar Keperawatan Jiwa Pengantar dan Teori. Jakarta Selambang Medika.

Notoatmodjo, (2012). Kesehatan Masyarakat : ilmu dan seni. Jakarta dan Rineka.

Soetjiningsih. (2012). Tumbuh Kembang Anak Jakarta : EGC Tang KM, Chen TY, Lau VW, Wu MM. Clinical profile of young children with mental retardation and developmental delay in hong kong.

Sularyo TS, Kadim M. Retardasi mental. Seri Pediatri; 2(3):170-7;2000 Wijayaningrum NB. Gambaran pola asuh orang tua pada anak usia dan prasekolah di tk melati putih banyumanik. PSIK FK UNDIP. 2013

Tang KM, Chen TY, Lau VW, Wu MM. Clinical profile of young children withmental retardation and developmental delay in hong kong. Med J;14(2):97-102. 2008

Tandry N. Menganal tahap tumbuh kembang anak & permasalahannya.
Jakarta: Libri. 2011.

Koirala, NR, Kumar A, Dhas, Bhagat SK. The prevalence of mental retardation by gender, age, and age of diagnosis at Nobel Medical College, Biratnagar. Journal of Nobel Medical College;1:77-81. 2012.

Kurniawati dkk, Hubungan Antara Pola Pengasuhan Orang Tua Dengan Perkembangan Anak Rektardasi. Jurnal Penelitian 2014.

Kumar SG, Das A, Kotian MS. Prevalence and pattern of mental disability usingIndian disability evaluation assessment scale in a rural community of Karnataka. Indian J Psychiatry. 2008 Jan-Mar; 50(1): 21-23. 2013.

Seto, Membangun Komunikasi, 11. 13 Al.Tridhonanto Beranda Agency,Mengembangkan Pola, (2011)

Soedjatmiko, Kadim M, Madiyono B, Said M. Behavior and emotional problem in children with mental retardation. Paediatrica Indonesiana : 44:5-6. 2014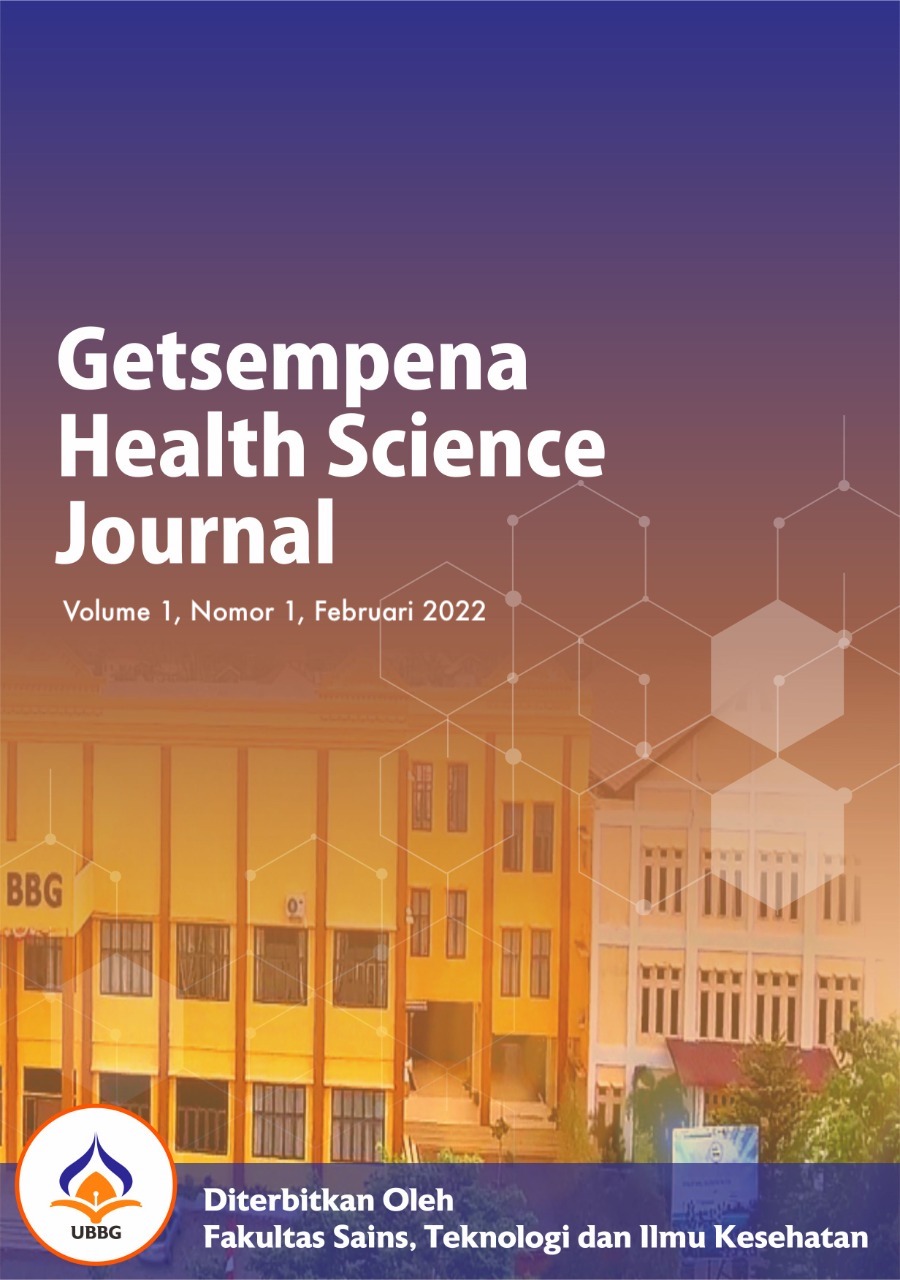 Article Metrics

Abstract views:
35

PDF
downloads:
39