UPAYA MENINGKATKAN HASIL BELAJAR TOLAK PELURU GAYA MENYAMPING BERBASIS PGT
(Play, Games & Teknologi)
Anisa Sholihamia

STKIP Pelita Pratama

Surya Rezeki Sitompul

STKIP Pelita Pratama
Keywords:
Classroom Action Research; Learning; Shot-put; Sideways Style; Play Model
Abstract
The Purpose and Objectives of this study was to determine the effectiveness of learning shot put through the PGT-based Throwing and Goal play model (Play, Games & Technology) in improving learning outcomes in class X science students of SMAN 8 Serang City. This research is a classroom action research using direct observation data on the learning process. This research uses descriptive qualitative analysis techniques. This research focuses the object of his research on all things that are in the classroom, both physical and non-physical, that is, everything that happens in the classroom when learning is taking place. In cycle I 58% learning outcomes with a 42% learning completeness level, then in the second cycle the learning outcomes fell 8% in the total number 50% with a total 50% incompleteness, this became the basis of the study of researchers to follow up to improve the composition learning in the third cycle, at the end of the third cycle the researchers found good results with an increase of 21% in the total achievement of 71% of learning with a learning completeness rate of 29%. But this was perfected at the fourth stage of the cycle with a 17% increase in 88% of the total achievement with a 12% non-graduate rate. Then from the final conclusions of the study the achievement of 88% has exceeded the 75% predetermined achievement score.
Abstrak
Maksud dan Tujuan penelitian ini adalah untuk mengetahui efektifitas pembelajaran tolak peluru melalui model bermain Throwing and Goal berbasis PGT (Play, Games & Teknologi) dalam meningkatkan hasil belajar pada siswa kelas X IPA SMAN 8 KotaSerang. Penelitian ini merupakan penelitian tindakan kelas yang menggunakan data pengamatan langsung terhadap jalannya proses pembelajaran.Penelitian ini menggunakan teknik analisa deskriptif kualitatif. Penelitian ini memusatkan objek penelitiannya kepada semua hal yang ada di dalam kelas, baik yang fisik maupun non fisik yaitu semua hal yang terjadi di dalam kelas ketika pembelajaran sedang berlangsung. Pada siklus I capaian hasil pembelajaran 58% dengan tingkat ketidak tuntasan pembelajaran 42%, selanjutnya pada siklus ke II tingkat capaian hasil pembelajaran turun 8% pada total angka 50% dengan total ketidak tuntasan 50%, hal ini menjadi dasar kajian peneliti untuk menindaklanjuti meningkatkan komposisi pembelajaran pada siklus ke III, pada akhir siklus ke III peneliti menemukan hasil yang baik dengan peningkatan 21% pada total capaian 71% pembelajaran dengan tingkat ketidak tuntasan pembelajaran 29%. Namun hal ini disempurnakan pada tahapan siklus ke IV dengan kenaikan 17% pada total capaian 88% dengan tingkat ketidak lulusan 12%. Maka dari kesimpulan akhir penelitian capaian angka 88% telah melewati batas capaian angka 75% yang telah ditentukan.
Kata Kunci:  Penelitan Tindakan Kelas; Pembelajaran; Tolak Peluru; Gaya Menyamping; Model Bermain
References
Agus Kristiyanto. 2010. Penelitian Tindakan Kelas. Jakarta: Bumi Aksara.

Ajeng Indah Setyo Utami & M.E Winarno. 2020. Upaya Meningkatkan Hasil Belajar Tolak Peluru Gaya Ortodoks Melalui Metode Bermain di SMP Negeri 1 Durenan. Sport Science and Health Vol. 2(2).

Dewi Septaliza. 2013. Upaya meningkatkan teknik dasar tolak peluru melalui modifikasi alat di smp negeri 22 palembang. Jurnal Bina Edukasi, 6(1).

Eko Susilo Kristiantono. 2015. Aplikasi Pembelajaran Bermain Menggunakan Model Aktivitas Sirkuit Untuk meningkatkan Hasil Belajar Tolak Peluru Pada Siswa Kelas X-I SMA N I Pulokulon. Jurnal Pinus, 3.(1).

Hendriana, Heris, & M Afrilianto. 2017. "Langkah Praktis Penelitian Tindakan Kelas Bagi Guru." Bandung: Refika Aditama.

Jeffrey Goldstain. 2012. Play In Children's Development, Health And Well-Being.

Marjan Kok, Annet Komen, Laurien van Capelleveen & John van der Kamp. 2020. The effects of self-controlled video feedback on motor learning and self-efficacy in a Physical Education setting: an exploratory study on the shot-put. Journal of Physical Education and Sport Pedagogy, 25:1, 49-66, DOI: 10.1080/17408989.2019.1688773.

M.Thobroni. 2015. Belajar dan Pembelajaran, Malang : Ar-Ruzz Media.

Susan Boyle. 2011. An Introduction to Games based learning. 2011.

Suharsimi Arikunto, Suhardjono & Supardi. 2015. Penelitian Tindakan Kelas. Jakarta: Bumi Aksara.

Akbar Iskandar, Acai Sudirman, Meliani Safitri., dkk. 2020. Aplikasi Pembelajaran Berbasis TIK. Medan : Yayasan Kita Menulis.

https://go.edmodo.com/about/ diakses pada 20 Juni 2019. Pukul 11.30.WIB.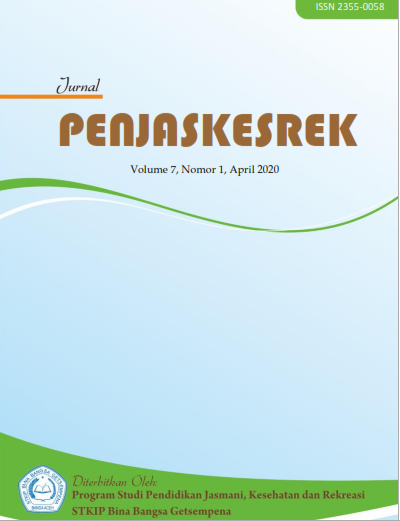 Article Metrics

Abstract views:
40

pdf
downloads:
18
How to Cite
Anisa Sholihamia, & Surya Rezeki Sitompul. (2020). UPAYA MENINGKATKAN HASIL BELAJAR TOLAK PELURU GAYA MENYAMPING BERBASIS PGT: (Play, Games & Teknologi). Jurnal Penjaskesrek, 7(1), 90-104. https://doi.org/10.46244/penjaskesrek.v7i1.1011