MODIFIKASI GERAK DASAR MELALUI TERAPAN POLE CIRCUIT GAMES DALAM UPAYA MENINGKATKAN KEBUGARAN JASMANI SISWA
Surya Rezeki Sitompul

STKIP Pelita Pratama

Anisa Sholihamia

STKIP Pelita Pratama
Keywords:
Physical Education Learning, Basic Movement, Games, Classroom Action Research, Physical Fitness
Abstract
In this study, the method approach implemented using the Classroom Action Research approach.This method is one of the efforts for researchers to fix the learning process that they feel is lacking, this study uses the Classroom Action Research method.This research has characteristics including (a) The problems that arise are raised from the place teachers teach, where the problems raised are experienced by the teacher that must be overcome. (b) Classroom Action Research is collaborative (collaborative). (c) CAR is a research that gives rise to structured actions to improve learning. Classroom Action Research created by Kurt Lewin quoted in his book (Wina Sanjaya, 2016) contains 4 research steps. (1) Planning, the process of determining an improvement program that departs from a researcher's ideas. (2) The action, the treatment carried out by the researcher in accordance with the planning that has been prepared by the researcher. (3) Observations, observations made to determine the effectiveness of actions or collect information about various deficiencies and weaknesses. (4) Reflection, the activity of analyzing the results of the observations to create new programs or plans. Planning of learning activities in the first and second cycles in this study is to carry out various learning activities required to carry out effective learning activities. The results in the first cycle showed that the description of the physical fitness level of class V students was classified as moderate with an average value of 14 from a maximum value of 25. The details of the test results were 1) moderate category, namely 17 people (53.13%), 2) poor category, namely as many as 15 students (46.88%). Based on the results above, in the first cycle the students were quite enthusiastic in carrying out the modified learning with pole circuit games but they had not yet reached the completeness percentage of 80%.
Abstrak
Dalam penelitian ini pendekatan metode yang di laksanakan menggunakan pendekatan Penelitian Tindakan Kelas metode ini merupakan salah satu upaya untuk peneliti dalam membenahi proses pembelajaran yang dirasa kurang, penelitian ini menggunakan metode Penelitian Tindakan Kelas penelitian ini memiliki karakteristik diantaranya (a) Permasalahan yang muncul diangkat dari tempat guru mengajar, dimana permasalahan yang diangkat benar dialami oleh guru yang harus diatasi. (b) Penelitian Tindakan Kelas bersifat bekerjasama (kolaboratif). (c) PTK merupakan penelitian yang memunculkan adanya tindakan terstruktur dalam memperbaiki pembelajaran. Penelitian Tindakan Kelas yang diciptakan oleh Kurt Lewin yang dikutip dalam bukunya (Wina Sanjaya.2016) di dalamnya terdapat 4 langkah penelitian. (1) Perencanaan, proses menentukan program perbaikan yang berangkat dari suatu ide gagasan peneliti. (2) Tindakan, perlakuan yang dilaksanakan oleh peneliti sesuai dengan perencanaan yang telah disusun oleh peneliti. (3) Observasi, pengamatan yang dilakukan untuk mengetahui efektifitas tindakan atau mengumpulkan informasi tentang berbagai kekurangan dan kelemahan. (4) Refleksi, kegiatan analisis tentang hasil observasi hingga memunculkan program atau perencanaan baru. Perencanaan kegiatan pembelajaran pada siklus pertama dan kedua dalam penelitian ini adalah melaksanakan berbagai kegiatan pembelajaran yang disyaratkan untuk menyelenggarakan kegiatan pembelajaran yang efektif. Hasil pada siklus pertama menunjukkan bahwa gambaran tingkat kebugaran jasmani siswa kelas V tergolong sedang dengan rata-rata nilai 14 dari nilai maksimum 25. Rincian hasil tes adalah 1) kategori sedang yaitu sebanyak 17 orang (53,13%), 2) kategori kurang yaitu sebanyak 15 orang siswa (46,88%). Berdasarkan hasil di atas pada siklus pertama siswa cukup antusias dalam melakukan pembelajaran yang di modifikasi dengan pole circuit games namun belum mencapai persentase ketuntasan yaitu 80%.
Kata Kunci : Pembelajaran Penjas,  Gerak dasar,  Games, Penelitian Tindakan Kelas, Kebugaran Jasmani
References
Arif Hidayat. (2017). Peningkatan Aktivitas Gerak Lokomotor, Nonlokomotor Dan Manipulatif Menggunakan Model Permainan Pada Siswa Sekolah Dasar. Jurnal Pendidikan Jasmani dan Olahraga Volume 9 Nomor 2. September, 2017, 21-29. Palembang.
Francesco SGRO et al. (2019). Assessing the impact of a physical education project based on games approach on the actual motor competence of primary school children. Journal of Physical Education and Sport ® (JPES), Vol 19 (Supplement issue 3), Art 111, 2019, pp 781 – 786. Italy.
Gita Dewi Mulyani dan Gano Sumarno. (2017). Pengaruh Pengajaran Handball Like Games Terhadap Penguasaan Keterampilan Gerak Dasar Lempar Tangkap Dalam Pembelajaran Penjas Sekolah Dasar. Jurnal Pendidikan Jasmani dan Olahraga Volume 9 Nomor 1. April 2017, 69-78. Bandung.
Gustiana Mega Anggita et al. (2018) Eksistensi Permainan Tradisional Sebagai Warisan Budaya Bangsa. Journal Of Sport Science And Education (Jossae) Vol: 3, No: 2 2018, October 55-59. Semarang.
Irma Wirnantika, Budiman Agung Pratama, Yulingga Nanda Hanief. (2017). Survey Tingkat Kebugaran Jasmani Siswa Kelas Ivsdn Puhrubuh Idan Mi Mambaul Hikam Di Kabupaten Kediritahun Ajaran 2016/2017. Jurnal Pembelajaran Olahraga. Volume 3 Nomor 2. 240 – 250.
Khalili Moghaddam, G., & Lowe, C. R. (2019). Physical activity. In SpringerBriefs in Applied Sciences and Technology. https://doi.org/10.1007/978-3-030-01557-2_2.
Krisyani-Laksono., Tatag, Y. E. S.. (2018). Penelitian Tindakan Kelas, Aplikasi iPusnas.Reader.
Mei Fadilah dan Ricky Wibowo. (2018). Kontribusi Keterampilan Gerak Fundamental Terhadap Keterampilan Bermain SmallSided Handball Games. Jurnal Pendidikan Jasmani dan Olahraga 3 (1), 2018, 60-68. Bandung.
Nur Azis Romansyah dan Setiawan. (2018). Manajemen Pengembangan Kompetensi Profesional Guru Pendidikan Jasmani Sekolah Menengah Atas (SMA) Negeri Di Kota Yogyakarta. Journal Of Sport Science And Education (Jossae) Vol: 1, No: 1 April 2018, 47-54. Yogyakarta.
Nuryadi et al. (2018). Hubungan Kebugaran Jasmani dengan Kemampuan Konsentrasi dan Respon Kortisol. Jurnal Pendidikan Jasmani dan Olahraga JPJO 3 (2), 2018, 122-128. Bandung.
Resti Gustiawati. (2016) Implementasi Model-Model Pembelajaran Penjas dalam Meningkatkan Kemampuan Guru Memilih dan Mengembangkan Strategi Pembelajaran Pendidikan Jasmani Olahraga dan Kesehatan. Journal Of Sport Science And Education (Jossae) Vol: 1, No: 1 October 2016. Karawang.
S. Sepriadi. (2017). Kontribusi Status Gizi dan Kemampuan Motorik terhadap Kesegaran Jasmani Siswa Sekolah Dasar. Jurnal Keolahragaan, 5 (2), 2017, 194-206.
Wina Sanjaya. (2016). Penelitian Tindakan Kelas (Edisi Pertama), Aplikasi iPusnas, Reader.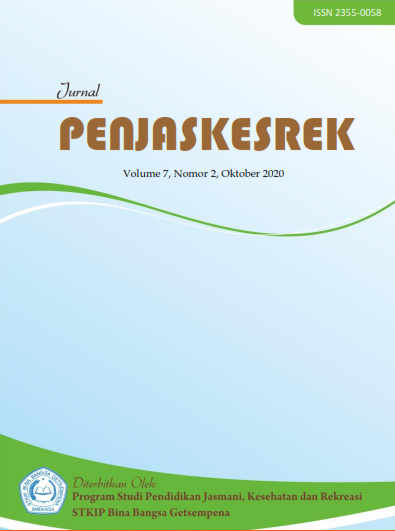 Article Metrics

Abstract views:
35

pdf
downloads:
20
How to Cite
Sitompul, S. R., & Anisa Sholihamia. (2020). MODIFIKASI GERAK DASAR MELALUI TERAPAN POLE CIRCUIT GAMES DALAM UPAYA MENINGKATKAN KEBUGARAN JASMANI SISWA. Jurnal Penjaskesrek, 7(2), 262-273. https://doi.org/10.46244/penjaskesrek.v7i2.1222