Pengembangan Model Pembelajaran Senam Lantai Berbasis Multimedia
Muhammad Suhairi

IKIP PGRI Pontianak

Awang Roni Effendi

IKIP PGRI Pontianak

Rajidin Rajidin

IKIP PGRI Pontianak
Keywords:
Learning, Floor Gymnastics, Multimedia
Abstract
This study aims to produce interactive multimedia-based floor gymnastics learning media for Jamani Education Study Program students at IKIP PGRI Pontianak in the floor gymnastics course. This study uses the Research and Development (R&D) method with the ADDIE development model (Analysis, Design, Develop, Implement, and Evaluate). Determination of the subject in this study was done with a purposive sample. Informants from the development research carried out consisted of 2 experts, namely; material experts and media experts, small group trials of physical education study students with a total of 20 students as subjects, and large group trials of 40 physical education study students who took floor gymnastics courses. Research data obtained from; product validation design, giving small-scale test questionnaires and large-scale tests. The results showed that the interactive multimedia learning media for floor exercise can be used by teachers and students easily to understand the learning material for floor gymnastics with a very good response.
References
Aruhashi, T., Kihara, Y., & Higashi, Y. (2017). Exercise. N Therapeutic Angiogenesis. https://doi.org/10.1007/978-981-10-2744-4_15
Efendi, A. (2022). Pengembangan Multimedia Teknik Dasar Renang Pembelajaran Penjasorkes Sekolah Menengah Pertama Di Kabupaten Kudus. Journal Penjaskesrek, 9(1), 52–63. https://ejournal.bbg.ac.id/penjaskesrek
Hadi:, S. (2004). Metodologi Research Jilid 3.
M. Muhajir. (2011). Pendidikan jasmani olahraga dan kesehatan. Erlangga.
M.P. Mayer. (2010). Gymnastics of Molecular Chaperones. Molecular Cel, 39(3), 321–331. https://doi.org/10.1016/j.molcel.2010.07.012
Mansur;, Nusufi;, M., & Sarwita;, T. (2022). Pengembangan alat ukur keterampilan bermain futsal. Journal Penjaskesrek, 9(1), 1–10. https://doi.org/https://doi.org/10.46244/penjaskesrek.v9i1.1742
Nassar, L. (2017). Gymnastics. In Foot and Ankle Sports Orthopaedics. https://doi.org/10.1007/978-3-319-15735-1_55
Robin;, & Linda; (2001). Kitab Suci Komputer dan Multimedia. Alberta.
Rosch. (1996). Easy Way To Understanding The Multimedia. Bacom.
Sadiman, A. (2003). Media Pendidikan, Pengertian, Pengembangan, dan Pemanfaatannya (P. Dikbud (ed.)).
Setiawan, M. R., & Soekardi, R. (2015). Pengembangan Media Pembelajaran Aktivitas Ritmik Berbasis Multimedia Pada Pendidikan Jasmani Olahraga Dan Kesehatan Di Sekolah Menengah Kejuruan (Smk) Kabupaten Ogan Komering Ulu (Oku) Selatan Provinsi Sumatera Selatan. Jpes, 4(2), 172–178. http://journal.unnes.ac.id/sju/index.php/jpes
Sugiono. (2015). Metode Penelitian & Pengembangan Research and Development (Alfabeta (ed.)).
Suhairi, M., Asmawi, M., Tangkudung, J., Hanif, A. S., & Dlis, F. (2020). Development of SMASH skills training model on volleyball based on interactive multimedia. International Journal of Interactive Mobile Technologies, 14(6), 53–66. https://doi.org/10.3991/IJIM.V14I06.13405
Suhairi, M., & Dewi, U. (2021). Variasi dan Kombinasi Teknik Dasar Permainan Bolavoli untuk Pegangan Guru dan Pelatih. Putra Pabayo Perkasa. https://doi.org/ISBN: 9786239538187
Suharyanto. (2007). Pengembangan Animasi Komputer pada Pembelajaran Fisika SMA. Jurnal Penelitian Dan Evaluasi Pendidikan, 8(1), 43–58.
Sukmadinata, N. S. (2005). Metode Penelitian Pendidikan (Remaja Roesdakarya (ed.)).
Wallhead, T. L., & Ntoumanis, N. (2016). Effects of a Sport Education Intervention on Students' Motivational Responses in Physical Education. Journal of Teaching in Physical Education, 23, 4–18. https://doi.org/10.1123/jtpe.23.1.4
Zamuri;, M., Hardika, N., Qosim;, A., & Salahuddin; (2022). Survei Sarana dan Prasarana Olahraga di Sekolah Dasar Negeri. Journal Sport Academy, 1(1), 1–9. https://doi.org/https://doi.org/10.31571/jsa.v1i1.5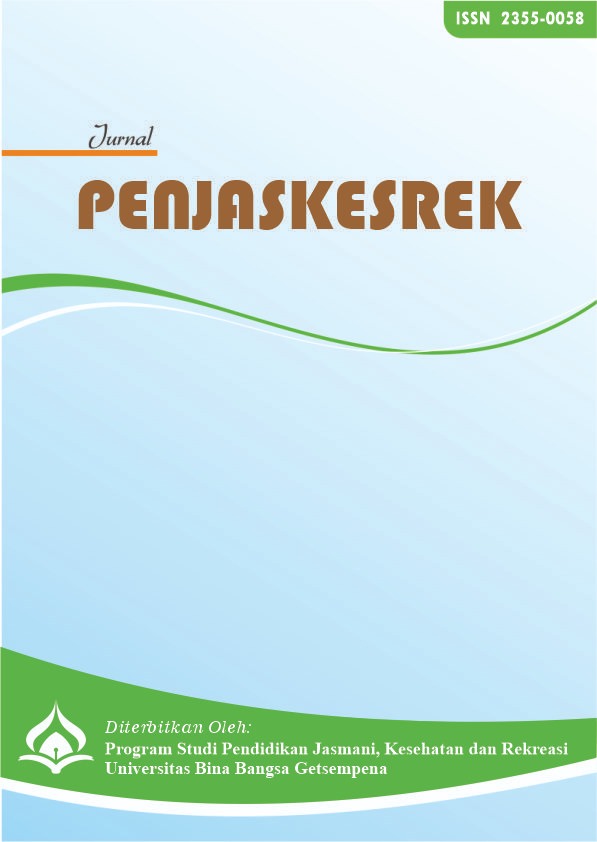 Article Metrics

Abstract views:
86

PDF
downloads:
92
How to Cite
Suhairi, M., Effendi, A. R., & Rajidin, R. (2022). Pengembangan Model Pembelajaran Senam Lantai Berbasis Multimedia. Jurnal Penjaskesrek, 9(2), 25-33. https://doi.org/10.46244/penjaskesrek.v9i2.1912