PENERAPAN METODE LATIHAN SMALL SIDE GAMES TERHADAP KETERAMPILAN MENGGIRING BOLA MAHASISWA PENDIDIKAN OLAHRAGA UNIVERSITAS MUHAMMADYAH JAKARTA
M Al Ghani

Universitas Muhammadiyah Jakarta

Muhamad Aspar

Universitas Muhammadiiyah Jakarta

Ika Yulianingsih

Universitas Muhammadiiyah Jakarta
Keywords:
Small Side Games, Sepakbola, Menggiring Bola
Abstract
This research is motivated by research conducted by previous authors in which the authors observed and analyzed the dribbling skills of students of Sports Education University of muhammadiyah jakarta are incorporated in the Student Activity unit (UKM) football, then from the results of the study found that the results of the dribble has not been maximized. In this study the authors provide an opportunity to try other variations of exercise that is small side games exercise method which aims to improve the results of dribbling. Research is experimental research. This research method is a pseudo experiment, one group pretest-posttest design. The samples used were students of Sports Education Study Program of Muhammadiyah University of Jakarta who are members of the student activity unit amounting to 20 people with the sampling technique that is purposive sampling. Data collection techniques in this study using tests. The instrument used in this study is a Short Dribbling Test. Data analysis techniques using T-test before-after (before-after). The results of this study indicate that there is a significant effect of small sided games exercise on dribbling skills. When viewed from the average pretest of 14.60 and the average posttest of 13.83 then obtained the Mean Difference of 0.77, it shows that the practice of small sided games on dribbling skills provide a change that is better 5.27% compared to before given exercise.
References
A. Mielke, Danny.(2007). Dasar-Dasar Sepakbola. Bandung: Pakar Raya.
Anas Sudijono. (2009). Pengantar Evaluasi Pendidikan. Jakarta: PT Raja Grafindo
Bangsbo,J,& Mohr, Magni (2012). Fitness Testing in Football- Fitness Training in Soccer II.
Bompa, O. Tudor. 1983. Theory And Methodology Of Training. Dubuque, Jowa: Kendal/Hunt Publishing company
Bondarev, D.V. (2011). "Factors Influencing Cardiovascular Responses During Small-Sided Games Performed with Recreational Purposes". Journal of Physical Education Ukraine, 2011, 2, 115-118.
Ganesha Putera. (2014). Kutak-Katik Latihan Sepakbola Usia Muda. Jakarta: PT Visi Gala 2000.
Kasiram, Moh. 2008. Metodologi Penelitian. Malang: UIN-Malang Pers.
Komarudin. (2011). Dasar Gerak Sepakbola. Diktat Pembelajaran. Yogyakarta : FIK UNY
Owen A, Twist C, & Ford P. (2004). Small-sided games: The physiological and technical effect of altering pitch size and player numbers. Insight (Volume 7 tahun 2004). Hlm. 50 – 53.
Soedjono. (1985). Sepakbola taktik dan kerjasama. Yogyakarta: PT. Penerbit Kedaulatan Rakyat
Sugiyono. (2013). Metode Penelitian Kuantitatif Kualitatif dan R&D. Bandung: Alfabeta.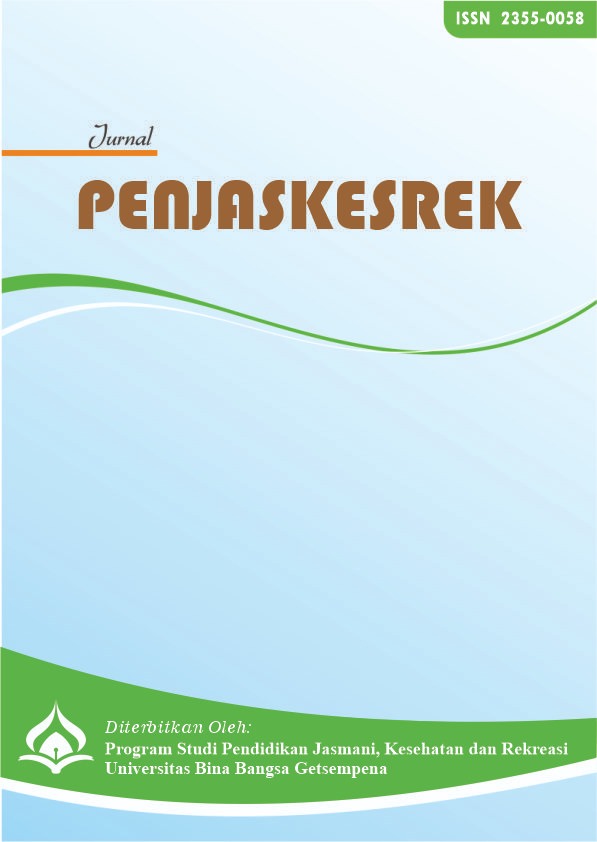 Article Metrics

Abstract views:
57

PDF
downloads:
36
How to Cite
M Al Ghani, Aspar, M., & Yulianingsih, I. (2022). PENERAPAN METODE LATIHAN SMALL SIDE GAMES TERHADAP KETERAMPILAN MENGGIRING BOLA MAHASISWA PENDIDIKAN OLAHRAGA UNIVERSITAS MUHAMMADYAH JAKARTA. Jurnal Penjaskesrek, 9(2), 47-56. https://doi.org/10.46244/penjaskesrek.v9i2.1933