THE ROLE OF EMOTIONAL INTELLIGENCE AND THE RESULTS OF SPORTS ACHIEVEMENTS OF MUAYTHAI ATHLETES ASSISTED BY THE PON ACEH REGIONAL PLATE IN 2021
Fitria

Universitas Samudra

Eri Syahputra

Dinas Pendidikan Kabupaten Nagan Raya

Muhajjir Syahputra

Universitas Samudra
Keywords:
Emosional, Capaian Prestasi, Muaythai
Abstract
Muaythai Aceh is one of the sports that is expected to contribute medals to Aceh in the upcoming PON competition. The participating athletes are athletes who have been netted through the previous pre-Pora, PORA and pre-PON selections. To realize the best improvement and achievement, an athlete must have a good physical and psychological condition as well. So that athletes are able to undergo training vigorously, dedicated, never give up, and are not easily distracted by personal problems. In achieving the achievements of Muaythai Aceh athletes, it can be influenced by two factors, namely internal and external factors. The objectives of this study are: 1) To find out the emotional intelligence of PON Muaythai Aceh Athletes in 2021, 2) To find out the achievements of PON Muaythai Aceh Athletes in 2021. This research uses a qualitative descriptive research method, namely taking the research subject based on the researcher's consideration, namely the Aceh PON Regional Athletes in the Muaythai Sports branch who are preparing to take part in the 2021 PON. The research subjects are 8 athletes, the data collected in this study is data obtained directly from the object of research, namely PON Muaythai Aceh Athletes Based on the results of the research and discussion in Chapter IV which is guided by research questions, it can be concluded that: 1) The Level of Emotional Intelligence of PON Muaythai Aceh Athletes which amounts to 8 people based on the norms of the level of emotional intelligence obtained from the average value of the interview statement that is in the Low category, 2) The achievement of Muaythai Sports Achievements of PON Aceh Athletes in 2021 are 8 Muaythai Athletes who participated in
the 2021 PON who have participated in previous Championships, both at the Regional, National, and International levels.
References
Book:
Arikunto, S. (2013). Prosedur Penelitian. Jakarta: Rineka Cipta
Cattel, R.B dan Butcher, H.J. (2013) , "Creativity and Personality. Vernon, P.E. Creativity :
Selected Readings", Pinguin Books: Baltimore,
Goleman, Daniel. (2014), "Emotional Intelligence Kecerdasan emosional Mengapa EI lebih
penting daripada IQ".Jakarta: PT. Gramedia Pustaka Utama.
Goleman, Daniel. (2001), "Kecerdasan Emosi untuk Mencapai Puncak Prestasi". Jakarta:
PT. Gramedia Pustaka Utama.
Maksum, A. (2007). Psikologi Olahraga: Teori dan aplikasi. Surabaya: Fakultas Ilmu
Keolahragaan-UNESA UNIVERSITY PRESS.
Maksum, A. (2015). Metodelogi Penelitian dalam Olahraga (ed. Kedua). Surabaya: UNESA
UNIVERSITY PRESS.
Jurnal Ilmiah offline:
Bar-On, Reuven. (2015). The Bar-On Model of Emotional-Social Intelligence
(ESI.Consortium for Research on Emotional Intelligence in Organizations Issues in
Emotional Intelligence).
Online scientific journal:
Ilham. (2016). Faktor-faktor yang Mempengaruhi Prestasi Olahraga Para Atlet, Indonesian
Scientific Jurnal Database .70 (Nop), hlm. 53-56. [Online]. Tersedia:
http://isjd.pdii.lipi.go.id/index.php/Search.html?act=tampil&id=51261&idc=77.
Diakses pada 1 Juni 2019.
Slee, P., Lawson, M., Russell, A., Askell-Williams, H., Dix, K., Owens, L., . . . Spears, B.
(2019). KidsMatter Primary Evaluation final report. Melbourne, Australia:
beyondblue. Retrieved from
https://www.kidsmatter.edu.au/sites/default/files/public/kidsmatter-full-reportweb.pdf
Tella, A. (2007). The impact of motivation on student's academic achievement and learning
outcomes in mathematics among secondary school students in Nigeria. Eurasia
Journal of Mathematics, Science &Technology Education, 3, 149–156.
doi:10.12973/eurasia.2007.00051a
Thompson, G. (2013). NAPLAN, My School and Accountability: Teacher perceptions of
the effects of testing. The International Education Journal: Comparative
Perspectives, 12, 62–84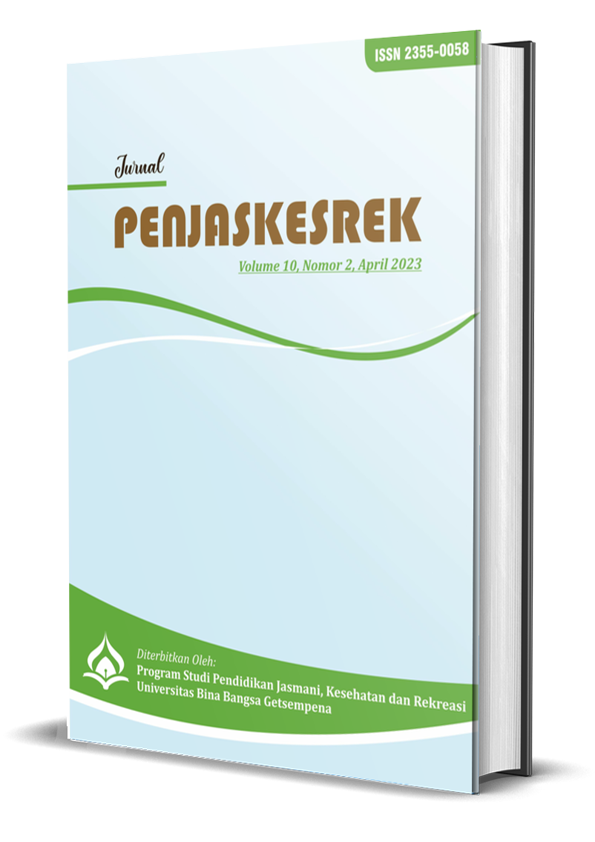 Article Metrics

Abstract views:
22

PDF
downloads:
73
How to Cite
Fitria, Syahputra, E., & Syahputra, M. (2023). THE ROLE OF EMOTIONAL INTELLIGENCE AND THE RESULTS OF SPORTS ACHIEVEMENTS OF MUAYTHAI ATHLETES ASSISTED BY THE PON ACEH REGIONAL PLATE IN 2021. Jurnal Penjaskesrek, 10(1), 18-30. https://doi.org/10.46244/penjaskesrek.v10i1.2087