MEDIA GAMBAR TERHADAP DISKALKULIA DI SEKOLAH DASAR
Reflina Sinaga

Universitas Katolik Santo Thomas

Ester Julinda Simarmata

Universitas Katolik Santo Thomas
Keywords:
Media Images, Dyscalculia, Elementary School
Abstract
This type of research is research and development with quantitative and qualitative descriptive methods. The purpose of the implementation of this research is to analyze the development of media images of dyscalculia in primary schools. In this study using data analysis with interactive media validation through two stages namely qualitative and quantitative descriptive analysis the percentage of aspects of the display given by the validator is 82.30%. For operational aspects, the percentage score data obtained is 90.20% and the validator interaction aspect gives a percentage score of 90.25%. Based on these data, the learning media developed can be categorized as very good and feasible to be used as supporting analysis.
Abstrak
Jenis penelitian ini adalah penelitian pengembangan (Research and Development) dengan metode deskriptif kuantitaif dan kualitatif. Adapun tujuan dari pelaksanaan penelitian ini untuk menganalisis pengembangan media gambar terhadap diskalkulia di sekolah dasar. Pada penelitian ini menggunakan analisis data dengan validasi media interaktif melalui dua tahap yakni analisis deskriptif kualitatif dan kuantitatif skor persentase aspek tampilan yang diberikan validator adalah 82,30%.  Untuk aspek operasional didapat data skor persentase 90,20% dan aspek interaksi validator memberikan skor persentase sebesar 90,25%. Berdasarkan data tersebut maka media pembelajaran yang dikembangkan dapat dikategorikan sangat baik dan layak untuk digunakan sebagai pendukung analisis.
Kata Kunci : Media Gabar, Diskalkulia, Sekolah Dasar
References
Agung, A. A. G., Widiana, I. W., & Indrasuari, N. K. S. (2017). Pengembangan Aktivitas Pembelajaran Mengasosiasi Berbasis Media Gambar Berseri Dalam Meningkatkan Proses Kognitif Siswa. 1, 138–146.
Arisandi, E. (2014). Meningkatkan Kemampuan Operasi Perkalian untuk Anak Diskalkulia melalui Metode Garismatika. Jurnal Ilmiah Pendidikan Khusus, 3(3), 478–488.
Astuti, Y. W., Mustadi, A., & Yogyakarta, U. N. (2014). Effects of the use of animation film media on the narrative text writing skill of grade V students of ESs. Jurnal Prima Edukasia, 2(2), 250–262.
A. Osman, W. A. J. W. Yahaya, and A. C. Ahmad, "Educational Multimedia App for Diskalkulia Literacy Intervention: A Preliminary Evaluation," Procedia - Soc. Behav. Sci., vol. 176, pp. 405–411, 2015.
Media, P., & Berseri, G. (2017). Penggunaan Media Gambar Berseri Untuk Meningkatkan Keterampilan Menulis Narasi Siswa Kelas IV SDN Tambak Kemeraan Kecamatan Krian Apriliya Susanti. 1–11.
N. Akhmadi, "Riset Kebijakan Pendidikan Anak di Indonesia," Ris. Kebijak. Pendidik Anak di Indones., p. 515, 2012.
N. Hayati C. M. Vijayaletchumi, Shamsilah Roslan, Yong Chyn Chye, "Multi-Senses Explication Activities in Words Mastery Among Dyslexic Children," IJSR - Int. J. Sci. Res., vol. 2, no. 2277, pp. 535–540, 2013.
Pamungkas, B., & Jana, P. (2018). Workshop Penanganan Siswa Kesulitan Belajar Menghitung (Diskalkulia)Pada Mata Pelajaran Matematika. Jurnal Abdi Masyarakat, 1(2). https://doi.org/10.30737/jaim.v1i2.151.
Patricia, F. A., & Zamzam, K. F. (2019). Diskalkulia (Kesulitan Matematika) Berdasarkan Gender Pada Siswa Sekolah Dasar Di Kota Malang. Aksioma: Jurnal Program Studi Pendidikan Matematika, 8(2), 288. https://doi.org/10.24127/ajpm.v8i2.2057.
Roncancio R, Ginna & Sáenz G, C. (2016). Pengembangan media gambar berseri. IOSR Journal of Economics and Finance, 3(1), 56. https://doi.org/https://doi.org/10.3929/ethz-b-000238666.
Suzana, Y., & Maulida, I. (2019). Mengatasi Dampak Negatif Diskalkulia Dalam Menyelesaikan Masalah Matematika. Logaritma: Jurnal Ilmu-Ilmu Pendidikan Dan Sains, 7(01), 15. https://doi.org/10.24952/logaritma.v7i01.1661.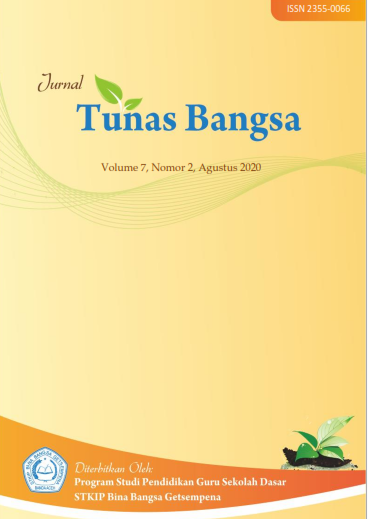 Article Metrics

Abstract views:
183

pdf
downloads:
232
How to Cite
Reflina Sinaga, & Ester Julinda Simarmata. (2020). MEDIA GAMBAR TERHADAP DISKALKULIA DI SEKOLAH DASAR. Jurnal Tunas Bangsa , 7(2), 219-234. https://doi.org/10.46244/tunasbangsa.v7i2.1135