THE EFFECTIVITY OF ONLINE LEARNING IN EXPLORING MATHEMATICAL ABILITY OF ELEMENTARY STUDENTS ASSISTED WHATSAPP GROUP APPLICATION
Dian Nurawaliah Sonjaya

Universitas Pendidikan Indonesia

Disman Disman

Universitas Pendidikan Indonesia
Keywords:
Mathematical Exploration Ability, Online Leaning, Elementary School Student
Abstract
Mathematical exploration ability is very needed for student. This research focuses to looking for the effectivity of online learning activities in mathematics exploration ability of student in several Indonesia elementary school during the pandemic of covid-19 with the assistance of whatsapp group applications. Whatsapp group is used for connecting learning activities between teacher and student guardians or parents, between teacher and students, among students and among student guardians or parents during the covid-19 pandemic. This Research uses quantitative method. The technique of data collection using questionnaire with the assistance of google form applications. There are 119 respondents who contains 80  female student guardian and 39 male student guardians. Based of collection data which have been done 86,5% respondents answer that learning with assistance of whatsapp group runs effectivitily for exploring mathematical ability.  92,25% respondents answer that teacher always helping online learning by whatsapp group during The covid-19 pandemic. Using Whatsapp group will continue to be used until the better application is found.
Abstrak
Kemampuan eksplorasi matematis sangat dibutuhkan siswa. Penelitian ini difokuskan untuk mencari efektivitas kegiatan pembelajaran online dalam kemampuan eksplorasi matematika siswa di beberapa sekolah dasar Indonesia pada saat pandemi covid-19 dengan bantuan aplikasi whatsapp group. Grup Whatsapp digunakan untuk menghubungkan kegiatan pembelajaran antara guru dengan wali siswa atau orang tua, antara guru dan siswa, antar siswa dan antar wali siswa atau orang tua selama pandemi covid-19. Penelitian ini menggunakan metode kuantitatif. Teknik pengumpulan data menggunakan kuisioner dengan bantuan aplikasi google form. Ada 119 responden yang terdiri dari 80 wali murid perempuan dan 39 wali murid laki-laki. Berdasarkan pengumpulan data yang telah dilakukan 86,5% responden menjawab bahwa pembelajaran dengan bantuan kelompok whatsapp berjalan efektif untuk menggali kemampuan matematika. 92,25% responden menjawab bahwa guru selalu membantu pembelajaran online oleh kelompok whatsapp selama pandemi covid-19. Menggunakan grup Whatsapp akan terus digunakan hingga ditemukan aplikasi yang lebih baik.
Kata Kunci : Kemampuan Eksplorasi Matematis, Pembelajaran Online, Siswa Sekolah Dasar
References
Abidin, Z., Hudaya, A., & Anjani, D. (2020). Efektivitas Pembelajaran Jarak Jauh Pada Masa Pandemi Covid-19. Research and Development Journal of Education, 1(1), 131. https://doi.org/10.30998/rdje.v1i1.7659
Abrar, A. I. P. (2015). Investigasi Dalam Proses Pembelajaran Matematika Oleh: A.Ika Prsasti Abrar. 57–62.
Agustina, L. (2016). Upaya Meningkatkan Kemampuan Pemahaman Konsep dan Pemecahan Masalah Matematika Siswa SMP Negeri 4 Sipirok Kelas VII Melalui Pendekatan Matematika Realistik (PMR). EKSAKTA : Jurnal Penelitian Dan Pembelajaran MIPA, 1(1), 1–7. http://jurnal.um-tapsel.ac.id/index.php/eksakta/article/view/49
Altaany, F. H. (2015). Usage whatsapp application for e-learning and its impact on academic performance in irbid national university in Jordan. International Journal of Applied Engineering Research, 10(19), 39875–39879.
Arifa, F. N. (2020). Tantangan Pelaksanaan Kebijakan Belajar Dari Rumah Dalam Masa Darurat Covid-19. Info Singkat;Kajian Singkat Terhadap Isu Aktual Dan Strategis, XII(7/I), 6. http://berkas.dpr.go.id/puslit/files/info_singkat/Info Singkat-XII-7-I-P3DI-April-2020-1953.pdf
Dahdal, S. (2020). Using the WhatsApp Social Media Application for Active Learning. Journal of Educational Technology Systems, 49(2), 239–249. https://doi.org/10.1177/0047239520928307
Di Gennaro, F., Pizzol, D., Marotta, C., Antunes, M., Racalbuto, V., Veronese, N., & Smith, L. (2020). Coronavirus diseases (COVID-19) current status and future perspectives: A narrative review. International Journal of Environmental Research and Public Health, 17(8). https://doi.org/10.3390/ijerph17082690
Dinni, H. N. (2018). HOTS ( High Order Thinking Skills ) dan Kaitannya dengan Kemampuan Literasi Matematika. Prisma, 1, 170–176.
Handarini, O. I., & Wulandari, S. S. (2020). Pembelajaran Daring Sebagai Upaya Study From Home (SFH) Selama Pandemi Covid 19. Jurnal Pendidikan Administrasi Perkantoran, 8(3), 496–503. https://doi.org/10.1093/fampra/cmy005
Jagtap, P. (2016). Teachers role as facilitator in learning. Scholarly Research Journal, 3(17), 3903–3905.
Kurniasari, A., Pribowo, F. S. P., & Putra, D. A. (2020). Analisis Efektivitas Pelaksanaan Belajar Dari Rumah (Bdr) Selama Pandemi Covid-19. Jurnal Review Pendidikan Dasar: Jurnal Kajian Pendidikan Dan Hasil Penelitian, 6(3), 1–8.
Linder, S. M. (2011). The Facilitator ' s Role in Elementary Mathematics Professional Development. 13, 44–66.
Mayangsari, I. D., & Apriant, A. (2017). Understanding Communication Among Parents and Teachers in WhatsApp. Case Study in Bandung, Indonesia. Malaysian Journal of Social Sciences and Humanities, 2(2), 19–24. https://msocialsciences.com/index.php/mjssh/article/view/40/40
Munir. (2009). Pembelajaran Jarak Jauh berbasis Teknologi Informasi dan Komunikasi (TIK).
Naibaho, D. (2018). Peranan Guru Sebagai Fasilitator Dalam Perkembangan Peserta Didik. Jurnal Christian Humaiora, 2(1), 77–86.
Prajana, A. (2017). Pemanfaatan Aplikasi Whatsapp Untuk Media Pembelajaran Dalam Lingkungan Uin Ar-Raniry Banda Aceh. Cyberspace: Jurnal Pendidikan Teknologi Informasi, 1(2), 122. https://doi.org/10.22373/cs.v1i2.1980
Prawiyogi, A. G., Purwanugraha, A., Fakhry, G., & Firmansyah, M. (2020). Efektifitas Pembelajaran Jarak Jauh Terhadap Pembelajaran Siswa di SDIT Cendekia Purwakarta. Jurnal Pendidikan Dasar, 11(01), 94–101.
Purnama, N. D. (2015). An Investigation Of Teachers's Role As Facilitators In Teaching Writing In The Classroom. Elt Persectiveective, 3(September), 361–371.
Pustikayasa, I. M. (2019). Grup WhatsApp Sebagai Media Pembelajaran. Widya Genitri : Jurnal Ilmiah Pendidikan, Agama Dan Kebudayaan Hindu, 10(2), 53–62. https://doi.org/10.36417/widyagenitri.v10i2.281
Rahartri. (2019). "Whatsapp" Media Komunikasi Efektif Masa Kini (Studi Kasus Pada Layanan Jasa Informasi Ilmiah Di Kawasan Puspiptek). Visi Pustaka, 21(2), 147–156. https://doi.org/10.37014/visi%20pustaka.v21i2.552
Sánchez, C. C., & Pico, M. G. (2020). What Is WhatsApp for? Developing Transmedia Skills and Informal Learning Strategies Through the Use of WhatsApp—A Case Study With Teenagers From Spain. Social Media and Society, 6(3). https://doi.org/10.1177/2056305120942886
Sayangan, Y. V. (2018). Jurnal Riset Pendidikan Dasar. Riset Pendidikan Dasar, 1(April), 25–33.
Small, M. (2017). Teaching Mathematical Thinking.
Trisnani, -. (2017). Pemanfaatan Whatsapp Sebagai Media Komunikasi Dan Kepuasan Dalam Penyampaian Pesan Dikalangan Tokoh Masyarakat. Jurnal Komunika : Jurnal Komunikasi, Media Dan Informatika, 6(3). https://doi.org/10.31504/komunika.v6i3.1227
Yuliana. (2020). Corona Virus Diseases (Covid-19) ; Sebuah Tinjauan Literatur. Wellness and Healthy Magazine, 2(February), 187–192. https://doi.org/10.2307/j.ctvzxxb18.12
Yunitasari, R., & Hanifah, U. (2020). Pengaruh Pembelajaran Daring terhadap Minat Belajar Siswa pada Masa COVID 19. Edukatif: Jurnal Ilmu Pendidikan, 2(3), 236–240.
Lestari, K., Yudhanegara, M. (2017). Penelitian Pendidikan Matematika. Refika Aditama : Bandung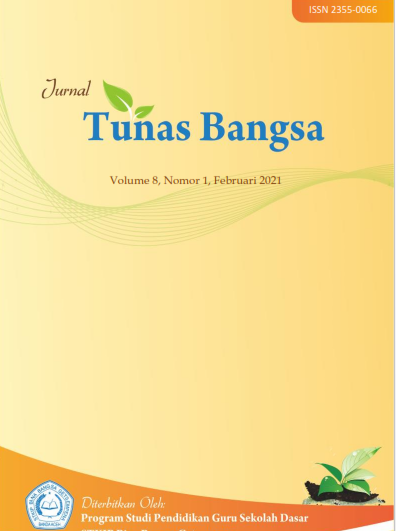 Article Metrics

Abstract views:
54

pdf
downloads:
30
How to Cite
Nurawaliah Sonjaya, D., & Disman, D. (2021). THE EFFECTIVITY OF ONLINE LEARNING IN EXPLORING MATHEMATICAL ABILITY OF ELEMENTARY STUDENTS ASSISTED WHATSAPP GROUP APPLICATION. Jurnal Tunas Bangsa , 8(1), 31-41. https://doi.org/10.46244/tunasbangsa.v8i1.1319