NILAI SOSIAL PADA KELOMPOK KERJA (ARON) PADA MASYARAKAT KARO DI BERASTAGI KABUPATEN KARO
Karmila Br Karo

Universitas Quality Berastagi
Keywords:
Reciprocity, Wage-Based Labor
Abstract
This research is a descriptive qualitative research. In this study, the authors show very high socio-economic dynamics, which allow an agricultural area to develop into a trade center. Berastagi evolved from a rural area to become a market for agricultural produce produced by farmers in the area. This is one of the important things that shows how cities can emerge from agricultural commodities. In Indonesia, cities are often synonymous with industry and government; trading cities are often associated with industrial commodities. Berastagi is an example of the evolution of settlements, namely cities that developed from villages producing rice and vegetables. This shows how changes have occurred in the aspect of labor recruitment in the agricultural sector, where gotong royong is replaced by a labor system, aron gegeh (which is based on reciprocity) is increasingly rare because it is replaced by aron singemo (which is similar to wage-based labor).
Abstrak
Penelitian ini merupakan penelitian kualitatif deskriptif. Dalam kajian ini penulis menunjukkan dinamika sosial ekonomi yang sangat tinggi, yang memungkinkan suatu kawasan pertanian berkembang menjadi sentra perdagangan. Berastagi berkembang dari pedesaan menjadi pasar hasil pertanian yang dihasilkan petani di daerah tersebut. Inilah salah satu hal penting yang menunjukkan bagaimana kota bisa muncul dari komoditas pertanian. Di Indonesia, kota seringkali identik dengan industri dan pemerintahan; kota perdagangan sering dikaitkan dengan komoditas industri. Berastagi merupakan salah satu contoh evolusi permukiman yaitu kota yang berkembang dari desa penghasil padi dan sayur mayur. Hal ini menunjukkan betapa telah terjadi perubahan aspek perekrutan tenaga kerja di sektor pertanian, dimana gotong royong diganti dengan sistem tenaga kerja, aron gegeh (yang berdasarkan timbal balik) semakin jarang karena digantikan oleh aron singemo (yang sejenis dengan tenaga kerja berbasis upah).
Kata Kunci:  Aron Gegeh (Timbal Balik), Aron Singemo ( Berbasis Upah)
References
Sherman, George. (1980). " What "Green Desert"? The Ecology of Batak Grassland Farming," dalam Indonesia, No. 29 (Apr., 1980), pp. 112-148 (published by Southeast Asia Program Publication at Cornell University).
Siebeth, Achim. (1991). "The Batak in the Modern Nation State" dalam Achim Siebeth (with contributions by Uli Kozok and Juara R. Ginting), TheBatak. London: Thames and Hudson. hal.217-231.
Singarimbun, Masri. (1975). Kinship, Descant and Alliance among the Karo Batak.Berkeley: University of California Press.
Steadly, Mary Margaret. (1993). Hanging Without a Rope: Narrative Experience in Colonialand Post Colonial Karoland. New Jersey: Princeton UniversityPress.
Tarigan, Sarjani. (2009 ). Lentera kehidupan Orang Karp dalam Berbudaya. Medan: SiBNB Press-BABKI.
Prinst, Darwan. (2014). Adat Karo.Medan: Bina Media Perintis.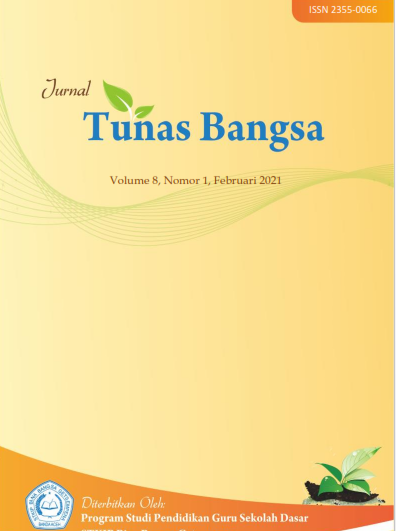 Article Metrics

Abstract views:
9

pdf
downloads:
1
How to Cite
Br Karo, K. (2021). NILAI SOSIAL PADA KELOMPOK KERJA (ARON) PADA MASYARAKAT KARO DI BERASTAGI KABUPATEN KARO. Jurnal Tunas Bangsa , 8(1). https://doi.org/10.46244/tunasbangsa.v8i1.1344