DAMPAK EFEKTIVITAS PROGRAM SERTIFIKASI GURU DALAM MENINGKATKAN PROFESIONALISME GURU DI SMAN 3 PADANG SIDEMPUAN
Zulham Hidayah Pardede

Universitas Islam Negeri Sumatera Utara

Yafizham Yafizham

Universitas Islam Negeri Sumatera Utara
Keywords:
impact of effectiveness, teacher certification, teacher professionalism
Abstract
Professional teachers are required to have a minimum academic qualification of bachelor (S-1) or diploma four (D-IV), master competence, have an educator certificate, be physically and mentally healthy, and the ability to realize national education goals. The fact is, the teachers quality and competence in Indonesia is not as expected. In terms of educational qualifications, from 2.92 million teachers, only about 51% have a Bachelor's degree or more and the rest did not have a Bachelor's degree. Likewise from the certification requirements, only around 70.5% of teachers met the certification requirements. This study aims to determine the Effectiveness of Teacher Certification Programs in Improving Teacher Professionalism in SMA N 3 Padang Sidempuan. The method used in this research is qualitative research. The data source is interviews with teacher who is certified both PNS and Non-PNS. Based on the results, the certification by SMA N 3 Padang Sidempuan is in line with the aim of teacher certification, that is creating professional teachers. In particular, the desired impact shows that teacher certification enhances the ability and competence of teachers in creating an effective learning environment. The teacher more professional in maintaining the timeliness in classroom and starting lessons in accordance with established learning procedures, and discipline in preparing all learning tools. Teacher certification also improved teacher welfare and dignity as a consequence of the benefits of basic salary every month.
Abstrak
Guru profesional wajib memiliki kualifikasi akademik minimum sarjana (S-1) atau diploma empat (D-IV), menguasai kompetensi, memiliki sertifikat pendidik, sehat jasmani dan rohani, serta memiliki kemampuan untuk mewujudkan tujuan pendidikan nasional. Faktanya, kualitas dan kompetensi guru di Indonesia belum sesuai harapan. Dari sisi kualifikasi pendidikan, dari 2,92 juta guru, baru sekitar 51% yang berpendidikan S-1 atau lebih dan sisanya belum berpendidikan S-1. Begitu pun dari persyaratan sertifikasi, hanya sekitar 70,5% guru yang memenuhi syarat sertifikasi. Penelitian ini bertujuan untuk mengetahui Efektivitas Program Sertifikasi Guru dalam Meningkatkan Profesionalisme Guru di SMA N 3 Padang Sidempuan. Metode yang digunakan pada penelitian ini adalah penelitian kualitatif. Sumber data yaitu wawancara kepada setiap guru yang tersertifikasi baik PNS dan Non-PNS. Berdasarkan hasil penelitian, diketahui bahwa kebijakan sertifikasi yang diusung oleh MAN 2 Medan sejalan dengan tujuan sertifikasi guru, yaitu menciptakan guru yang profesional. Secara khusus, dampak yang diinginkan menunjukkan bahwa sertifikasi guru meningkatkan kemampuan dan kompetensi guru dalam menciptakan lingkungan belajar yang efektif. Guru lebih profesional dalam menjaga ketepatan waktu memasuki kelas dan memulai pelajaran sesuai dengan prosedur pelajaran yang ditetapkan, serta disiplin dalam mempersiapkan semua alat belajar. Sertifikasi guru juga telah meningkatkan kesejahteraan dan martabat guru sebagai konsekuensi dari manfaat gaji pokok setiap bulan.
Kata Kunci:  dampak efektivitas, sertifikasi guru, profesionalisme guru
Downloads
Download data is not yet available.
References
Asnandar, A. (2015). Dampak sertifikasi guru terhadap kualitas pendidikan pada madrasah aliyah di kota kendari. Jurnal Al-Qalam, 21(1).
Budiman. (2018). Peranan penerapan sertifikasi guru terhadap kinerja guru (integrasi psikologi industry dan organisasi islami). Psikis: Jural Psikologi Islami, 4(1).
Direktorat Jenderal PMPTK. (2012). Sertifikasi Guru dalam Jabatan Tahun 2012: Buku 4 Rambu-rambu Pelaksanaan Pendidikan dan latihan Profesi Guru. Jakarta: Kemendikbud.
Kompas. (2012). Melalui laman website kompas.com/edukasi/read/2012/03/07/08304834/kualitas.guru.masih.rendah. diakses pada September 2018.
Martini, Y. (2016). Profesionalisme Guru dan Implementasi Kurikulum Berbasis Kompetensi. Jakarta: Gaung Persada Press.
Sutrisno, E. (2010). Manajemen Sumber Daya Manusia: Edisi pertama. Jakarta: Kencana Prenada Media Group.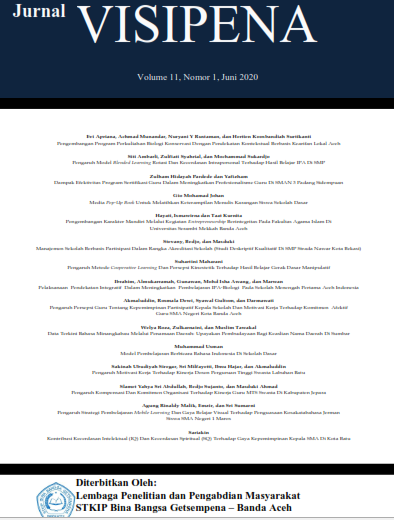 Article Metrics

Abstract views:
543

pdf
downloads:
718
How to Cite
Pardede, Z. H., & Yafizham, Y. (2020). DAMPAK EFEKTIVITAS PROGRAM SERTIFIKASI GURU DALAM MENINGKATKAN PROFESIONALISME GURU DI SMAN 3 PADANG SIDEMPUAN. Visipena, 11(1), 33-45. https://doi.org/10.46244/visipena.v11i1.1027