PERAN ORANG TUA TERHADAP ANAK DALAM PROGRAM BELAJAR DARI RUMAH DI MASA PANDEMI COVID-19
Inom Nasution

Universitas Islam Negeri Medan

Suharian Suharian

Pascsarjana FITK UINSU Medan
Keywords:
The role of parents, Children's education at home, Covid-19
Abstract
This study used a qualitative narrative inquiry design. This study aims to explore the experience of the role of parents in the education of children at home during the Covid 19 period. Participants were chosen by one parent because they were willing to participate in telling their experiences in educating children at home during the Covid 19 period. Demographic information from parents in South Aceh. The method used is the interview procedure. Individual interviews were conducted with casual storytelling conducted in participant's house by recording audio during the conversation. The data obtained from the interviews were analyzed thematically. Triangulation uses transcripts, data sources, information data collection, and field notes. This study found the role of parents in family education for children during the Covid-19 period, including: Children must be controlled so they do not leave the house during the COVID-19 pandemic; Ensure that children's food and nutritional needs are met during the COVID-19 pandemic; and Educating and guiding them in doing assignments and replacing the role of teachers in school. Parents fulfill the needs of spiritual understanding, supervision and motivation as well as learning facility providers in assisting children in overcoming all learning difficulties. The main educational material emphasizes the religious aspect by inviting children to pray, recite the Qur'an, memorize daily prayers and religious materials. Provides understanding of knowledge, forming personalities to be sensitive to the environment. Barriers to informal education or family timing.
Abstrak
Peneltian ini menggunakan design kualitatif narrative inquiry.  Penelitian ini bertujuan untuk menggali pengalaman peran orang tua dalam pendidikan anak di rumah masa covid 19. Participant dipilih satu orang tua karena bersedia berpartisipasi menceritakan pengalamannya dalam dalam pendidikan anak di rumah masa covid 19. Informasi demografis dari orang tua di Aceh selatan.  Metode yang digunakan dengan prosedur wawancara. Wawancara individu dilakukan dengan bercerita santai dilakukan di rumah participant dengan cara merekam audio selama percakapan.  Data yang diperoleh dari hasil wawancara dianalisis secara tematik. Triangulasi menggunakan transkrip, sumber data, pengumpulan data informasi, dan catatan lapangan. Penelitian ini menemukan peran orang tua dalam pendidikan keluarga pada anak masa covid-19 diantaranya: Anak harus dikontrol agar tidak keluar rumah selama pandemi covid 19; Memastikan bahwa kebutuhan makan dan gizi anak terpenuhi selama pandemi covid 19; dan Mendidik dan membimbing mereka dalam mengerjakan tugas-tugas dan menggantikan peran guru disekolah. Orang tua memenuhi kebutuhan pemahaman spiritual, pengawasan dan motivasi serta penyedia fasilitas belajar dalam mendampingi anak dalam mengatasi kesulitan semua pembelajaran. Materi pendidikan utama menekankan pada aspek agama dengan  mengajak anak untuk sholat, mengaji, menghafal doa  harian dan materi keagamaan. Memberi pemahaman ilmu, membentuk kepribadian agar peka terhadap lingkungan. Hambatan dalam pendidikan informal atau keluarga pengaturan waktu.
Downloads
Download data is not yet available.
References
Abdullah, M. Imron. 2003. Pendidikan Keluarga Bagi Anak. Cirebon: Lektur.
Ade Sadikin Akhyadi, d. (2018). Program Parenting dalam Meningkatkan Kualitas Pendidikan Keluarga. Jurnal Abdimas IKIP Siliwangi
Agustien Lilawati, (2020). Peran Orang Tua dalam Mendukung Kegiatan Pembelajaran di Rumah pada Masa Pandemi, Jurnal Obsesi : Jurnal Pendidikan Anak Usia Dini ISSN: 2549-8959 (Online) 2356-1327 (Print). Volume 5 Issue 1 (2021) Pages 549-558 doi: https://doi.org/10.31004/obsesi.v5i1.630
Anita Wardani, d. (2011). Analisis Kendala Orang Tua dalam Mendampingi Anak di Rumah Pada Masa Pandemi Covid-19. Obsesi Pendidikan Anak Usia Dini, 49-55. doi: https://doi.org/10.31004/obsesi.v5i1.705
Anwar, Chairul. (2014). Hakikat Manusia Dalam Pendidikan Islam Sebuah Tinjauan Filosofis. Yogyakarta: SUKA-Press.Klasik Sampai Modern. Jakarta: PT Raja Grafindo.
Berg, K. E. and Latin, R. W. (2008). Research methods in health, physical education, exercise science, and recreation. 3rd ed. Baltimore: Williams & Wilkins
Cahapay, M., B. (2020). How Filipino parents educate their children with autism during COVID – 19 period. International Journal of Developmental Disabilities, doi: https://doi.org/10.1080/20473869.2020.1780554
Creswell, J. W. 1(994). Research design qualitative and quantitative approaches. Thousand Oaks, CA: Sage
Dewantara, Ki Hajar. 1961. Ilmu Pendidikan. Yogyakarta: Taman Siswa
Eccles, J. R. (1993). Parent-School Involvement During The Early Adolesecent. Teachers College Record, 94.
Epstein, J. a. (1993). Family and Community Partnerships. Bolder, 223.
Gorard, S., & See, B. H. (2013). Do parental involvement interventions increase attainment? A review of the evidence. London, Nuffield Foundation. Retrieved 4 June, 2020, from www.nuffieldfoundation.org/sites/default/files/files/Do_parental_involvement_interventions_ increase_attainment1.pdf
Gouëdard, P., B. Pont, and R. Viennet. (2020). "Education Responses to COVID-19: Implementing a Way Forward." OECD Education Working Papers 224. doi: https://doi.org/10.1787/8e95f977-en
Green, J., Willis, K., Hughes, E., Small, R., Welch, N., Gibbs, L. and Daly, J. 2007. Generating best evidence from qualitative research: The role of data analysis. Australian and New Zealand Journal of Public Health, 31, 545–550
Hornby, G. &. (2011). Barriers to Parental Involvement In Education: An Explanatory Model. Educational Review, 37-52. doi:doi:10.1080/00131911.2010.488049
Hurlock, E. (2000). Psikologi Perkembangan: Jakarta: Erlangga.
Irhamna, (2016). Analisis Kendala yang dihadapi Orang tua dalam pembinaan akhlak dan kedisiplinan belajar siswa madrasah Daarussalam Kota Bengkulu. ejournal.iainbengkulu.ac.id
Jailani, M syahran (2014). "Teori Pendidikan Keluarga Dan Tanggung Jawab Orang Tua Dalam
Jailani, M. (2014). Teori Pendidikan Keluarga dan Tanggung Jawab Orang Tua dalam Pendidikan Anak Usia Dini.
Nadwa: Jurnal Pendidikan Islam, 201.
Mahmud. (2011). Pemikiran Pendidikan Islam. Bandung: Pustaka Setia.
Mansur. (2005). Pendidikan Anak Usia Dini dalam Islam. Yogyakarta: Pustaka Pelajar. Manusia Yang Berakhlak
Mulia, (Al-Tadzkiyyah: Jurnal Pendidikan Islam, Volume 7, Mei
Martin, J. (2020). What is homeschooling? Parents, 05 May. Available at: http://www.parents.com/kids/education/home-schooling/homeschholing-101-what-ishomeschooling.
Mujib, Adul. 2008. Ilmu Pendidikan Islam, Cet. 2. Jakarta: Kencana.
Mujiburrahman dkk 2012. Pendidikan Berbasis Syariat Islam di Aceh. Banda Aceh: Dinas Syariat Islam Provinsi Aceh.
Narbuko, Cholid dan Achmadi, Abu. 2013. Metode Penelitian. Jakarta: Bumi Aksara.
Ray, B. (2015). Research facts on homeschooling. Available at: http:// files.eric.ed.gov.fulltext/ED556234
Sudjana. (2004). Pendidikan Nonformal Wawasan Sejarah Perkembangan Filsafat Teori Pendukung Azas. Bandung: Falah Production.
Sarah Fischer, R. K. (2017). Equipping Parents to Support Their Children's Higher Education Aspiration: a Design and Evaluation Tool. Educational Review, 14-20. doi: http://dx.doi.org/10.1080/00131911.2017.1379472
Selfi Lailiyatul Iftitah, Mardiyana Faridhatul Anawaty (2020), Peran Orang Tua dalam Mendampingi anak Belajar Di rumah Selama Pandemi COVID-19. JCE (Journal of Childhood Education) Vol. 4 No. 2 | Hal. 71 – 81
Shirley-Anne S. Paul , Peter Hart , Limor Augustin , Paula J. Clarke & Mark Pike (2020): Parents' perspectives on home-based character education activities, Journal of Family Studies, doi:https://doi.org/10.1080/13229400.2020.1806097
Silverman, D. (2009). Doing qualitative research. 3rd ed. California: SAGE Publications
Tafsir, Ahmad. (2015). Ilmu Pendidikan Islam. Bandung: PT Remaja Rosdakarya.
Zuhairini dkk. 2008. Filsafat Pendidikan
Tawanda Majoko & Annah Dudu (2020): Parents' strategies for home educating their children with Autism Spectrum Disorder during the COVID-19 period in Zimbabwe, International Journal of Developmental Disabilities,
doi: https://doi.org/10.1080/20473869.2020.1803025
Teresa Parczewska (2020): Difficult situations and ways of coping with them in the experiences of parents homeschooling their children during the COVID-19 pandemic in Poland, Education 3-13, DOI: 10.1080/03004279.2020.1812689
Ulwan, A. N. (2011). Kaidah-kaidah Dasar Pendidikan Anak Menurut Islam. Bandung: Remaja Rosda Karya Pustaka.
Yulianingsih,Wiwin, dkk (2021). Keterlibatan Orangtua dalam Pendampingan Belajar Anak selama Masa Pandemi Covid-19. Jurnal Obsesi: Jurnal Pendidikan Anak Usia Dini). Volume 5 Issue 2 (2021) Pages 1138-1150. ISSN: 2549-8959 (Online) 2356-1327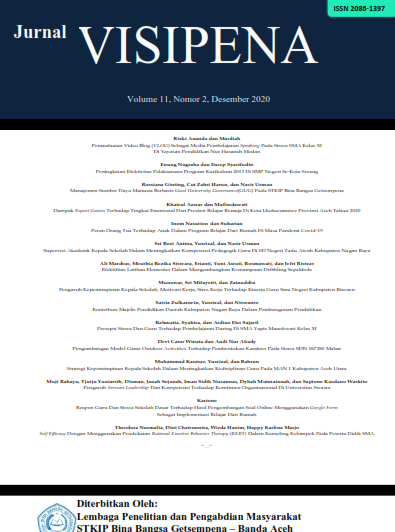 Article Metrics

Abstract views:
1403

pdf
downloads:
1359
How to Cite
Nasution, I., & Suharian, S. (2020). PERAN ORANG TUA TERHADAP ANAK DALAM PROGRAM BELAJAR DARI RUMAH DI MASA PANDEMI COVID-19. Visipena, 11(2), 266-280. https://doi.org/10.46244/visipena.v11i2.1154