PEMANFAATAN VIDEO BLOG (VLOG) SEBAGAI MEDIA PEMBELAJARAN SPEAKING PADA SISWA SMA KELAS XI DI YAYASAN PENDIDIKAN NUR HASANAH MEDAN
Rizki Ananda

Universitas Nahdlatul Ulama Sumatera Utara

Mardiah Mardiah

Universitas Nahdlatul Ulama Sumatera Utara
Keywords:
vlog, learning media, speaking
Abstract
This study aims to describe the use of vlog as a learning media for speaking and to describe the extent to which students' perceptions of the use of vlog as learning media. The research method used in this research is a qualitative method which produces descriptive data in the form of written or spoken words from the research subject. The subjects of this study were 24 high school students of class XI in NurHasanah Education Foundation Medan. The research data were analyzed using three stages, namely data reduction, data presentation and drawing conclusions. Based on the results of data analysis, findings obtained as a result of this research include: the profile of NurHasanah Education Foundation Medan, the description of the use of vlog as a medium in learning speaking, students' perceptions of using vlog as a medium for learning speaking in English provide good perceptions for students. Integrating the use of vlog in the English class has succeeded in making learning more interesting, increasing students 'good perceptions of increasing interest, and also students' interest in learning speaking, so that students think speaking is no longer a difficult and boring thing to learn.
Abstrak
Penelitian ini bertujuan untuk mendeskripsikan pemanfaatan Vlog sebagai media pembelajaran Speaking dan mendeskripsikan persepsi siswa pada penggunaan Vlog sebagai media pembelajaran. Metode penelitian yang digunakan dalam penelitian ini adalah metode campuran (mix method reserach) yang menghasilkan data berupa hasil persentase dari skala likert dan deskriptif berupa kata-kata tertulis atau lisan dari subjek penelitian. Subjek penelitian ini adalah siswa SMA kelas XI di Yayasan Pendidikan Nur Hasanah Medan yang berjumlah 24 siswa. Data penelitian ini dianalisis menggunakan tiga tahapan yaitu reduksi data, penyajian data dan penarikan kesimpulan. Berdasarkan hasil analisis data, diperoleh temuan sebagai hasil yang dicapai dalam penelitian ini yakni gambaran pemanfaatan vlog sebagai media dalam pembelajaran speaking dan persepsi siswa dalam pemanfaatan vlog sebagai media pembelajaran speaking dalam bahasa Inggris memberikan persepsi yang baik bagi siswa. Pengintegrasian dalam pemanfaatan vlog di kelas bahasa Inggris berhasil mewujudkan pembelajaran menjadi lebih menarik, meningkatkan persepsi baik siswa dalam menambah minat, dan juga ketertarikan siswa dalam pembelajaran speaking, sehingga siswa menganggap speaking tidak lagi hal yang sulit dan membosankan untuk dipelajari.
Downloads
Download data is not yet available.
References
Arsini. (2016). Pengembangan Portal Channel Pembelajaran Sains Sebagai Video Pembelajaran Online melalui Model ADDIE (Analysis Design, Development Implementation and Evaluation. Jurnal Phenomenon Pendidikan MIPA, 6(1). Retrieved from https://journal.walisongo.ac.id/index.php/Phenomenon/article/view/940
Diani, R.,Yuberti., & Syafitri, S. (2016). Uji Effect Size Model Pembelajaran Scramble dengan Media Video Terhadap Hasil Belajar Fisika Peserta Didik Kelas X MAN 1 Pesisir Barat. Jurnal Ilmiah Pendidikan Fisika Al-Biruni, 5(2), 265-275. Retrieved from https://ejournal.radenintan.ac.id/index.php/al-biruni/article/view/126
Irwandi.,& Juariyah, S. (2016). Pengembangan Media Pembelajaran Berupa Komik Fisika Berbantuan Sosial Media Instagram Sebagai Alternatif Pembelajaran. Jurnal Ilmiah Pendidikan Fisika Al-Biruni, 5(1), 33-42. Retrieved from https://ejournal.radenintan.ac.id/index.php/al-biruni/article/view/103,
Juhana. (2012). Psychological Factors That Hinder Students from Speaking in EnglishClass (A Case Study in a Senior High School in South Tangerang, Banten, Indonesia). Journal of Education and Practice, 3(12), 100-110. Retrieved from https://www.iiste.org/Journals/index.php/JEP/article/view/2887/2913
Kustandi, Cecep. Sutjipto, Bambang. (2013). Media Pembelajaran; Manual dan Digital. Edisi Kedua. Bogor: Ghalia Indonesia.
Mahnun., & Nunu. (2012). Media Pembelajaran. Jurnal Pemikiran Islam, 37(1), 27-35. Retrieved from http://ejournal.uin-suska.ac.id/index.php/Anida/article/view/310/293
Purwanti, B. (2015). Pengembangan Media Video Pembelajaran Mate-Matika Dengan Model Assure. Jurnal Kebijakan dan Pengembangan Pendidikan, 3(1), 42-47. Retrieved from http://ejournal.umm.ac.id/index.php/jkpp/article/view/2194
Rakhmania, L., & Kusmaningrum, D. (2017). The effectiveness of Video Blogging in Teaching Speaking Viewed from Students' Learning and Motivation. Journal of the Fifth International Seminar on English Language and Teaching Journal (ISELT-5), 5, 27-34. Retrieved from http://ejournal.unp.ac.id/index.php/selt/article/viewFile/7980/6083
Rosyid.,& Alfa Abdulah. (2018). Vlog Sebagai Media Pembelajaran Bahasa Indonesia untuk Mengembangkan Kemampuan Berbahasa Peserta Didik. Prosiding di Jurnal Nasional Kajian Bahasa, Sastra dan Pengajaran, 5. Surakarta: Universitas Muhammadiyah Surakarta. Retrieved from https://publikasiilmiah.ums.ac.id/handle/11617/9930?show=full
Sanjaya, Wina. (2012a). Media Komunikasi Pembelajaran. Edisi Pertama. Jakarta: Kencana Prenamedia Group.
Tarigan, Henry. (2008). Berbicara Sebagai Suatu Keterampilan Berbahasa. Bandung: Angkasa.
Watkins, J. (2012). Increasing student talk time through Video Blogging. Journal Language Education in Asia, 3 (2), 196-203. Retrieved from http://dx.doi.org/10.5746/LEiA/12/V3/I2/A08/Watkins.
Yudhi,R., Priana, S. (2017). Pemanfaatan Vlog sebagai Media Pembelajaran Terintegrasi Teknologi Informasi. Jurnal FKIP Untirta, 2(6), 313-316. Retrieved from http://jurnal.untirta.ac.id/index.php/psnp/article/view/1719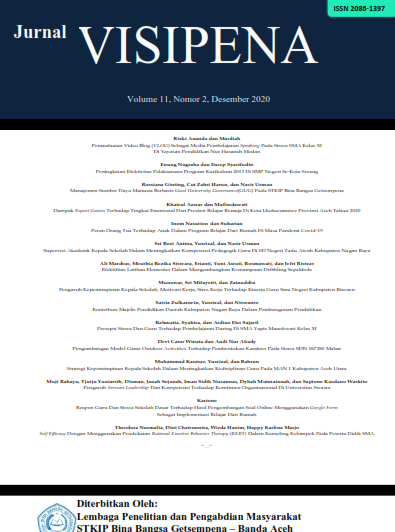 Article Metrics

Abstract views:
1197

pdf
downloads:
550
How to Cite
Ananda, R., & Mardiah, M. (2020). PEMANFAATAN VIDEO BLOG (VLOG) SEBAGAI MEDIA PEMBELAJARAN SPEAKING PADA SISWA SMA KELAS XI DI YAYASAN PENDIDIKAN NUR HASANAH MEDAN. Visipena, 11(2), 217-227. https://doi.org/10.46244/visipena.v11i2.1195