THE CHARACTER ANALYSIS OF THE MAIN CHARACTERS AND THE SUBORDINATE CHARACTERS IN DILAN 1990 MOVIE AS A STUDY OF LITERARY PSYCHOLOGY
Meiva Eka Sri Sulistyawati

Universitas Bina Sarana Informatika

Chodidjah

Universitas Bina Sarana Informatika

Adelia

Universitas Indraprasta PGRI
Keywords:
Cinema, Film, Literature, Literary Psychology, Library Method
Abstract
Cinema and Literature are two distinct but equally extraordinary works of art. Though both these arts have certain connections and differences, both have a similarity of taking its readers/audience to a different world. The purpose of this study is to analyze the characters of the main and subordinate characters through a review of a study of literary psychology. The data source in this study uses a film entitled Dilan 1990 which is created by Pidi Baiq. The research methodology used in this study is descriptive qualitative using the library method and also structural assessment in making work designs. In connection with the results of the analysis of this study it can be recommended that this analysis be suitable to be presented to us since it has many positive values to give us a lesson. Like loving each other, being honest, and achieving the highest achievement.
Key Words: cinema, film, literature, literary psychology, library method
References
Agustian , G. A. (2001). Rahasia Sukses MembangunKecerdasan Emosidan Spiritual.Jakarta :Arga.
Aqib, Z. (2011). Pendidikan Karakter :Membangun Perilaku Positif Anak Bangsa. Bandung: CV YramaWidya.
Arjana, A. (2011). Pendidikan Karakter :Membangun Perilaku Positif Anak Bangsa . Bandung :CV. Rama Widya.
Atika, T. (2015) Perkembangan Geng Motor sebagai Salah Satu Fenomena Kenakalan Remaja di Kota Medan. Jurnal Pemberdayaan Komunitas. [Online] 14 (2), 79–86. https://jurnal.usu.ac.id/index.php/jurnalpemberdayaan/article/view/15792. 21/07/2020 jam 00.32
Desmita,(2009).Psikologi Perkembangan. Bandung: Rosda.
Desmita.(2009). Psikologi Perkembangan Perkembangan Peserta Didik. Bandung: Rosda.
Endaswara .S.(2003). Metodologi Penelitian Sastra Epistemology, Model, Teori dan Implikasi. Yogyakarta: Medpress.
Endaswara, S.(2008). Metode Penelitian Psikologi Sastra. Yogyakarta :Azza Grafika.
Fananie, Z. (2000). Telaah Sastra. Muhammadiyah University Press: University Muhammadiyah Surakarta.
Farhan, Muhammad dan Wahda Ilham Saputra, Visual Heritage: Jurnal Kreasi Seni dan Budaya E-Issn:2623-0305 Vol. 2 No. 01, September-Desember 2019 Hlm. 34-38 Karakter Tokoh Utama Dalam Film Animasi Pocoyo, Program Studi Desain Komunikasi Visual Fakultas Bahasa dan Seni Universitas Indraprasta PGRI Jl. Nangka 58 Tanjung Barat, Jakarta Selatan, 12530 mfarhan646@gmail.com
Fred, Sigmund. (2009). Pengantar Umum Psikoanalisis (Terjemahan). Yogyakarta: Pustaka Belajar.
Goodell,(1998). Independent Future Film Production. America: St. Martin's Press.
Hananta, E.P. (2013) Konten Kekerasan Dalam Film Indonesia Anak Terlaris Tahun 2009- 2011. Jurnal E-Komunikasi Program Studi Ilmu Komunikasi Universitas Kristen Petra, Surabaya. [Online] 1 (1). http://publication.petra.ac.id/index.php/ilmu-komunikasi/article/view/79. 21/07/2020 jam 00.45
Hanum,Z. (2003). Metode Penelitian Kesustraan. Selangor: Utusan Melayu.
Jurnal Penelitian Komunikasi: Kekerasan Simbolik dalam Film "Dilan 1990" dan "Dilan 1991" oleh Siti Choiru Ummati Cholifatillah, Twin Agus Pramono Jati, Asaas Putra.
Lewis, A. (2004). Character Building. Batam :Karisma Publishing Group.
Maliki .Z. (2009).Sosiologi Pendidikan. Jakarta: Gadjah Mada University Press.
Marshall, David, Jurnal E-Komunikasi Vol 3, No 2 (2015) : Penggambaran Karakter Pada Tokoh Utama Dalam Film "Maleficent"
Nurgiyantoro.B. (2005).Teori Pengkajian Fiksi. Yogyakarta: Gajah Mada University Press.
Putri, R.O. (2018) Praktek Kekerasan Simbolik (Relasi Guru Dan Peserta Didik Dalam Pendidikan Islam). Millah: Jurnal Studi Agama. [Online] 17 (2). Available from: https://journal.uii.ac.id/Millah/article/view/10991. 21/07/2020 jam 00.57
Raflek, (2010), Teori Sastra. Bandung Jawa Barat :Refka Aditama.
Rasyidin, Usman, Fahmi Saeful Aziz, Dida Firmansyah, Parole Jurnal Pendidikan Bahasa dan Sastra Indonesia, Volume 1 Nomor X, XXXX 2018 P – ISSN 2614-624X E – ISSN 2614-6231 DOI: Http://Dx.Doi.Org/10.22460/P.V1i3p%25p.448 Pengaruh Novel Dilan Terhadap Karakter Siswa Dilihat Dari Tokoh Dilan, IKIP Siliwangi 1 Usmanrasyidin22@Gmail.Com, 2 Fahmisaeful1@Gmail.Com, 3 Dida-firmansyah@ikipsiliwangi.ac.id
Semi Atar , M. (1993). Metode Penelitian Sastra. Bandung :Angkasa.
Suryaman, Maman. 2010. "Pendidikan Karakter Melalui Pembelajaran Sastra". Dalam Cakrawala Pendidikan, Tahun XXIX.Vol. 1 No. 3. 2010 Edisi Khusus Dies Natalis UNY. Diunduh dari http://journal.uny.ac.id/index 20/07/2020 jam 23.57.
Triatmanto. (2010). "Tantangan Implementasi Pendidikan Karakter Di Sekolah." Cakrawala Pendidikan. Tahun XXIX.Vol. 1 No. 3. 2010 Edisi Khusus Dies Natalis UNY. Diunduh dari http://journal.uny.ac.id/index 20/07/2020 jam 23.58.
Widhayani, Arrie, Sarwiji Suwandi, Retno Winarni, Jurnal Humanus: From Novel To Film Dilan 1990: An Ecranisation Study Dari Novel Ke Film Dilan 1990: Suatu Kajian Enkranisasi, Pendidikan Bahasa Indonesia, Pascasarjana Universitas Sebelas Maret Gedung G FKIP UNS (Gd. Pasca Lama) Lt.2 Jln. Ir. Sutami No 36 A Surakarta 57126 arriewidhayani@gmail.com, sarwijiswan@yahoo.com, winarniuns@yahoo.com Submitted: 2018-08-14 Published: 2018-12-31 DOI: 10.24036/humanus.v17i2.100625 Accepted: 2018-12-31 URL: http://dx.doi.org/10.24036/humanus.v17i2.100625.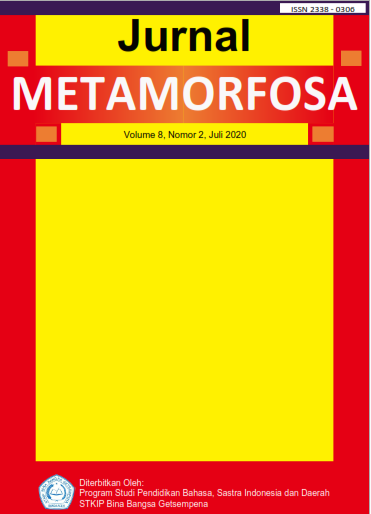 Article Metrics

Abstract views:
475

281-293
downloads:
288
How to Cite
Meiva Eka Sri Sulistyawati, Chodidjah, & Adelia Taufinata. (2020). THE CHARACTER ANALYSIS OF THE MAIN CHARACTERS AND THE SUBORDINATE CHARACTERS IN DILAN 1990 MOVIE AS A STUDY OF LITERARY PSYCHOLOGY. Jurnal Metamorfosa , 8(2), 281-293. https://doi.org/10.46244/metamorfosa.v8i2.1057