RAGAM BAHASA DALAM MEDIA SOSIAL TWITTER
Kajian Sosiolinguistik
Satria Prayudi

STKIP Bina Bangsa Getsempena

Wahidah Nasution

STKIP Bina Bangsa Getsempena
Keywords:
Sosiolinguistic, Language Varieties, Twitter
Abstract
The rate of development of information and technology in a frame of increasingly rapid digitalization also affects the increasing use of social media in society. Some social media that are developing at this time such as facebook, instagram, twitter, youtube, etc. have given birth to a new lifestyle in social life. The use of social media can make a person's social interaction done at any time and condition. This research aims to describe the forms of language variety in Andi Hiyat's twitter media over a span of one week. The study was conducted qualitatively with data in the form of written text. The data is examined with a sociolinguistic approach to see the variety of languages ​​used by the author. The results showed that the variety of spoken languages ​​in Twitter Andi Hiyat included in a variety of social languages. The characteristics of social language can be seen from the following eight aspects namely zeroization, diphthongization, addition of graphs, graphical changes, lexical changes, ellipsis, onomatopoeia, and mixing code.
Abstrak
Laju perkembangan informasi dan teknologi dalam bingkai digitalisasi yang semakin pesat turut berpengaruh pada meningkatnya penggunaan media sosial dalam masyarakat. Beberapa media sosial yang berkembang saat ini seperti facebook, instagram, twitter, youtube, dll telah melahirkan gaya hidup baru dalam kehidupan sosial bermasyarakat. Pemakaian media sosial dapat membuat interaksi sosial seseorang dilakukan pada waktu dan kondisi apapun. Penelitian ini bertujuan untuk mendeskripsikan bentuk ragam bahasa dalam media twitter Andi Hiyat selama rentang waktu satu minggu. Penelitian dilakukan secara kualitatif dengan data berupa teks tulis. Data tersebut dikaji dengan pendekatan sosiolinguistik untuk melihat ragam bahasa yang digunakan penulis. Hasil penelitian menunjukkan bahwa ragam bahasa lisan dalam twitter Andi Hiyat masuk dalam ragam bahasa sosial. Adapun penciri bahasa sosial dilihat dari delapan aspek berikut yaitu, zeroisasi, diftongisasi, penambahan grafi, perubahan grafi, perubahan leksikal, pelesapan, onomatope, dan campur kode.
Kata Kunci: Sosiolinguistik, Ragam Bahasa, Twitter
References
Alibasyah, f. (2018). Kesantunan berbahasa pengguna media sosial instagram: kajian sosiopragmatik. Etnolingual, 2(1).
Alwi, Hasan Dkk. (2003). Tata Bahasa Baku Bahasa Indonesia. Jakarta: Balai Pustaka.
Arista, Riza Prastiti. (2015). Penggunaan Onomatope Dalam Media Sosial Twitter (Studi Kasus Artis Jepang). Jimbastrafib, Vol 1 (4).
Ayun, P. Q. (2016). Variasi Penggunaan Bahasa Dalam Twitwar (Perang Opini) Pada Akun Twitter Thejak Dan Bobotoh: Kajian Sosiolinguistik (Doctoral Dissertation, Universitas Pendidikan Indonesia).
Junus, f. G. (2019). Variasi bahasa dalam sosial media: sebuah konstruksi identitas.
Nasution, Wahidah Dan Khairunnisa. (2015). The Analysis Of Code Switching And Mixed Code Of Language Students Of PBSID STKIP Getsempena In Banda Aceh Lectures Discusions Forum. Jurnal Metamorfosa, Vol 3 (2), 26-35.
Rumadhan, R. (2014). Analisis Ragam Bahasa Indonesia Dialek Fakfak Di Asrama Fakfak Malang (Doctoral Dissertation, University Of Muhammadiyah Malang).
Wiyanti, Endang. (2016). Kajian Kohesi Gramatikal Substitusi Dan Elipsis Dalam Novel "Laskar Pelangi" Karya Andrea Hirata. Jurnal Pendidikan Bahasa Dan Sastra, Vol 6 (2), 188-202.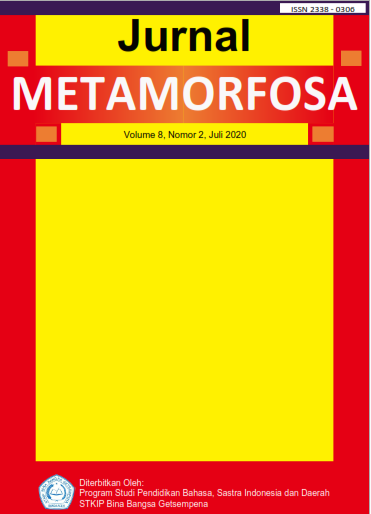 Article Metrics

Abstract views:
1588

pdf
downloads:
1017
How to Cite
Satria Prayudi, & Nasution, W. (2020). RAGAM BAHASA DALAM MEDIA SOSIAL TWITTER: Kajian Sosiolinguistik. Jurnal Metamorfosa , 8(2), 269-280. https://doi.org/10.46244/metamorfosa.v8i2.1140