KRITIK SOSIAL POTRET PEMBANGUNAN DALAM PUISI KARYA W.S. RENDRA
(Kajian Sosiologi Sastra)
Syamzah Ayuningrum

STKIP Kusuma Negara
Keywords:
Social Criticism, Sociology and Literature Studies
Abstract
The purpose of this research is to describe the form of social criticism theme in poetry anthology, Portrait of Development in Poetry by W.S. Rendra. Overall the poetry anthology Portrait of Development in Poetry by W.S. Rendra consists of twenty-five poems, but the writer took fifteen poetry titles as the data source. Meanwhile, the research data were obtained from words, phrases and sentences from the stanzas and arrays of the fifteen poetry titles. This research was conducted using a qualitative descriptive method and a sociological literature approach. Based on data analysis in this study, it can be found that the theme of social criticism and the concept of social criticism in a collection of development portrait poetry in the poetry by W.S. Rendra. This is evidenced in the data that has been found and studied discussing issues of social power, political power, political ideology, poverty, corruption, and education.
Abstrak
Tujuan dalam penelitian ini adalah untuk mendeskripsikan wujud tema kritik sosial dalam antologi puisi Potret Pembangunan dalam Puisi karya sastra W.S. Rendra. Secara keseluruhan antologi puisi Potret Pembangunan dalam Puisi karya W.S. Rendra terdiri dari dua puluh lima puisi, tetapi penulis mengambil lima belas judul puisi sebagai sumber data. Sedangkan data penelitian diperoleh dari kata, frase dan kalimat dari bait dan larik dari kelima belas judul puisi tersebut. Penelitian ini dilakukan dengan menggunakan metode deskriptif kualitatif dan dengan pendekatan sosiologi sastra. Berdasarkan analisis data dalam penelitian ini dapat ditemukan wujud tema kritik sodial dan konsep kritik sosial dalam kumpulan puisi potret pembangunan dalam puisi karya W.S. Rendra. Hal ini dibuktikan dalam data-data yang telah ditemukan serta dikaji membahas tentang masalah kekuasaan sosial, kekuasan politik, ideologi politik, kemiskinan, korupsi, dan pendidikan
Kata Kunci: Kritik Sosial, Kajian Sosiologi Sastra
References
Escarpit, Robert. 2010. Sosiologi Sastra. Jakarta : Yayasan Obor Indonesia.

Endraswara, Suwardi. 2008. Metode Penelitian Sastra. Bandung: Angkasa

Kartini, Kartono. 2011. Patologi Sosial. Jakarta : PT Raja Grafindo Persada

Nugiantoro, Burhan. 2012. Teori Pengkajian Fiksi. Yogyakarta : Gajah Mada University Pers.

Purwani Puji Utami. (2017). PENGARUH IKLIM KERJA, KEPUASAN KERJA, DISIPLIN KERJA TERHADAP KINERJA GURU SMAN SE-KOTA BEKASI . Visipena, 8(1), 17-32. https://doi.org/10.46244/visipena.v8i1.374

Purwani Puji Utami. (2018). PENGARUH SUPERVISI DAN KEPERCAYAAN TERHADAP KOMITMEN ORGANISASI PADA GURU SMA NEGERI SE KOTA BEKASI. Visipena, 9(2), 358-373. https://doi.org/10.46244/visipena.v9i2.465

Ratna, Nyoman Kutha. 2009. Teori, Metode, dan Teknik Penelitian Sastra. Yogyakarta : Pustaka Pelajar.

Rendra, W.S. 1980. Potret Pembangunan dalam Puisi. Jakarta : Lembaga Studi Pembangunan.

Satoto, Sudiro dan Zainuddin, Fananie. 2010. Sastra ideologi Politik dan Kekuasaan. Surakarta : Muhammadiyah Universitas Press.

Soekanto, Soerjono. 2017. Sosiologi Suatu Pengantar. Jakarta : PT Raja Grafindo Persada.

Suryadi, Budi. 2012. Sosiologi Politik. Yogyakarta : Ircisool

_______. 2003. Undang-Undang RI No. 20 Tahun 2003 Tentang Sistem Pendidikan Nasional. Jakarta : Depdiknas.
http://wiki.wikipedia/2012/definisikritiksosial

http://SebuahCatatanSastra.blogspot.com/2012/ou/definisi-kritik-sastra.html

http://idwikipedia.org/wiki/2012/08/05/kemiskinan, diakses tanggal 14 April 2013.

http://tindakpidana/1999/korupsi, diakses tanggal 14 April 2013.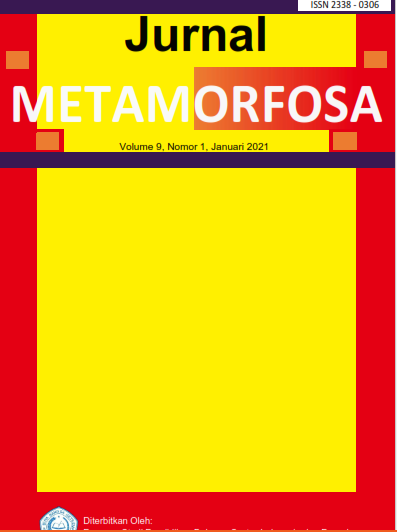 Article Metrics

Abstract views:
733

pdf
downloads:
428
How to Cite
Ayuningrum, S. (2021). KRITIK SOSIAL POTRET PEMBANGUNAN DALAM PUISI KARYA W.S. RENDRA : (Kajian Sosiologi Sastra). Jurnal Metamorfosa , 9(1), 69-81. https://doi.org/10.46244/metamorfosa.v9i1.1339