KESANTUNAN TINDAK TUTUR DIREKTIF MODERATOR DALAM DEBAT FINAL PILPRES TAHUN 2019
Nanang Heryana

Universitas Tanjungpura
Keywords:
Politeness, Directive Speech Act, Moderator, Debate
Abstract
This research aims to identify, describe, and analyze the politeness of speech acts of the moderator directive the Presidential Election Final Debate in 2019. Method used is descriptive with qualitative approach. Data source is a moderator speech act in debate. Research data are the politeness of the moderator's directive of debate in the form and strategies used in the form of words, phrases and sentences. Data collecting technique used is exposure techniques and documentary data collection tool is video recordings. The explanation technique was used to elaborate the moderator directive form and strategy of speech act politeness in the Final Debate. Data analysis method used the referral method with proficient SBLC and context analysis. Based on the results, there are 160 data in the form of words, phrases, clauses, or sentences which are included in directive speech acts. There are seven forms of moderator speech directives in debate, namely directive speech acts inviting, persuading, requesting, prohibiting, asking, reminding, and ordering. The politeness of directive speech acts can be direct politeness, irreverent politeness, positive politeness, and negative politeness.
Abstrak
Penelitian ini bertujuan untuk mengidentifikasi, mendeskripsikan, dan menganalisis kesantunan tindak tutur direktif moderator dalam Debat Final Pilpres 2019. Metode yang digunakan adalah deskriptif dengan pendekatan kualitatif. Sumber data berasal dari tindak tutur moderator dalam debat. Data yang dihimpun berupa kesantunan direktif moderator debat dalam strategi yang digunakan untuk memilih kata, frasa, dan kalimat. Teknik pengumpulan data yang digunakan adalah teknik pemaparan dan alat pengumpulan data dokumenter berupa rekaman video. Teknik pemaparan digunakan untuk menguraikan bentuk dan strategi kesantunan tindak tutur direktif moderator dalam Debat Akhir. Analisis data menggunakan metode simak dengan teknik simak bebas libat cakap (SBLC) dan analisis konteks. Berdasarkan hasil penelitian, didapatkan 160 data berupa kata, frasa, klausa atau kalimat yang termasuk dalam tindak tutur direktif. Ada tujuh bentuk tindak tutur direktif moderator dalam debat, yaitu tindak tutur mempersilakan, mengajak, meminta, melarang, bertanya, mengingatkan, dan tindak tutur memerintah. Kesantunan tindak tutur direktif dapat berupa kesantunan langsung, kesantunan tidak langsung, kesantunan positif, dan kesantunan negatif.
Kata Kunci:  Kesantunan, Tindak Tutur Direktif, Moderator, Debat
References
Brown dan Levinson. (1987). Universals in Lamguage Usage: Politeness
Chatib, Munif. (2011). Gurunya manusia: Menjadikan Semua Anak Istimewa dan Semua Anak
Juara. Bandung: Mizan Pustaka.
Cruse, Alan. (2006). A Glossary Of Semantics And Pragmatics. Edinburg University Press.
Faisal. (2018). Kajian Jenis Kesantunan Tindak Tutur Siswa Multietnik pada SMP Fatih
Bilingual School Banda Aceh. Universitas Serambi Mekah. Jurnal Metamorfosa, 6(2), 152-158. Retrieved from https://ejournal.bbg.ac.id/metamorfosa article/view/227 (Diakses 20 April 2019).
Kristanti, Ferti. (2014). Tindak Tutur Direktif dalam Dialog Film "Ketika Cinta Bertasbih"
yang Disutradarai oleh Chaerul Umam. Universitas Negeri Yogyakarta. Retrieved from http://eprints.uny.ac.id/17276/ (Diakses 10 April 2019).
Mahmud. (2011). Metode Penelitian Pendidikan. Bandung: Pustaka Setia.
Mahsun. (2005). Metode Penelitian Bahasa: Tahapan, Strategi, Metode, dan Tekniknya. Jakarta:
PT Raja Grafindo Persada.
Mulyana, Ajeng Tina. (2017). Tindak Tutur Direktif pada Wacana Dialog Muslim VS
Muslim Pendukung Ahok pada Tabloid Teropong Senayan. Universitas Negeri
Jakarta. Jurnal Metamorfosa, 5(2), 107-131. Retrieved from https://ejournal.bbg.ac.id/metamorfosa article/view/181 (Diakses 22 April 2019).
Nasution, Wahidah & Efrima. (2019). Analisis Tindak Tutur Ilokusi dalam Ikan Radio 99,3
Toss FM Merduati Banda Aceh. STKIP Bina Bangsa Getsempena. Jurnal
Metamorfosa, 7(2), 259-273. Retrieved from https://ejournal.bbg.ac.id/metamorfosa article/view/329 (Diakses 27 Juli 2019).
Ramaniyar, Eti, Fitri Wulansari, & Wiendi Wiranty. (2019). Maksim Kesantunan
Mahasiswa dalam Diskusi Kelas. Dosen IKIP PGRI Pontianak. Jurnal Metamorfosa,
(2), 252-258. Retrieved from https://ejournal.bbg.ac.id/ metamorfosa/article/view/324 (Diakses 28 Juli 2019).
Searle, J.R. (1985) . "Indirect Speech Acts", dalam P.Cole dan J. Morgan (ed). Syntax and
Semantics. Speech Acts. New York: Academic Press.
Syah, Nur Aini. (2017). Kesantunan Tindak Tututr Direktif dalam Talk Show Satu Jam
Lebih Dekat Di Tv One (Tinjauan Pragmatik). Universitas Sebelas Maret. Adabiyyat Jurnal Bahasa dan Sastra, 1(1), 94-111. Retrieved from http://ejournal.uin.suka.ac.id/adab/Adabiyyat/article/view/01105 Diakses 25 April 2019).
Tarigan, Henry Guntur. (2008). Berbicara sebagai Suatu Keterampilan Berbahasa. Bandung: Angkasa.
Wijana, I Dewa Putu & Muhammad Rohmadi. (2009). Analisis Wacana Pragmatik: Kajian
Teori dan Analisis. Surakarta: Yuma Pustaka.
Yule, George. (1996). Pragmatics. New York: Oxford University Press.
Yule, George. (2006). Pragmatik. Yogyakarta: Pustaka Pelajar.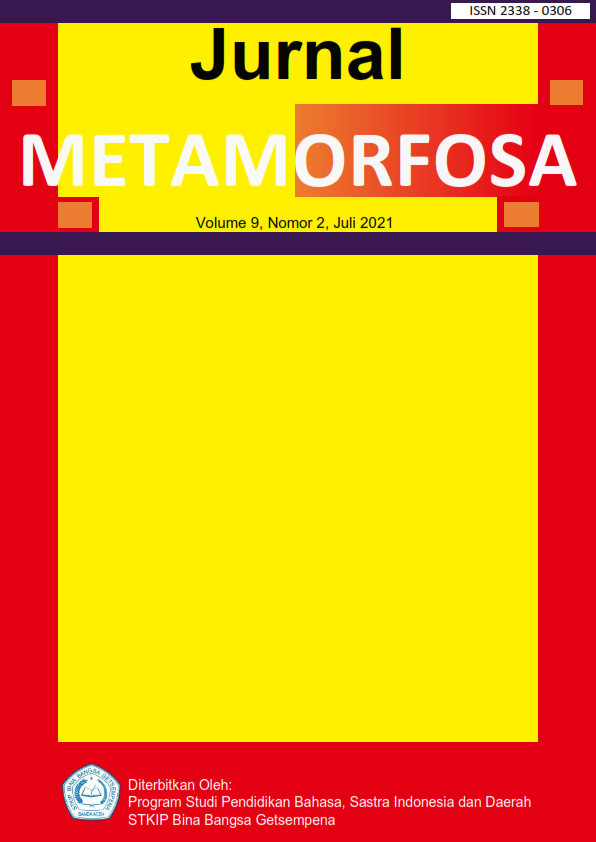 Article Metrics

Abstract views:
122

pdf
downloads:
85
How to Cite
Heryana, N. (2021). KESANTUNAN TINDAK TUTUR DIREKTIF MODERATOR DALAM DEBAT FINAL PILPRES TAHUN 2019. Jurnal Metamorfosa , 9(2), 207-223. https://doi.org/10.46244/metamorfosa.v9i2.1395