NILAI MORAL DALAM CERPEN "ANTING" KARYA RATNA INDRASWARI IBRAHIM
Aulia Zahra Fadhila

Universitas Muhammadiyah Malang

Ekarini Saraswati

Universitas Muhammadiyah Malang
Keywords:
literary works, short stories, moral values
Abstract
Short story is a literary work that has a story written by the author with one of the goals to provide a moral value for the reader. The short story "Anting" by Ratna Indraswari Ibrahim contains moral values ​​conveyed by the author by describing the characters in the short story for the readers as a life lesson that they are currently living. The purpose of this study is to describe what forms of moral values ​​exist in the short story "Anting" by Ratna Indraswari Ibrahim. This research was conducted using a qualitative method with a descriptive analysis approach. The results of this study found that; (1) 2 moral values ​​of courage, (2) 3 moral values ​​of generosity, (3) 9 moral values ​​of honesty, and (4) 4 moral values ​​of loyalty to family.
Abstrak
Cerpen merupakan karya sastra yang memiliki cerita yang dituliskan pengarang dengan salah satu tujuannya untuk memberikan sebuah nilai moral untuk pembacanya. Cerpen "Anting" karya Ratna Indraswari Ibrahim terdapat nilai moral yang disampaikan pengarang dengan mengambarkan tokoh yang ada di cerpen tersebut untuk para pembacanya sebagai pembelajaran hidup yang sedang mereka jalani sekarang ini. Tujuan dari penelitian ini adalah untuk mendeskripsikan apa saja bentuk-bentuk nilai moral yang ada di cerpen "Anting" karya Ratna Indraswari Ibrahim. Penelitian ini dilakukan menggunakan metode kualitatif dengan pendekatan analisis deskriptif. Hasil dari penelitian ini ditemukan adanya; (1) nilai moral keberanian ditemukan sebanyak 2 data, (2) nilai moral kemurahaan hati ditemukan sebanyak 3 data , (3) nilai moral kejujuran ditemukan sebanyak 9 data, dan (4) nilai moral kesetiaan kepada keluarga ditemukan 4 data.
Kata Kunci: karya sastra, cerpen, nilai moral
References
Abdurrahim, M. R. (2019). Nilai-Nilai Moral Dalam Cerpen Dari Ciuman Ke Tiang Gantungan Karya Bonari. 3(2), 602–608.

Amana, L. N., Suryanto, & Arifiana, I. Y. (2019). Manajemen Kesetiaan Istriyang Menjalani Long Distance Marriage pada Istri Pelaut. PSISULA: Prosiding Berkala Psikologi, 1.

Arianti. (2020). Analisis Kajian Struktural dan Nilai Moral dalam Cerpen "Gugatan" Karya Supartika. Parole (Jurnal Pendidikan Bahasa Dan Sastra Indonesia), 3(3), 369–376.

Chairilsyah, D. (2016). Metode dan Teknik Mengajarkan Kejujuran pada Anak Sejak Usia Dini. Jurnal Educhild, 5(1), 8–14.

Mujayana. (2018). Pengaruh Motivasi, Disiplin dan Lingkungan Kerja Terhadap Kinerja Karyawan Laboratorium Patologi Klinik di RSUD Dr. Moewardi. Universitas Setia Budi.

Muslimah, & Halimah. (2019). Sisi Humanisme Tere Liye Dalam Novel Rembulan Tenggelam Di Wajahmu. Parole (Jurnal Pendidikan Bahasa Dan Sastra Indonesia), 1(5), 681–690.

Ningsih, F. A. A. (2018). Keberanian Dalam Novel Serial Little Ballerina Karya Muthia Fadhila Khairunnisa. 1–10.

Nurhasanah, E., & Sandi, W. (2019). Analisis Nilai Moral Dalam Buku Antalogi Cerpen Panggil Aku Aisyah Karya Thamrin Paelori. In Journal of Chemical Information and Modeling (pp. 1–183).

Rachels, J. (2004). Filsafat Moral, ter. Sudiarja. A. Kanisius.

Ratna, N. K. (2006). Teori, metode, dan teknik penelitian sastra. Pustaka Belajar.

Sapdiani. (2018). Analisis struktural dan nilai moral dalam cerpen kembang gunung kapur karya Hasta Indrayana. Parole (Jurnal Pendidikan Bahasa Dan Sastra Indonesia), 2, 101–104.

Sugiyono. (2014). Metode Penelitian Pendidikan Pendekatan Kuantitatif, Kualitatif, dan R&D. Alfabeta.

Wasi'ah, D., Saripah, T., Stiyanti, D. W., & Mustika, R. I. (2018). Analisis Nilai Moral pada Lima Cerpen Karya Kuntowijoyo dalam Buku Dilarang Mencintai Bunga-Bunga. Parole (Jurnal Pendidikan Bahasa Dan Sastra Indonesia), 1(2), 241–256. http://journal.ikipsiliwangi.ac.id/index.php/parole/article/view/255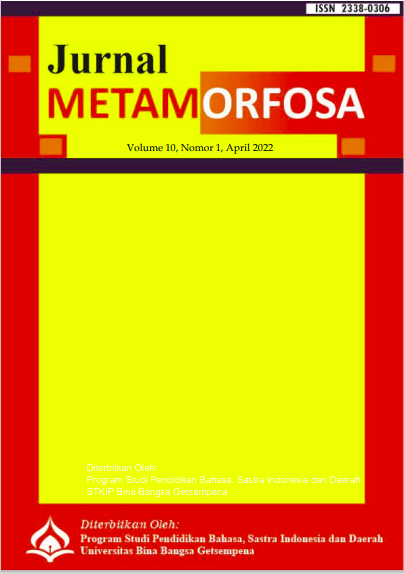 Article Metrics

Abstract views:
73

pdf
downloads:
82
How to Cite
Aulia Zahra Fadhila, & Saraswati, E. (2022). NILAI MORAL DALAM CERPEN "ANTING" KARYA RATNA INDRASWARI IBRAHIM. Jurnal Metamorfosa , 10(1), 48-60. https://doi.org/10.46244/metamorfosa.v10i1.1500