KODE SASTRA DALAM SYAIR DIDONG
Ismawirna Ismawirna

Universitas Seambi Mekkah

Erfinawati Erfinawati

Universitas Serambi Mekkah

Manis Fitri Binti Binti

Universitas Serambi Mekkah
Keywords:
code, literature, poetry, didong
Abstract
The study is titled"Literature Code In Didong Poetry".The problem formulation in this research is "How is the literary code contained in Syair Didong?".The purpose of this research is to describe the literary code contained in Syair Didong.This research uses descriptive method and qualitative approach.Data collection is done by using text analysis technique. The data source in this research is Didong Jalu video recording between club Arita Mude and Biak Cacak in June 2020 ago in Darussalam Village, District Bener Kelipah, Bener Meriah Regency published by Gumara Enterteiment.The results of data analysis show Didong Jalu poem between clubs Arita Mude and Biak Cacak in June 2020 ago in Darussalam Village, Bener Kelipah Subdistrict, Bener Meriah Regency known that generally the theme of art itself about Islamic values ​​such as the words described in the Qur'an that is true words, imprinting words, good words, noble words and gentle words and interspersed with allusions between the two groups. In the Didong poem there are many icons and indexes used to embellish the contents of the poem. Furthermore, Didong's poem generally uses more icons and indexes. In the Didong poem there is no use of symbols in it.
Abstrak
Penelitian ini berjudul "Kode Sastra dalam Syair Didong". Rumusan masalah dalam penelitian ini adalah bagaimanakah kode sastra yang terdapat dalam syair didong? Tujuan penelitian ini adalah untuk mendeskripsikan kode sastra yang terdapat dalam syair didong. Penelitian ini menggunakan metode diskriptif dan pendekatan kualitatif. Pengumpulan data dilakukan dengan menggunakan teknik analisis teks. Adapun sumber data dalam penelitian ini adalah video rekaman didong  Jalu antara klub Arita Mude dan Biak Cacak pada bulan Juni 2020 yang lalu di Desa Darussalam, Kecamatan Bener Kelipah, Kabupaten Bener Meriah yang diterbitkan oleh Gumara Enterteiment. Hasil penelitian menunjukkan bahwa sebagian besar syair didong bertemakan kesenian tentang nilai-nilai Islam seperti perkataan-perkataan yang diterangkan dalam Al-Qur'an yaitu perkataan benar, perkataan membekas, perkataan baik, perkataan mulia dan perkataan lemah lembut serta diselingi dengan sindiran-sindiran antara dua grup syair tersebut.  Hasil analisis pada syair didong pada umumnya lebih banyak menggunakan ikon dan indeks. Dalam syair Didong tidak ditemukan penggunaan simbol.
Kata Kunci: kode, Sastra, Syair, Didong
References
Nasution, Agustina Milana. 2010. Kesenian Didong Alo dan Didong Tepok pada Acara Pesta Perkawinan Juelen Digayo Lues. utuh- pembenahan-seni-didonggayo-lues. diakses pada tanggal. 03 Mei 2018 https://jurnal.unimed.ac.id/2012/index.php/grenek/article/view/3842

Melalatoa, M.J. 1981. Kabinet dalam Sastra Gayo.Jakarta: Departemen Pendidikan.

Melalatoa, M.J. 2001. Didong Pentas Kreativitas Gayo. Jakarta: Obor Indonesia.

Pandiyan. 2014. Semiotics: A Literary Genre Universal. The Criterion An International Journal in English. ISSN0976-8165, April 2014 Vol. 5. https://the-criterion.com/V5/n2/Rajashree.pdf

Pradopo, et al. 2000. Teori sastera. Jakarta: Pustaka Karya.

Pradopo, Rachmat Djoko. 1995. Beberapa Teori Sastra Metode Kritik dan Penerapannya. Yokyakarta: Pustaka Pelajar.

Rahmat, Selisih& Rajab BahRy. 2019. Analisis Gaya Bahasa Sindiran Dalam Syair Didong Jalu Arita Mude Dan Biak Cacak . Jurnal Bahasa dan Sastra Vol. 13 No. 1, Januari 2019; 61-79. http://www.jurnal.unsyiah.ac.id/JLB/article/view/12946/9949

Rohmani, AHMAD FUADI Siti. 2013. Analisis Alih Kode dan Campur Kode Pada Novel Negeri 5 Menara Karya. BASASTRA Jurnal Penelitian Bahasa, Sastra Indonesia dan Pengajarannya Volume 2 Nomor 1 https://jurnal.fkip.uns.ac.id/index.php/bhs_indonesia/article/view/2149/1564

Sriyono, Siswanto, dan Ummu. 2015. Kode-Kode Budaya dalam Sastra Lisan Biak Papua The Cultural Codes In Oral Literature Of Biak Papua . ATAVISME, Vol. 18, No. 1. https://core.ac.uk/download/pdf/194449568.pdf

Sojoodi, Farzan. 2005. Intercultural Communication: Asemiotic Approach, International Seminaron Cultural Parallels: IndiaandIran,9th–10th November, 2005, Allahabad Museum, Allahabad.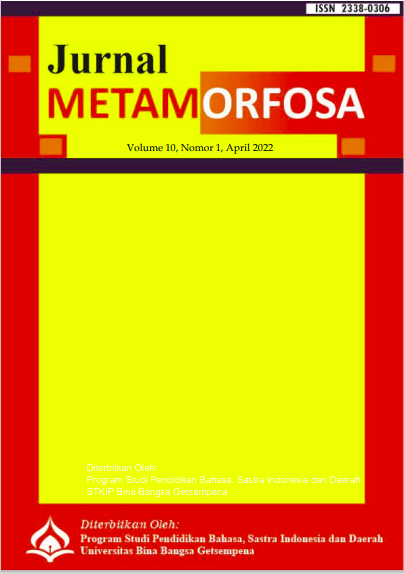 Article Metrics

Abstract views:
39

pdf
downloads:
55
How to Cite
Ismawirna, I., Erfinawati, E., & Binti, M. F. B. (2022). KODE SASTRA DALAM SYAIR DIDONG. Jurnal Metamorfosa , 10(1), 38-47. https://doi.org/10.46244/metamorfosa.v10i1.1597