INTERFERENSI MORFOLOGIS BAHASA SIMEULUE DALAM PEMBELAJARAN MENULIS KARANGAN NARASI PADA SISWA KELAS V SD NEGERI 10 SIMEULUE TENGAH
Gio Mohamad Johan

STKIP Bina Bangsa Getsempena

Rindawati

STKIP Bina Bangsa Getsempena
Keywords:
Interferensi, Bahasa Simeulue, Karangan Narasi
Abstract
Penelitian ini dilatarbelakangi oleh penggunaan dua bahasa yang dilakukan oleh siswa kelas V SDN 10 Simeulue Tengah. Penelitian ini bertujuan untuk mengungkapkan fenomena interferensi bahasa yang dilakukan oleh siswa sekolah dasar. Penggunaan dua bahasa oleh seseorang dikenal dengan dwibahasawan. Penggunaan dua bahasa ini baik secara langsung maupun tidak langsung menimbulkan kontak bahasa,  dan salah satu akibatnya adalah interferensi bahasa. Intereferensi bahasa merupakan suatu hal yang sulit dihindari oleh penutur bahasa, terlebih bagi penutur bahasa pemula. Penelitian ini menggunakan pendekatan deskriptif kualitatif. Data yang dimaksud dalam penelitian ini adalah bentuk interferensi morfologis, dan sumber datanya yakni siswa kelas V SDN 10 Simeulue Tengah. Hasil penelitian ini menunjukkan bahwa terdapat interferensi bahasa Simeulue terhadap bahasa Indonesia yang digunakan siswa dalam menulis karangan narasi.
Abstract
This research is motivated by the use of two languages conducted by students of fifth grade SDN 10 Simeulue Tengah. This study aims to reveal the phenomenon of language interference conducted by elementary school students. The use of two languages by a person is known as dwibahasawan. The use of these two languages either directly or indirectly raises the language contact, and one consequence is language interference. Language interference is a difficult thing to avoid language speakers, especially for beginner language speakers. This research use desciptive qualitative approach. The data referred to in this study is a form of morphological interference, and the data source is the students of fifth grade SDN 10 Simeulue Tengah. The results of this study indicate that there is an interference of Simeulue language to the Indonesian language used by students in writing narrative essay.
Keywords: Interference, Simeulue Language, Narrative Text
References
Aslinda dan Syafyahya, L. (2007). Pengantar Sosiolinguistik. Bandung: Refika.

Chaer, A. (2008). Morfologi Bahasa Indonesia (Pendekatan Proses). Jakarta: Rineka Cipta.

Johan, G. M. (2013). Interferensi Kosakata Bahasa Cirebon Terhadap Bahasa Indonesia
Dalam Karangan Siswa SDN 1 Galagamba Kabupaten Cirebon (Doctoral
dissertation, Universitas Pendidikan Indonesia).

Johan, G. M. (2017). IDENTIFIKASI KEDWIBAHASAAN SISWA: IMPLEMENTASI
STUDI KEBAHASAAN DI SEKOLAH DASAR. Jurnal Tunas Bangsa, 4(1).

Keraf, G. (2007). Diksi dan Gaya Bahasa. Jakarta: Gramedia Pustaka Utama.

Noer, N. M., & Johan, G. M. (2013). INTERFERENSI KOSAKATA BAHASA CIREBON
TERHADAP BAHASA INDONESIA DALAM KARANGAN SISWA SEKOLAH
DASAR. pedagogik-pendas, 314.

Pratiwi, Y., dkk.(2008). Bahasa Indoneisa. Jakarta: Universitas Terbuka.

Suhardi, B. & Sembiring, C. (2005). Aspek Sosial Bahasa. Jakarta: Rineka Cipta.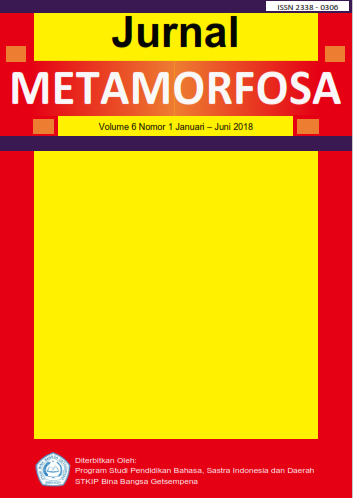 Article Metrics

Abstract views:
565

pdf
downloads:
577
How to Cite
Gio Mohamad Johan, & Rindawati. (2018). INTERFERENSI MORFOLOGIS BAHASA SIMEULUE DALAM PEMBELAJARAN MENULIS KARANGAN NARASI PADA SISWA KELAS V SD NEGERI 10 SIMEULUE TENGAH. Jurnal Metamorfosa , 6(1), 27-39. Retrieved from https://ejournal.bbg.ac.id/metamorfosa/article/view/189