POTRET KEMISKINAN DALAM ANTOLOGI CERPEN KEUMALA KARYA RAMAJANI SINAGA
Hendra Kasmi

STKIP Bina Bangsa Getsempena
Keywords:
Kemiskinan, Cerpen
Abstract
Penelitian ini berjudul Potret Kemiskinan dalam Antologi Cerpen Keumala Karya Ramajani Sinaga. Masalah yang ingin ditelaah  adalah tentang gambaran kemiskinan dalam cerpen-cerpen Ramajani Sinaga yang terhimpun dalam antologi Keumala. Penelitian ini bertujuan  mendeskripsikan gejala sosial masyarakat terutama yang berhubungan dengan realitas kemiskinan. Metode yang digunakan adalah metode deskriptif analitis dengan pendekatan struktural. Sumber data penelitian ini adalah  cerpen-cerpen yang terhimpun dalam antologi cerpen Keumala karya Ramajani Sinaga. Data dianalisis dengan menggunakan teknik analisis kualitatif. Hasil penelitian ini menunjukkan bahwa cerpen-cerpen yang terhimpun dalam antologi cerpen Keumala karya Ramajani Sinaga sarat dengan gambaran kemiskinan dan kesederhanaan masyarakat Indonesia. Hampir semua cerpen yang diangkat dalam antologi tentang keterbatasan lapangan kerja dan pengangguran, keterbatasan ekonomi, dan kehidupan sederhana orang-orang pedesaan.
Abstract
This research is titled Portrait of Poverty in Cerologi Keumala Karya Ramajani Sinaga. The problem to be studied is about the picture of poverty in the short stories Ramajani Sinaga that collected in Keumala anthology. This study aims to describe the social phenomena of the community, especially those related to the reality of poverty. The method used is analytical descriptive method with structural approach. The source of this research data is short stories that are collected in the anthology of Keumala short story by Ramajani Sinaga. Data were analyzed using qualitative analysis technique. The results of this study indicate that the short stories are collected in the anthology of short stories Keumala Ramajani Sinaga works loaded with a picture of the poverty and simplicity of Indonesian society. Almost all the short stories raised in anthology about the limitations of employment and unemployment, economic limitations, and the humble life of rural people.
Keywords: Poverty, Short Story
References
Departemen Pendidikan Nasional. 2003. Buku Praktis Bahasa Indonesia. Bandung: Pusat Bahasa.
Herawati, Yudianti. 2006. Novel Lonceng Kematian; Kajian Struktural dan Sosiologis. Samarinda: Pusat Bahasa Kalimantan Timur.
Nursito. 2001. Ikhtisar Kesusastraan Indonesia. Yogyakarta: Adicita Karya Nusa.
Nurgiyantoro, Burhan. 2007. Teori Pengkajian Fiksi. Yogyakarta: Gadjah Mada University Press.
Rusyana, Yus.1982. Metode Pengajaran Sastra. Bandung: Gunung Larang.
Sinaga, Ramajani. 2015. Keumala. Jakarta: Kinomedia.
Sumadininggrat. 1999. Kemiskinan: Kebijakan, Teori, dan Fakta. IMPAC: Jakarta.
Suroto. 1989. Apresiasi Sastra Indonesia. Jakarta: Erlangga.
Tarigan, Henry Guntur. 1984. Prinsip-Prinsip Dasar Sastra. Bandung: Angkasa.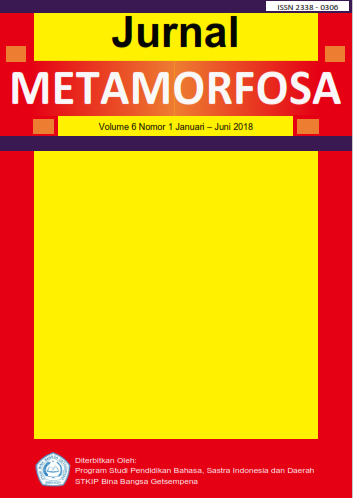 Article Metrics

Abstract views:
127

pdf
downloads:
232
How to Cite
Hendra Kasmi. (2018). POTRET KEMISKINAN DALAM ANTOLOGI CERPEN KEUMALA KARYA RAMAJANI SINAGA. Jurnal Metamorfosa , 6(1), 40-49. Retrieved from https://ejournal.bbg.ac.id/metamorfosa/article/view/190