TINGKAT MOTIVASI BELAJAR MAHASISWA SEMESTER III PRODI PENDIDIKAN BAHASA INDONESIA
Harfiandi

STKIP Bina Bangsa Getsempena
Keywords:
Level Of Learning Motivation, Internal Motivation, External Motivation
Abstract
The aim of this study is to describe the level of students' learning motivation at Indonesian Language Study Program of STKIP Bina Bangsa Getsempena. This is a descriptive research that data collected in the form of quetionaire. The subjects taken in this study were the third semester students who were taking lectures. The data processing of this research was carried out by scoring the scale of each statement in 8 factors of student learning motivation consisting of 4 internalfactorsand 4 external factors. Based on the results of the study, it shows that students' learning motivation at the specified interval scale reaches 97 in the internal aspects that have a normal category and in the external category the students' score reaches 114 which is categorized high. In comparison, student motivation to learn internally is lower than externally. With this level, students still need to get serious attention on increasing motivation to learn. Several factors related to the statement of learning motivation still need to be improved to strengthen student skills.
Abstrak
Tujuan penelitian ini mendeskripsikan bagaimana tingkat motivasi belajar mahasiswa prodi Pendidikan Bahasa Indonesia STKIP Bina Bangsa Getsempena. Data penelitian ini berupa motivasi belajar mahasiswa. Penelitian ini dilakukan secara deskriptif.Teknik pengumpulan data yang digunakan adalah kuesioner. Subjek dalam penelitian ini adalah mahasiswa semester III yang sedang mengikuti perkuliahan. Pengolahan data penelitian ini dilakukan dengan skala penyekoran dari setiap pernyataan dalam 8 faktor motivasi belajarmahasiswa yang terdiri atas 4 faktorinternal dan 4 eksternal. Berdasarkan hasil penelitian, motivasi belajar mahasiswa pendidikan bahasa Indonesia STKIP Bina Bangsa Getsempena menunjukkan bahwa motivasi belajar mahasiswa pada skala interval yang ditentukan, yaitu 97 pada aspek internal yang memiliki kategori biasa dan 114 pada aspek eksternal yang berkategori tinggi. Sebagai perbandingan, motivasi belajar mahasiswa secara internal lebih rendah dari pada eksternal. Dengan tingkat tersebut, mahasiswa masih perlu mendapat perhatian serius pada meningkatkan motivasi belajar. Beberapa faktor yang terkait dengan pernyataan motivasi belajar masih perlu ditingkatkan untuk memperkuat kecakapan mahasiswa.
Kata Kunci:Tingkat Motivasi Belajar, Motivasi Internal, Motivasi Eksternal
References
Carrió-pastor, M.L. & Mestre, E.M.M., 2014. Motivation in Second Language Acquisition. Procedia - Social and Behavioral Sciences, 116(2002), pp.240–244. Available at: http://dx.doi.org/10.1016/j.sbspro.2014.01.201.

Frydrychova, B., 2011. Motivation for learning English at a university level. Procedia - Social and Behavioral Sciences, 15, pp.2599–2603. Available at: http://dx.doi.org/10.1016/j.sbspro.2011.04.153.

Hafid, Anwar dkk. 2014. Konsep Dasar Ilmu Pendidikan. Bandung: Alpabeta.

Hamdu, Ghullham dan Lisa Agustina. 2011. Pengaruh Motivasi Belajar Siswa terhadap Prestasi Belajar IPA di Sekolah Dasar. Penelitian Pendidikan,12, PP.81-86.

Harfiandi dan Wahidah Nasution, 2019. Analisis Level Kognitif terhadap Daya Beda Butir Soal Ujian Komprehensif Pendidikan Bahasa dan Sastra Indonesia STKIP Bina Bangsa Getsempena. Metamorfosa, 7, pp.12–19.

Harvey, L., 2017. Language learning motivation as ideological becoming. System, 65, pp.69–77. Available at: http://dx.doi.org/10.1016/j.system.2016.12.009.

Özgür, B. & Griffiths, C., 2013. Second Language Motivation. Procedia - Social and Behavioral Sciences, 70, pp.1109–1114. Available at: http://dx.doi.org/10.1016/j.sbspro.2013.01.165.

Putra, Sitiatava Rizema. 2013. Pendidikan Berbasis Bakat Siswa. Jogjakarta: Diva Press.

Pujadi, Arko. Faktor-faktor yang Mempengaruhi Motivasi Belajar Mahasiswa. Business Management, 3, PP. 40-51.

Syah, Muhibbin. 2010. Psikologi pendidikan. Bandung: Remaja Rosdakarya.

Slameto. 2010. Belajar dan Faktor-faktor yang Mempengaruhinya. Jakarta: Rineka Cipta.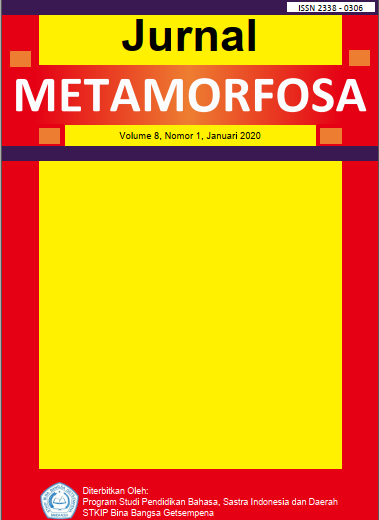 Article Metrics

Abstract views:
158

pdf
downloads:
167
How to Cite
Harfiandi. (2020). TINGKAT MOTIVASI BELAJAR MAHASISWA SEMESTER III PRODI PENDIDIKAN BAHASA INDONESIA. Jurnal Metamorfosa , 8(1), 27-36. https://doi.org/10.46244/metamorfosa.v8i1.337