PERBEDAAN SIKAP ILMIAH SISWA MENGGUNAKAN MODEL PEMBELAJARAN INQUIRY TRAINING DENGAN MODEL PEMBELAJARAN DIRECT INSTRUCTION
Dyan Wulan Sari Hs

Universitas Katolik Santo Thomas

Agus Kistian

STKIP Bina Bangsa Meulaboh
Keywords:
Scientific Attitude, Inquiry Training, Direct Instruction
Abstract
This study aims to analyze the differences in scientific attitudes of students using inquiry training learning models with direct instruction learning models. This research is a quasi-experimental study. In this study there are two classes that are used as an experimental class and a control class, the experimental class is a class that is treated with learning with inquiry training models, while the control class is a class using the direct instruction learning model. The instrument used consisted of a questionnaire to measure students' scientific attitudes in the posttest, as well as an observation sheet. The results of this study indicate that the average value of the scientific attitude of learning in the experimental class is 75.01 with a standard deviation of 7.373, while in the control class is 71.60 with a standard deviation of 7.935. The results of this research suggest that inquiry training learning model is a solution and an alternative choice for teachers in improving students' scientific attitudes.
Abstrak
Penelitian ini bertujuan untuk menganalisis perbedaan sikap ilmiah siswa menggunakan model pembelajaran inquiry training dengan model pembelajaran direct instruction. Penelitian ini merupakan penelitian eksperimen semu (quasi experiment). Dalam penelitian ini terdapat dua kelas yang digunakan sebagai kelas eksperimen dan kelas kontrol, kelas eksperimen merupakan kelas yang diberi perlakuan pembelajaran dengan model inquiry training, sedangkan kelas kontrol adalah kelas dengan menggunakan model pembelajaran direct instruction. Instrumen yang digunakan terdiri dari berupa angket untuk mengukur sikap ilmiah siswa dalam posttest, serta lembar observasi. Hasil dari penelitian ini menunjukkan bahwa rata-rata nilai sikap ilmiah belajar pada kelas eksperimen sebesar 75,01 dengan simpangan baku sebesar 7,373, sedangkan pada kelas kontrol sebesar 71,60 dengan simpangan baku sebesar 7,935. Hasil penelitan ini menyarankan bahwa model pembelajaran inquiry training merupakan solusi dan alternatif pilihan guru dalam meningkatkan sikap ilmiah siswa.
Kata Kunci: Sikap Ilmiah, Inquiry Training, Direct Instruction
References
Andi, dkk. (2015). Penerapan Pendekatan Keterampilan Proses Dalam Pembelajaran IPA Untuk Meningkatkan Hasil Belajar Siswa Kelas IV SDN 1 Binangga Kecamatan Marowala Palu. e-Journal Program Guru dalam Jabatan Fakultas Keguruan dan Ilmu Pendidikan Universitas Tadulako,(Online),Vol 5, No. 8.
Akdon, dan Riduwan. (2013). Rumus dan Data Dalam Analisis Statistika. Bandung:Alfabeta.
Astuti, R., W. Sunarno, & Suciati S. (2012). Pembelajaran IPA dengan Pendekatan Keterampilan Proses Sains menggunakan Metode Eksperimen Bebas Termodifikasi dan Eksperimen Terbimbing Ditinjau dari Sikap Ilmiah dan Motivasi Belajar Siswa. Jurnal Inkuiri, Vol. 51, Hlm. 51-59.
Azizah, A. Parmin. (2012). Inquiry Training untuk Mengembangkan Keterampilan Meneliti Mahasiswa. Unnes Science Education Journal. USEJ 1 (1): 1-11.
Chiu, M. M. (2000). Group Problem Solving Proceees: Social Interactions and Individual Actions, Jurnal For the Theory of Social Behavior, 30(1), 27-50.
Chiu, M. M. (2008). Flowing Toward Coreect Contributions During Group Mathematics Problem Solving: A Statistical Discourse Analysis, Journal of the Learning Sciences, 17 (3), 415-463.
Departemen Pendidikan Nasional. (2003). Kamus Besar Bahasa Indonesia EdisiKetiga. Jakarta: Balai Pustaka.
Ghumdia, A.A. (2016). Effect Of Inquiry-Based Teaching Strategy On Students' Science Process Skills Acquisition In Some Selected Biology Concepts In Secondary Shools In Borno State, International Journal of Scientific Research, Vol.1 (2), 2016 : 96-106.
Gormally, C., Brickmann, P., B., & Armstorng, N. Effects of Inquiry-based Learning on Students' Science Literacy Skliis and Confidence. International Journal for The Scholarship of Teaching and Learning. Vol 3 No 2: 1-21
Halimatus. (2014). Efek Model Pembelajaran Inquiry Training Berbantukan Hand Out dan Sikap Ilmiah Terhadap Kemampuan Siswa Berbasis KPS. Jurnal Pendidikan Fisika. Vol. 3 (3) : 33-39
Hutapea, F., Motlan. (2015). Pengaruh Model Pembelajaran Inquiry Training dan Kemampuan Berpikir Kritis Terhadap Keterampilan Proses Sains Siswa SMA. Jurnal Pendidikan Fisika. ISSN: 2252-732X.
Kusuma, M.D. (2013). Pengaruh Sikap Ilmiah Siswa terhadap Hasil Belajar Fisikadan Kemandirian Belajar Siswa SMA melalui Strategi Scaffolding-Kooperatif. Jurnal Online FKIP Universitas Lampung. Vol 1, No 02.
Mahulae, P.S., Sirait, M., Sirait M. (2017). The Effect of Inquiry Training Learning Model Using PhET Media and Scientific Attitude on Students' Science Process, IOSR-Journal of Research & Method in Education, Vol. 7 (5), October 2017, pp: 24-29.
Joyce., Weil. (2011). Models Of Teaching, Edisi Kedelapan. Yogyakarta: Pustaka Belajar.
Maasaki, S. (2012). Dialog dan Kolaborasi di Sekolah Menengah Pertama Praktek "Learning Community" Pelita Kerjasama Diknas, Kemenag dan Jica.
Rustaman, A. (2005). Pengembangan Kompetensi (Pengetahuan, keterampilan, Sikap, dan Nilai) Melalui Kegiatan Praktikum Biologi. Penelitian Jurusan Pendidikan Biologi FPMIPA. Bandung: Universitas Pendidikan Indonesia.
Sugiyono. (2013). Metode Penelitian Pendidikan Kualitatif, Kuantitatif, dan R&D. Bandung. Alfabeta.
Vaishnav, R. (2013). Effectiveness of Inquiry Training for Teaching Science. Scholary Research Journal for Interdisiplinary Studies. Vol.1, pp: 1216-1220.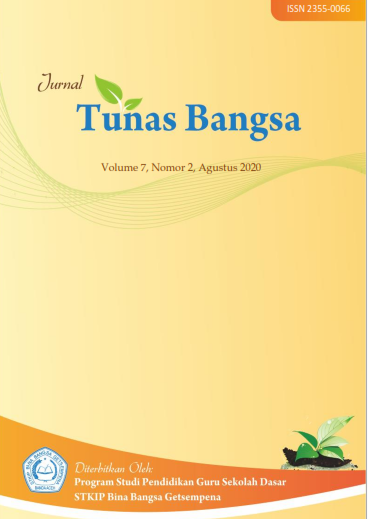 Article Metrics

Abstract views:
80

pdf
downloads:
68
How to Cite
Dyan Wulan Sari Hs, & Agus Kistian. (2020). PERBEDAAN SIKAP ILMIAH SISWA MENGGUNAKAN MODEL PEMBELAJARAN INQUIRY TRAINING DENGAN MODEL PEMBELAJARAN DIRECT INSTRUCTION. Jurnal Tunas Bangsa , 7(2), 174-188. https://doi.org/10.46244/tunasbangsa.v7i2.1160