PENGARUH MODEL PEMBELAJARAN KONTEKSTUAL DAN MODEL PEMBELAJARAN KONVENSIONAL DENGAN KONSEP DIRI TERHADAP PEMAHAMAN KONSEP MATEMATIKA SISWA KELAS IV SEKOLAH DASAR
Yana Supriatna

Universitas Negeri Jakarta

Anton Noornia

Universitas Negeri Jakarta

Deasiyanti

Universitas Negeri Jakarta

Lamria

Universitas Negeri Jakarta
Keywords:
Contextual Learning Model, Self Concept, Understanding of Mathematical Concepts
Abstract
This study aims to determine the effect of Contextual learning models and Conventional learning models with Self Concepts on Understanding Mathematical Concepts in Class VI Elementary School Mathematics. The research sites were SDIT El-Ma'mur and SDIT Al-Munawar. The study was conducted using an experimental method involving two sample groups namely students who learned to use contextual and conventional approaches. Thus it is expected to be compared with the same two study groups. The results of this study indicate that there are differences in the ability of Mathematical Concept Understanding of elementary school students between students who learn to use the contextual learning model with students who learn to use conventional learning models. In addition, the Self Concept also influences the ability of students to understand Mathematical Concepts. The results of data analysis have been carried out.
Abstrak
Penelitian ini bertujuan untuk mengetahui pengaruh model pembelajaran Kontekstual dan model pembelajaran Konvensional dengan Konsep Diri terhadap Pemahaman Konsep Matematika pada pelajaran Matematika Kelas VI Sekolah Dasar. Tempat yang dijadikan penelitian adalah SDIT El-Ma'mur dan SDIT Al-Munawar. Penelitian dilakukan dengan menggunakan metode eksperimen dengan melibatkan dua kelompok sampel yaitu siswa yang belajar menggunakan pendekatan kontekstual dan konvensional. Dengan demikian diharapkan dapat dibandingkan dua kelompok belajar yang sama. Hasil penelitian ini menunjukan bahwa terdapat perbedaan kemampuan Pemahaman Konsep Matematika siswa sekolah dasar antara siswa yang belajar menggunakan model pembelajaran Kontekstual dengan siswa yang belajar menggunakan model pembelajaran Konvensional. Selain itu, Konsep Diri juga memberikan pengaruh terhadap kemampuan Pemahaman Konsep Matematika siswa. Adapun hasil analisis data yang telah dilakukan
Kata kunci: Model Pembelajaran Kontekstual, Konsep Diri, Pemahaman Konsep Matematika
Downloads
Download data is not yet available.
References
Amir, M. F. (2015, October). Pengaruh Pembelajaran Kontekstual Terhadap Kemampuan Pemecahan Masalah Matematika Siswa Sekolah Dasar. In Prosiding Seminar Nasional Pendidikan (pp. 34-42).
Currie, G., & Thomas, C. (2018). Learning Outcomes, Reflection, Cognitive Capacity Reserve and Learning-Centred Authentic Assessment. In 43rd International Conference on Improving University Teaching: New Spaces for Learning.
Desmita, (2014). Psikologi Perkembangan Peserta Didik, Bandung, PT Remaja Rosdakarya,
Elfert, M. (2015). UNESCO, the Faure report, the Delors report, and the political utopia of lifelong learning. European Journal of Education, 50(1), 88-100.
Griffiths, C., & Soruç, A. (2019). Contextual Differences regarding Students' Perceptions of English as a Lingua Franca according to Subject Major and Nationality. The Journal of Language Learning and Teaching, 9(1), 53-69.
Johnson, E. B. (2002). Contextual teaching and learning: What it is and why it's here to stay. Corwin Press.
Lawale, S., & Bory-Adams, A. (2010). The decade of education for sustainable development: Towards four pillars of learning. Development, 53(4), 547-550.
Mezirow, J. (2018). Transformative learning theory. In Contemporary Theories of Learning (pp. 114-128). Routledge.
Muhsetyo, G., Krisnadi, E., & Wahyuningrum, E. (2014). Pembelajaran matematika SD.Jakarta: Universitas Terbuka.
Purnawati, S., Fauzan, A., & Rasidin, S. (2019, January). Contextual Learning Styles-Based Approach to Improve Mathematics Learning Outcomes In Primary School. In International Conference on Islamic Education (ICoIE 2018). Atlantis Press.
Schunk, D. H., Pintrich, P. R., & Meece, J. L. (2008). Motivation in education: Theory, research, and applications.
Soedjadi, R. (2014). Inti Dasar–Dasar Pendidikan Matematika Realistik Indonesia. Jurnal Pendidikan Matematika, 1(2).
Sujadi, R. (2000). Kiat Pendidikan Matematika di Indonesia. Direktorat Jenderal Pendidikan Tinggi, Depdiknas, Jakarta.
Susanto, A. (2016). Teori belajar dan pembelajaran di sekolah dasar. Kencana.
Zhang, X., Räsänen, P., Koponen, T., Aunola, K., Lerkkanen, M. K., & Nurmi, J. E. (2018). Early Cognitive Precursors of Children's Mathematics Learning Disability and Persistent Low Achievement: A 5‐Year Longitudinal Study. Child development.
Zubaidah, (2016).PsikologiPembelajaranMatematika,Yogyakarta, AswajaPresindo,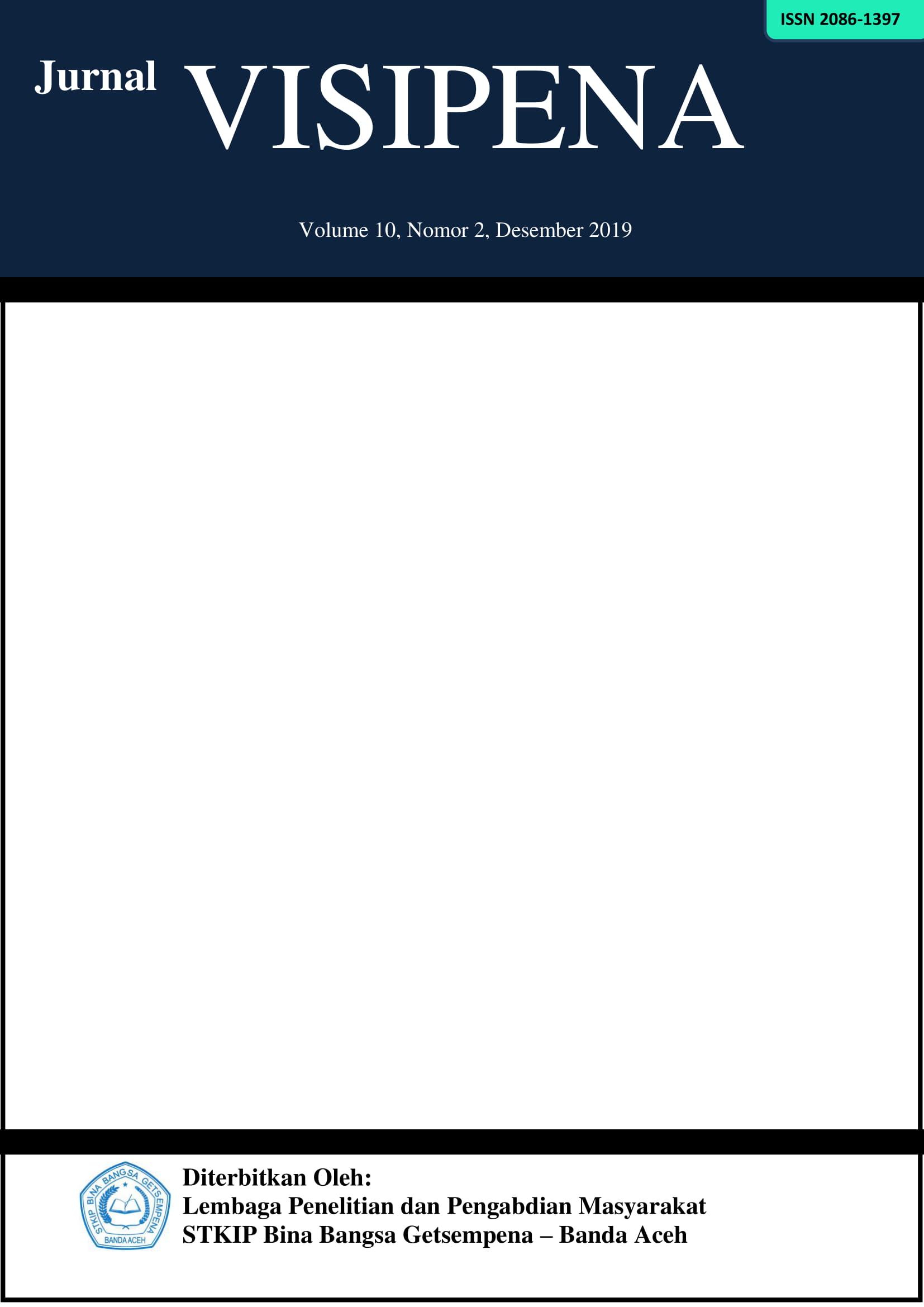 Article Metrics

Abstract views:
58

PDF
downloads:
28
How to Cite
Yana Supriatna, Anton Noornia, Deasiyanti, & Lamria. (2019). PENGARUH MODEL PEMBELAJARAN KONTEKSTUAL DAN MODEL PEMBELAJARAN KONVENSIONAL DENGAN KONSEP DIRI TERHADAP PEMAHAMAN KONSEP MATEMATIKA SISWA KELAS IV SEKOLAH DASAR. Visipena, 10(2), 218-228. https://doi.org/10.46244/visipena.v10i2.502