EFEKTIVITAS PEMBELAJARAN TURUNAN PADA MASA PANDEMI COVID-19 MELALUI MEDIA MOBILE LEARNING DITINJAU DARI HASIL BELAJAR MAHASISWA
Raudatul Husna

Institut Agama Islam Negeri Cot Kala Langsa
Keywords:
Project Based Learning, Performance, Mathematical Dispositions
Abstract
The education system is faced with a situation that requires teachers to be able to master distance learning media, such as during the Covid-19 pandemic outbreak. The distance education system is one of the solutions to overcome difficulties in face-to-face learning with the existence of social distancing rules which are a major obstacle today. Mobile Learning ( M-Learning) is a distyance paradigm utilizing mobile technology and devices which are predicted to experience rapid and potential development along with the development of mobile technologiitself. M-Learning is a distance leaning medium that is easy and often used. This study aims to see the effectiveness of derivative learning using M-Learning media in terms of student learning outcomes. The research model used in this study was a quasi experiment using a one group pretest postest design. The research sample was students in semester 2 who took calculus courses. The sample data were processed by descriptive analysis and test the difference in the average learning outcomes. The results showed that calculus courses with derivative materials using M-Learning media were quite effective when viewed from the student learning outcomes. Student learning outcomes after lecturing using M-Learning are higher than student learning outcomes before lecturing using M-Learning.
Abstrak
Sistem pendidikan dihadapkan dengan situasi yang menuntut para pengajar untuk dapat menguasai media pembelajaran jarak jauh, seperti pada masa wabah pandemi Covid-19 ini. Sistem pendidikan jarak jauh menjadi salah satu solusi untuk mengatasi kesulitan dalam pembelajaran tatap muka dengan adanya aturan social distancing yang menjadi kendala besar saat ini. Mobile Learning (M-Learning) merupakan paradigma pembelajaran memanfaatkan teknologi dan perangkat Mobile yang diperkirakan akan  mengalami perkembangan pesat dan potensial seiring dengan perkembangan teknologi mobile itu sendiri. M-Learning  merupakan salah satu media pembelajaran  jarak jauh yang mudah dan sering digunakan. Penelitian ini bertujuan untuk melihat efektifitas pembelajaran Turunan dengan menggunakan media M-Learning ditinjau dari hasil belajar mahasiswa. Model penelitian yang digunakan pada penelitian ini adalah quasi experiment dengan menggunakan one group pretest postest design. Sampel  penelitian yaitu mahasiswa semester 2 yang mengambil matakuliah kalkulus. Data sampel diolah dengan analisis deskriptif dan uji perbedaan rata-rata hasil belajar. Hasil penelitian menunjukkan perkuliahan mata kuliah kalkulus materi turunan dengan menggunakan media M-Learning cukup efektif jika dilihat dari hasil belajar mahasiswa. Hasil belajar mahasiswa setelah perkuliahan dengan menggunakan M-Learning lebih tinggi dibandingkan dengan hasil belajar mahasiswa sebelum perkuliahan dengan menggunakan M-Learning.
References
Ally, Mohamed. (2009). Mobile Learning Transforming the Delivery of Education and Training. Canada: AU Press.
Arikunto,S dan Cepi, Abdul Jabar. 2010. Evaluasi Program Pendidikan; Pedoman Teoritis Praktis Bagi Mahapeserta didik dan Praktisi Pendidikan Jakarta : Bumi Aksara.
Auliya, R. N. (2016). Kecemasan Matematika dan Pemahaman Matematis. Formatif: Jurnal Ilmiah Pendidikan MIPA, 6(1), 12–22. https://doi.org/10.30998/formatif.v6i1.748.
Darmalaksana, W., Hambali, R. Y. A., Masrur, A., & Muhlas. 2020. Analisis Pembelajaran Online Masa WFH Pandemic Covid-19 sebagai Tantangan Pemimpin Digital Abad 21. Karya Tulis Ilmiah (KTI) Masa Work From Home (WFH) Covid-19. hal 1–12. Fakultas Ushuluddin, UIN Sunan Gunung Djati Bandung.
Ervan Johan Wicaksana. (2020). Efektifitas Pembelajaran Menggunakan Moodle terhadap Motivasi dan Minat Bakat Peserta Didik Di Tengah Pandemi Covid -19, ISSN Online : 2715-9779. EduTeach : Jurnal Edukasi dan Teknologi Pembelajaran, Volume 1, No. 2.
Febriani, P; Widada, W & Herawaty, D. (2019). Pengaruh Pembelajaran Matematika Realistik Berbasis Etnomatematika terhadap Kemampuan Pemahaman Konsep Matematika Siswa SMA Kota Bengkulu. Jurnal Pendidikan Matematika Raflesia. Vol. 04 No. 02, Desember 2019. https://ejournal.unib.ac.id/index.php/jpmr.
Fuady, A. 2017. Berfikir Reflektif dalam Pembelajaran Matematika. Jurnal Ilmiah Pendidikan matematika, Volume 1 No. 2 P-ISSN: 2502-7638; E-ISSN: 2502-8391, hal. 104–112. Program Studi Pendidikan Matematika, FKIP Universitas Islam Malang.
Hake, R.R. 1999. Analyzing Change/Gain Scores. Dept. of Physics, Indiana University.
Jare, Nobert dan Kachepa, Admire. (2012), Implementation Of Mobile Games For Mathematics Learning: A Case Of Namibian Schools, International Journal of Scientific Knowledge, 5(5), 6-16.
Kusuma, J. W., & Hamidah, H. 2020. Perbandingan Hasil Belajar Matematika dengan Penggunaan Platform Whatsapp Group dan Webinar Zoom dalam Pembelajaran Jarak Jauh pada Masa Pandemik Covid-19. Jurnal Ilmiah Pendidikan Matematika. Volume 5 No. 1, P-ISSN: 2502-7638; E-ISSN: 2502-8391. Serang: Universitas Bina Bangsa.
Mustakim. (2020). Efektivitas pembelajaran daring menggunakan media online selama pandemi covid-19 pada mata pelajaran matematika. Al asma: Journal of Islamic Education, 2(1), 1-12.
Rahmawati, I. 2016. Pelatihan Dan Pengembangan Pendidikan Jarak Jauh Berbasis Digital Class Platform Edmodo. Repository.ut.ac.id. hal. 593–607. Universitas Terbuka.
Sao, Deo. (2014), MoMath: An Innovative Design of a Mobile based System for Supporting Primary School Mathematics in Tanzania, International Journal of Computer Applications, 95 (15), 22-27.
Sugiyono, 2010. Metode Penelitian Pendidikan Pendekatan Kuantitatif, Kualitatif, dan R & D.Bandung: Alfabeta.
Widada, W. 2015. Proses Pencapaian Konsep Matematika dengan Memanfaatkan Media Pembelajaran Kontekstual. Jurnal Penelitian Pendidikan Matematika dan Sains. Volume 22 No.1. hal 31-44. FMIPA Universitas Negeri Surabaya.
Yensy, N.A. 2012. Penerapan Model Pembelajaran Kooperatif Tipe Example Non Example dengan Menggunakan Alat Peraga untuk Meningkatkan Hasil Belajar Siswa di Kelas VIII SMP 1 Argamakmur. Jurnal Pendidikan Matematika dan Sains. Exacta. Vol. X No. 1 Juni 2012. Jurusan PMIPA FKIP UNIB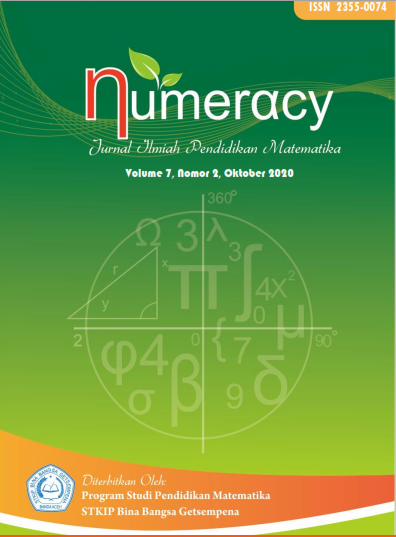 Article Metrics

Abstract views:
1289

pdf
downloads:
897
How to Cite
Husna, R. (2020). EFEKTIVITAS PEMBELAJARAN TURUNAN PADA MASA PANDEMI COVID-19 MELALUI MEDIA MOBILE LEARNING DITINJAU DARI HASIL BELAJAR MAHASISWA. Numeracy, 7(2), 324 - 333. https://doi.org/10.46244/numeracy.v7i2.1187