EFEKTIVITAS PEMBELAJARAN MATEMATIKA BERBASIS EDMODO DI MAN LHOKSEUMAWE
Abdul Kadir

IAIN Lhokseumawe
Keywords:
Learning Effectiveness, Edmodo, Learning Mathematics
Abstract
The study aimed to identify the effectiveness of mathematics edmodo in learning. Effectiveness indicators used the research is the capability of teachers in managing learning, activity students in learning, response to the students learning and student learning. Type research descriptive used is the qualitative study. Population in this study student of class XII MAN Lhokseumawe and sample a student MIA 4 and MIA 1. Technique data collection in this research was sheets observation manage learning, sheets observation activity students, study results survey and tests. Data analysis technique used is a technique qualitative data analysis deskriftif. Based on the results of the analysis that their teachers data is collected in managing learning is good in categories. Student for learning activity also categorized in categories good. Response to positive lessons and the students student learning in categories in clasical is good. Thus it can be concluded that learning mathematics using edmodo effectively implemented i in MAN Lhokseumawe.
Abstrak
Penelitian ini bertujuan untuk mengetahui efektivitas pengggunan edmodo dalam pembelajaran matematika. Indikator efektivitas yang digunakan dalam penelitian ini adalah kemampuan guru dalam mengelola pembelajaran, aktivitas siswa dalam pembelajaran, respon siswa terhadap pembelajaran dan hasil belajar siswa. Jenis penelitian yang digunakan adalah penelitian kualitatif deskriptif. Populasi dalam penelitian ini siswa kelas XII MAN Lhokseumawe dan sampel adalah siswa kelas MIA 4 dan MIA 1. Teknik pengumpulan data dalam penelitian ini adalah lembar observasi mengelola pembelajaran, lembar observasi aktivitas mahasiswa, angket dan tes hasil belajar. Teknik analisis data yang digunakan adalah teknik analisis data kualitatif deskriftif. Berdasarkan hasil analisis data diperoleh bahwa kemampuan guru dalam mengelola pembelajaran tergolong dalam katagori baik. Aktivitas siswa selama pembelajaran juga tergolong dalam katagori baik. Respon siswa terhadap pembelajaran positif dan Ketuntasan belajar siswa secara tergolong dalam katagori baik. Dengan demikian dapat disimpulkan bahwa pembelajaran matematika dengan menggunakan edmodo efektif diterapkan di MAN Lhokseumawe.
Kata Kunci: Efektivitas Pembelajaran, Pembelajaran Matematika Edmodo
References
Dharmawati. (2017). Penggunaan Media e-Learning Berbasis Edmodo Dalam Pembelajaran English for Business. QUERY: Jurnal Sistem Informasi. 1(1), 43-49.
Ekici, Didem Inel. (2017). The Use of Edmodo in Creating an Online Learning Community of Practice for Learning to Teach Science. Jurnal MOJES. 5(2). 91-106.
Hamalik, Oemar. (2001). Proses Belajar Mengajar. Jakarta: Bumi Aksara.
Hartley, E. Darin.( 2003). Selling E-Learning. United States of Amerika: ASTD.
Harton, William. (2006). E-Learning By Design. San Frasisco: Pfeiffer.
Kurniasih, Rini, Imam Sujadi & Sri Subanti, (2016). Pengembangan Bahan Ajar dengan Edmodo untuk Meningkatkan Level Berpikir Probabilistik Siswa Kelas VIII SMP Negeri 12 Surakarta. Jurnal Elektronik Pembelajaran Matematika. 10(4) , 961-972.
Lestari, Sri Ambar. (2013). Pengembangan E-Learning Berbasis Learning Management System pada Mata Kuliah Media Pembelajaran. Jurnal Al-Izzah. 8(2) 44-64.
Mokhtar, Farha Alia. (2018). Breaking Barriers Through Edmodo: A Qualitatif Approach on the Perceptions of University of Malaya Undergraduates. Jurnal Online Learning. 22(1), 61-80.
Pande, Deepali, Wadhai & Thakare. (2016). E Learning System and Higher Education. Jurnal IJCSMS. 5(2),274-280.
Pennen, Paulina. (2016). Kebijakan Pendidikan Jarak Jauh dan E-Learning di Indonesia. Kemenristek Dikti.
Prasetiyono,Singgih & Meini Sondang. (2014). Pengembangan Media Pembelajaran E-Learning Berbasis Edmodo Pada Kompetensi Dasar Menerapkan Konsep Dasar Sistem Komunikasi Data Sinyal Digital Melalui Media Kabel Fiber Dan Frekuensi Radio Di Smk Negeri 1 Jetis Mojokert. Jurnal Pendidikan Teknik Elektro. 3(2), 151-156.
Rudiana, Ria. (2016). Efektivitas Penggunaan Learning Management System Berbasis Online. Jurnal JPPM. 9 (2), 201-209.
Sudjana, Nana. (2004). Dasar-Dasar Proses Belajar Mengajar. Bandung: Sinar Baru Algensindo.
Sudjana. (2005). Metode Statistika. Bandung: Tarsito.
Sunianingrum, Ninok Eyiz, Hari Wibawanto & Haryono. (2017). Efektivitas Model Discovery Learning Berbantuan E-Learning di SMA Negeri 1 Jepara. Jurnal Ilmu Pendidikan, Keguruan dan Pembelajaran. 1(1), 17-24.
Trust, Torrey. (2017). Motivation, Empowermwnt, and Innovation: Teachers' Beliefs About How Participating in the Edmodo Math Subject Community Shapes Teaching And Learning. Journal of Research on Technology in Education. 49(2), 16-30.
Turmudi. (2008). Landasan Filsafat dan Teori Pembelajaran Matematika. Jakarta: Leuser cita Pustaka.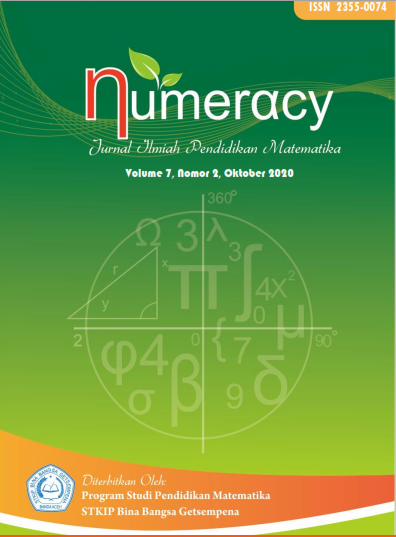 Article Metrics

Abstract views:
448

pdf
downloads:
581
How to Cite
Abdul Kadir. (2020). EFEKTIVITAS PEMBELAJARAN MATEMATIKA BERBASIS EDMODO DI MAN LHOKSEUMAWE. Numeracy, 7(2). https://doi.org/10.46244/numeracy.v7i2.1198