ANALISIS EVALUASI PEMBELAJARAN MATEMATIKA SECARA DARING
Mila Fatmawati

Universitas Tanjungpura

Mohammad Rif'at

Universitas Tanjungpura

Dona Fitriawan Sunarti

Universitas Tanjungpura
Keywords:
Learning Evaluation, Cognivitve Level, Revised Bloom Taxonomy
Abstract
The background of this research is the use of online evaluation of mathematics learning and cognitive level in end-of-semester assessment questions (PAS) based on the revised Bloom's Taxonomy. The purpose is to find out what types of evaluation tests are used during online learning and the cognitive level contained in the questions. The method used in this research is quantitative research with data collection tools including end-of-semester assessment questions (PAS) for class VIII mathematics, questionnaires, and interview guidelines. Mathematics teacher and 29 students of class VIII are the subjects of this research. From the analysis carried out, the cognitive levels contained in the mathematics PAS questions are; level 1 includes knowing & understanding (C1 & C2), level 2 applying (C3), and level 3 consisting of analyzing (C4), and the types of evaluation tests used are assignments, daily assessments, post-tests, midterm assessments, and end of semester assessment.
References
Darma, Y., Susiaty, U. D., & Fitriawan, D. (2018). Pendidikan Karakter dalam Pembelajaran pada Mahasiswa Calon Guru Matematika. SAP (Susunan Artikel Pendidikan), 3(2), 110–115. https://doi.org/10.30998/sap.v3i2.3029
Elisvi, J., Archanita, R., Wanto, D., & Warsah, I. (2020). Analisis Pemanfaatan Media Pembelajaran Online Di Smk It Rabbi Radhiyya Masa Pandemi Covid-19. Al-Tarbawi Al-Haditsah: Jurnal Pendidikan Islam, 5(2), 16–42. https://doi.org/10.24235/tarbawi.v5i2.6721
Faulinda, E. N., & Aghni Rizqi Ni'mal, 'Abdu. (2020). Kesiapan Pendidikan Indonesia Menghadapi era society 5.0. Edcomtech : Jurnal Kajian Teknologi Pendidikan, 5(1), 61–66.
Fitriawan, D., Siregar, N., Pasaribu, R. L., & Tanjungpura, U. (2021). Problematika dalam menilai sikap peserta didik pada pembelajaran daring. Prosiding Seminar Nasional RCI, 2019–2022.
Huljannah, M. (2021). Pentingnya Proses Evaluasi Dalam Pembelajaran Di Sekolah Dasar. Elementary Education Journal) ISSN (Online, 2(2), 49–63. https://e-journal.iaingorontalo.ac.id/index.php/educator/article/view/416
Jamaluddin, J., Mustami, M. K., Ismail, M. I., & Mania, S. (2022). Pengaruh Pemanfaatan Bahan Ajar Berbasis Tik dan Bahan Cetak Terhadap Motivasi Belajar pada Mata Pelajaran Aqidah Akhlak di MAN 1 Sinjai. Edukasi Islami: Jurnal Pendidikan Islam, 11(01), 621–640. https://doi.org/10.30868/ei.v11i01.1956
Jihad, A., & Haris, A. (2013). Evaluasi Pembelajaran. Yogyakarta: Multi Pressindo.
Kemdikbud. (2004). Undang-Undang Tahun 2004. Journal Information, 10(3), 1–16.
Mabunga, M. (2019). Pengembangan Kurikulum Dalam Pembelajaran Abad Xxi. Mimbar Pendidikan, 4(2), 103–112. https://doi.org/10.17509/mimbardik.v4i2.22201
Melani, S., Amaliyah, A., & Puspita Rini, C. (2021). Analisis Proses Pembelajaran Matematika Berbasis Daring Pada Masa Pandemi Covid-19 Siswa Kelas V Sdn Sudimara 13 Ciledug Kota Tangerang. Berajah Journal, 2(1), 6–15. https://doi.org/10.47353/bj.v2i1.42
Muthy, A. N., Nindiasari, H., & Fatah, A. (2022). Analisis Evaluasi Pembelajaran Matematika Daring Untuk Mencapai Students Wellbeing Di Smp Kota Serang. … Riset Pendidikan Matematika, 3(1), 55–60. https://jurnal.untirta.ac.id/index.php/wilangan/article/view/13136
Pratikna, D. S., Sugiatno, S., & Hartoyo, A. (2020). Pengembangan Instrumen Eksplorasi Konsep Geometri Berstruktur Dari Teori Van Hiele Berbantuan Software Geogebra. Jurnal AlphaEuclidEdu, 1(2), 121. https://doi.org/10.26418/ja.v1i2.42881
Proborini, E. (2021). Evaluasi Pembelajaran Matematika Secara Daring Pada Siswa Kelas Vi Sd Karangturi. Intelligentes Jurnal Pendidikan Fisika Dan Sains, 2.
Purwati, D., & Nugroho, A. N. P. (2018). Pengembangan Media Evaluasi Pembelajaran Sejarah Berbasis Google Formulir Di Sma N 1 Prambanan. ISTORIA: Jurnal Pendidikan Dan Ilmu Sejarah, 14(1). https://doi.org/10.21831/istoria.v14i1.19398
Sebayang, F. A. A., Saragih, O., & Hestina, H. (2020). Pemanfaatan Media Pembelajaran Online untuk Meningkatkan Pembelajaran Mandiri Di Masa New Normal. Pelita Masyarakat, 2(1), 64–71. https://doi.org/10.31289/pelitamasyarakat.v2i1.4222
Sriyanti, I. (2019). Evaluasi Pembelajaran Matematika. Ponorogo: Uwais Inspirasi Indonesia.
Sugiyono. (2006). Metode Penelitian Kuantitatif, Kualitatif, dan R&B. Bandung: Alfabeta.
Sugiyono. (2017). Metode Penelitian Pendekatan Kuantitatif, Kualitatif, R&D. Bandung: Alfabeta.
Sulistyowati, E., & Fitriawan, D. (2022). Pemanfaatan Media Pembelajaran E-Learning di Era New Normal. Seminar Nasional Pendidikan Ekonomi FKIP UM Metro, 1(1), 21–27.
Www.hukumonline.com/pusatdata. (2020). Surat Edaran Menteri Pendidikan dan Kebudayaan Nomor 4 Tahun 2020. Liquid Crystals, 21(1), 1–17.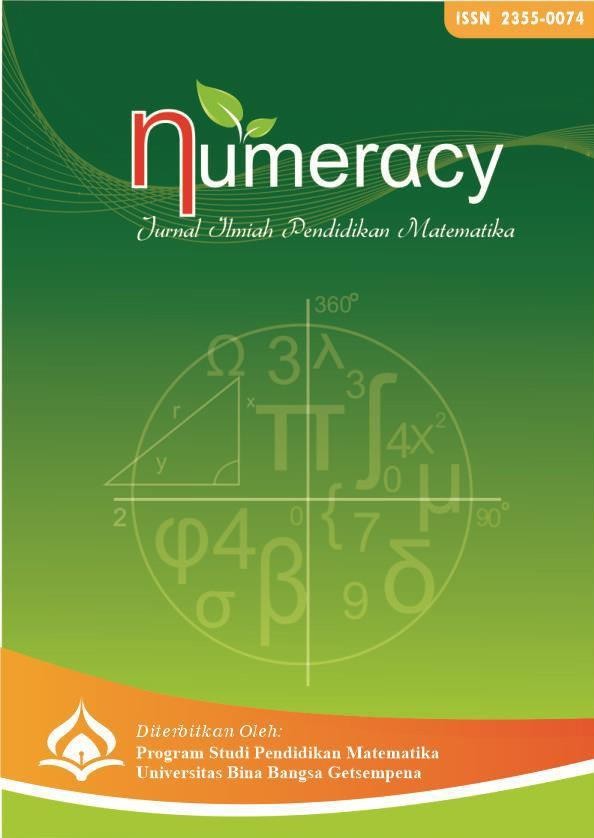 Article Metrics

Abstract views:
166

PDF
downloads:
130
How to Cite
Fatmawati, M., Rif'at, M., & Sunarti, D. F. (2023). ANALISIS EVALUASI PEMBELAJARAN MATEMATIKA SECARA DARING. Numeracy, 10(1), 1-10. https://doi.org/10.46244/numeracy.v10i1.1872