PENERAPAN LESSON STUDY UNTUK MENINGKATKAN KEMAMPUAN MENGAJAR MAHASISWA PMTK IAIN BUKITTINGGI
Pipit Firmanti

IAIN Bukittinggi

Fauzi Yuberta

IAIN Bukittinggi
Keywords:
Lesson Study, Teaching Ability, Learning Implementation Plan
Abstract
Education aims to educate the next generation of the progress of a nation. Quality teachers will form a smart generation. The faculty of tarbiyah IAIN Bukitinggi is an institution that prints teacher graduates. Therefore, prospective teacher students especially in mathematics education (ME) need to be prepared for their competence to become professional teachers. One of them is by implementing Lesson Study in the Micro Teaching class. This research is a qualitative-descriptive. The instruments used are the observation method with the competency scoring rubric for preparing lesson plans and teaching skills. This research was conducted on ten participants who took microteaching courses. The application of lesson study to prospective teacher students in the microteaching class is carried out according to the stages in Lesson Study, namely plan, do, and see. The results of the study showed that the competency in preparing lesson plan and the teaching ability of prospective teacher students in the microteaching class experienced an increase in the average value. This is also supported by the response of prospective teacher students about the highest implementation of Lesson Study in the LS item can improve the skills of opening and closing lessons by 37 or 92.5%. The lowest score found in LS items can improve the skill of compiling assessment instruments by 27 or 67.5%.   
Abstrak
Pendidikan bertujuan untuk mencerdaskan generasi penerus demi kemajuan suatu bangsa. Guru yang memiliki kompetensi bagus  akan berperan dalam pembentukan  generasi cerdas. Fakultas Tarbiyah IAIN Bukitinggi merupakan salah satu kampus yang mencetak lulusan keguruan. Oleh karena itu, mahasiswa calon guru khususnya program studi pendidikan matematika (PMTK) perlu diberikan pembekalan untuk menjadi guru yang profesional.Hal ini dapat dilakukan dengan menerapkan Lesson Study pada kelas Micro Teaching. Penelitian ini bersifat kualitatif-deskriptif yang menggunakan instrumen berupa observasidan  rubrik penskoran kompetensi menyusun RPP serta kemampuan mengajar. Penelitian ini dilakukan pada sepuluh orang mahasiswa calon guru matematika yang mengambil mata kuliah micro teaching di IAIN Bukittinggi. Penerapan lesson study pada mahasiswa PMTK di kelas microteaching dilaksanakan melalui tiga tahapan yaitu plan,do, dan see. Hasil penelitian menunjukkan bahwa kompetensi menyusun RPP dan kemampuan mengajar mahasiswa calon guru di kelas microteaching mengalami peningkatan nilai rata-rata. Hal ini juga didukung oleh respon mahasiswa calon guru tentang penerapan Lesson Study tertinggi terdapat pada item LS dapat meningkatkan keterampilan membuka dan menutup pelajaran sebesar 37 atau 92,5 %. Skor terendah terdapat pada item LS  dapat meningkatkan keterampilan menyusun instrumen penilaian sebesar 27 atau 67,5 %.
 Kata kunci: Lesson Study, Kemampuan Mengajar, Rencana Pelaksanaan Pembelajaran
References
Lewis, C. (2000). Lesson Study: The Core of Japanese Profesional Development. Education Departemen of Mills College, Oakland, CA, (Online), (http://lessonresearch.net).

Moleong, Lexy. L 2005. Metodologi Penenelitian Kualitatif. Bandung: PT Remaja Rosdakarya

Miles and Huberman. (1994). Data Analysis. America: Sage Publications.

Marble, S. (2007). Inquiring into Teaching: Lesson Study in Elementary Science Methods.Journal of Science Teacher Education, Vol.18, hlm. 935-953

Suherman, Erman dkk. 2003. Strategi Pembelajaran Matematika Kontemporer. Bandung. JICA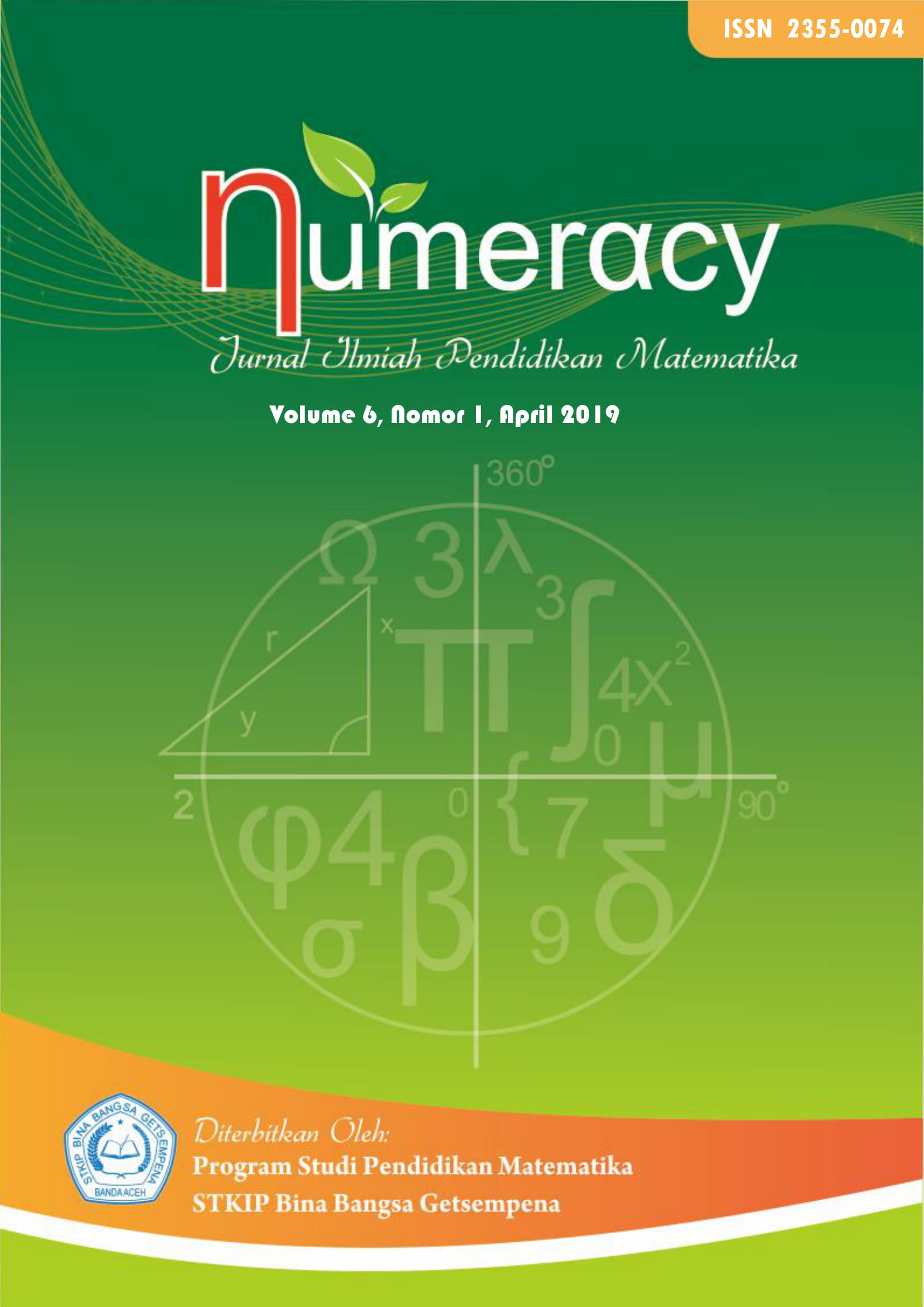 Article Metrics

Abstract views:
76

pdf
downloads:
85
How to Cite
Pipit Firmanti, & Fauzi Yuberta. (2019). PENERAPAN LESSON STUDY UNTUK MENINGKATKAN KEMAMPUAN MENGAJAR MAHASISWA PMTK IAIN BUKITTINGGI. Numeracy, 6(1), 15-25. https://doi.org/10.46244/numeracy.v6i1.423