DESKRIPSI KINERJA DAN EKSPLORASI KESULITAN BELAJAR SISWA SMA DALAM MENYELESAIKAN MASALAH KALKULUS
Usman

Universitas Syiah Kuala

M. Hasbi

Universitas Syiah Kuala

RM Bambang S

Universitas Syiah Kuala

Mahathir

Universitas Syiah Kuala
Keywords:
Performance, Learning Difficulties, Solving Calculus Problems
Abstract
This study aimed to describe students' performances and explore students' learning difficulties in solving calculus problems. This study used a qualitative descriptive approach. The subjects of this research were 23 twelfth grader students of SMAN 4 Banda Aceh, while the interview subject was one of students who had made a lot of mistakes while following the tests and communicative. The data were analyzed by displaying data, analyzing, interpreting, and concluding. The result obtained generally students' performance in solving calculus problems involving understanding, applying, and reasoning included in middle-performing, and low-or-poor-performing. The students were difficult in applying knowledge, understanding, and reasoning in solving calculus problems.
Abstrak
Penelitian ini bertujuan untuk mendeskripsikan kinerja dan mengekplorasikan kesulitan belajar siswa dalam menyelesaikan masalah terkait kalkulus. Penelitian ini menggunakan metode kualitatif deskriptif. Subjek penelitian adalah siswa kelas XII SMA Negeri 4 Banda Aceh berjumlah 23 siswa, sedangkan subjek wawancara adalah salah satu siswa yang memiliki banyak melakukan kesalahan ketika mengerjakan tes dan komunikatif. Analisis data dilakukan dengan mendisplay data, menganalisis, menginterpretasi, dan menyimpulkan. Hasil analisis diperoleh umumnya kinerja siswa dalam menyelesaikan masalah kalkulus yang melibatkan pemahaman, aplikasi dan penalaran termasuk kategori cukup, kurang baik atau tidak baik. Kesulitan yang dilakukan siswa adalah kesulitan menggunakan pengetahuan, pemahaman, dan penalaran dalam penyelesaian masalah terkait kalkulus.
 Kata Kunci: Kinerja, Kesulitan Belajar, Menyelesaian Masalah Kalkulus
References
Abdurrahman, M. (2012). Anak Berkesulitan Belajar. Jakarta: Rineka Sipta

Azka, R, Santoso, H. (2015). Pengembangan Perangkat Pembelajaran Kalkulus untuk Mencapai Ketuntasan dan Kemandirian Belajar Siswa. Jurnal Riset Pendidikan Matematika, 2(1), 78-91

Carlson, M, Orehrtman, M, dan Engelke, N. (2010). The Precalculus Concepts Assessment: A Tool for Assesing Students' Reasoning Abilities and Understandings. Journal Cognition and Instruction, 28(2),113-145

Oktaviyanti, R dan Supriani, Y. (2015). Utilizing Microsoft Mathematicas in Teaching and Learning Calculus. Journal on Mathematics Education (IndoMS-JME), 6(1), 63-76

Hudojo, H. (2001). Pengembangan Kurikulum dan Pembelaran Matematika. Malang: Jurusan Pendidikan Matematika FMIPA Universitas Negeri Malang

Martono, K. (1999). Kalkulus, Jakarta: Erlangga

Pusat Penilaian Pendidikan. (2018). Ringkasan Eksekutif Hasil Ujian Nasional 2018 Masukan untuk Pembelajaran di Sekolah. Jakarta. Badan Penelitian dan Pengembangan, Kementrian Pendidikan dan Kebudayaan

Tarmizi, R, A. (2010). Visualizing Students' Dificulties in Learning Calcukus. International Conference on Mathematics Educatioan Research 2010 (ICMER 2010). Procedia Social and Behavioral Sciences, 8, 377-383

Usman. (2013). Model PBI untuk Mengembangkan Pemahaman Mahasiswa dalam Menyelesaikan Masalah tentang Integral Tentu. Jurnal Peluang, 1(2)

White, P dan Mitehelmore, M. (1996). Conceptual Knowledge in Introductory Calculus. Journal for Research in Mathematicas Education, NCTM, 27(1), 79-95.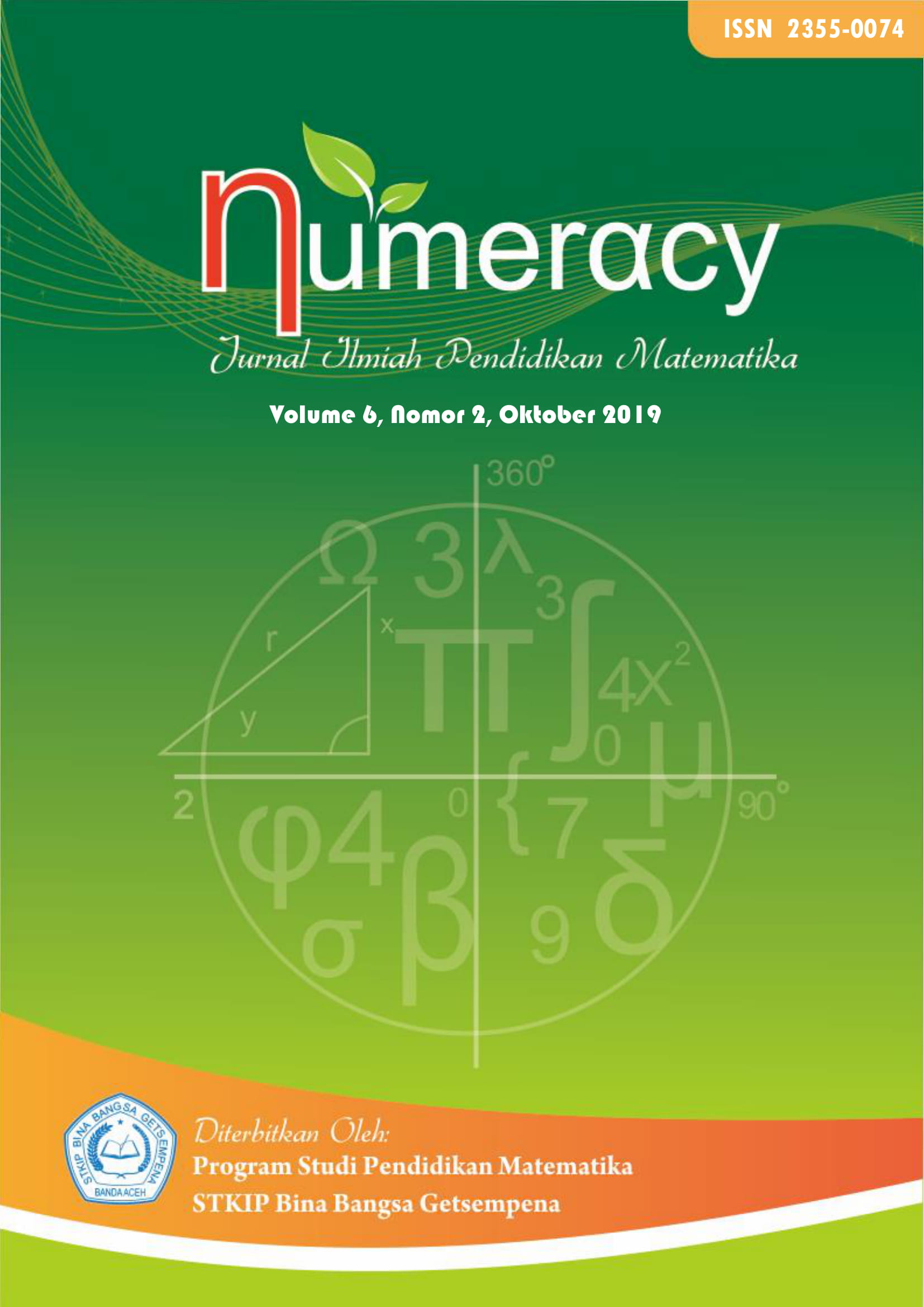 Article Metrics

Abstract views:
102

pdf
downloads:
125
How to Cite
Usman, M. Hasbi, RM Bambang S, & Mahathir. (2019). DESKRIPSI KINERJA DAN EKSPLORASI KESULITAN BELAJAR SISWA SMA DALAM MENYELESAIKAN MASALAH KALKULUS . Numeracy, 6(2), 218-228. https://doi.org/10.46244/numeracy.v6i2.478