CAPAIAN KEMAMPUAN PENALARAN MATEMATIS SISWA DENGAN MODEL AIR
Nuralam Nuralam

UIN Ar-Raniry

Maulidayani Maulidayani

UIN Ar-Raniry
Keywords:
Learning Models, AIR Model, Mathematical Reasoning Ability
Abstract
The mathematical concept learned in school require mathematical reasoning abilities. But the test results show the students' mathematical reasoning ability is still relatively low. To overcome this problem, applied a learning model called Auditory Intellectually Repetition (AIR). AIR can develop mathematical reasoning abilities students through problem solving. The purpose of this study is to describe the mathematical reasoning abilty of students through the AIR learning model is higher than taught through conventional learning models.. The research design used was quasi experiment with pretest-posttest control group design. The populations in this study were all of the Eighth Grade Students of SMPN 1 Jantho and the samples taken were classes VIII-2 and VIII-1 by using the random cluster technique sampling. The data collected wasby using the mathematical reasoning ability test. The result of research through the right-hand t-test statistic test obtained 3.79 > 1.68 then accept Ha reject Ho. Therefore, it was concluded that the students' mathematical reasoning ability learned through the AIR learning model were higher than those taught conventional learning models.
Abstrak
Konsep matematika dipelajari di sekolah memerlukan kemampuan penalaran matematis. Namun hasil tes menunjukkan kemampuan penalaran matematis siswa masih tergolong rendah. Salah satu alternatif membuat kemampuan penalaran matematis lebih baik melalui model pembelajaran Auditory Intelectually Repetition (AIR). Penelitian ini bertujuan mendeskripsikan kemampuan penalaran matematis siswa yang diajarkan dengan model AIR lebih baik daripada siswa yang diajarkan dengan pembelajaran konvensional. Rancangan penelitian menggunakan quasi eksperimen dengan desain pretest-posttest control grup design. Populasi dalam penelitian seluruh siswa kelas VIII SMPN 1 Kota Jantho dan sampelnya kelas VIII-2 dan VIII-1 dipilih dengan teknik cluster random sampling. Data yangdikumpulkan dengan menggunakan tes kemampuan penalaran matematis. Hasil penelitian melalui uji statistik uji-t pihak kanan diperoleh thitung > ttabel yaitu 3,79 > 1,68 maka Ha tolak Ho. Disimpulkan bahwa kemampuan penalaran matematis siswa yang diajarkan dengan model AIR lebih baik daripada yang diajarkan denganpembelajaran konvensional.
Kata Kunci: Model Pembelajaran,  Model Air, Kemampuan Penalaran Matematis
References
Maulana, A. (2012). Model Pembelajaran AIR untuk Meningkatkan Kemampuan Komunikasi Matematika Siswa. Bandung: FMIPA UPI.
Ahmad, Z. A. (2012). Perencanaan Pembelajaran dari Desain Sampai Implementasi. Yogyakarta: Pedagogia.
Baroody A, J. (1993). Problem Solving, Reasoning, and Communicating, K-8 Helping Children Think Mathematically. New York: Macmillan Publishing Company.
Baron, J. B & Sternberg, R. J. (1987). Teaching thinking Skill. New York: W. H. Freeman and Company.
Burhan, A. V., Suherman, & Mirna. (2014). Penerapan Model Pembelajaran AIR pada Pembelajaran Matematika Siswa Kelas VIII SMPN 18 Padang. Jurnal Pendidikan Matematika. Vol. 1 No.3. Hal. 6-11.
Elinawati, W., Duda, H. J., Julung, H. (2018). Penerapan Model Pembelajaran Auditory Intellectually Repetition (AIR) terhadap Hasil Belajar Kognitif Siswa. Jurnal SainsMat. Vol.7 No. 1. Hal. 13-24.
Fitrianti, D. A., Mariani, S., Yulianto, A. (2018). Analysis of Reasoning Abilty and Mathematical Communication Based on Learning Styles on PMRI Learning. Journal of Primary Education, Vol.7 No.1. Hal. 74-80.
Hendriana, H., Rohaeti, E. E., & Sumarmo, U. (2017). Hard Skill dan Soft Skills Matematik Siswa. Bandung: PT Refika Aditama.
Hudojo, H. (2003). Pengembangan Kurikulum dan Pembelajaran Matematika. Malang: Jurusan Matematika FMIPA UM.
Joyce, B., & Weil, M. (2009). Model-Model Pembelajaran. Penterjemah Achmad Fawaid dan Ateilla Mirza. Yogyakarta: Pustaka Pelajar.
Kilpatrick, J., Swafford, J., & Findell, D. (2001). Adding It Up: Helping Children Learn Mathematics. Washington: National Academy Press.
Kusumawardani, D. R., Wardono., Kartono. (2018). Pentingnya Penalaran Matematika dalam Meningkatkan Kemampuan Literasi Matematika. Jurnal Prisma. Prosiding Seminar Nasional Matematika, Vol. 1 Tahun 2018, pp. 588-595. [online]. Tersedia; http://jurnal.unnes.ac.id.
Nahartyo, Ertambang. (2012). Desain dan Implementasi Riset Eksperimen. Yogyakarta: UUP STIM YKPN.
National Council of Teachers of Mathematics. (2000). Principles and Standarts for School Mathematics. Reston, VA: NCTM.
Putra, R.W.Y. & Sari, L (2016). Pembelajaran Matematika dengan Metode Accelerated Learning untuk Meningkatkan Kemampuan Penalaran Adaptif. Jurnal Pendidikan Matematika. Vol.7 No. 2. Hal. 211-220.
Rahayuningsih, S. (2017). Penerapan Model Pembelajaran Matematika Model Auditory Intellectually Repetition (Air). Erudio (Journal of Educational Innovation). Vol. 3 No.2. Hal. 67-83. doi: 10.18551/erudio.3-2.6.
Rizqi, N. R., Surya, E. (2017). An Analysis of Students' Mathematical Reasoning Ability in VIII Grade of Sabilina Tembung Junior High School. International Journal of Advance Research and Innovative Ideas in Education. Vol.3 No.2. Hal. 3527-3533.
Ruslan, A.S. & Santoso, B. (2013). Pengaruh Pemberian Soal Open Ended Terhadap Kemampuan Penalaran Matematis Siswa. Jurnal Kreano. Vol.4 No.2. Hal. 138-150.
Schunk, D. H. (2012). Learning Theories an Educational Perspective. Edisi Keenam Penerjemah Eva Hamdiah dan Rahmat Fajar, Yogyakarta: Pustaka Pelajar.
Setiadi, H. (2011). Kemampuan Matematis Siswa SMP Indonesia. [online]: http://litbang.kemdikbud.go.id
Sugiyono. (2010). Metode Penelitian Pendidikan. Bandung: Alfabeta.
Suherman, E. (2011). Strategi Pembelajaran Matematika Kontemporer. Bandung: JICA
Sumarmo, U. (2014). Kumpulan Makalah: Berpikir dan Disposisi Matematik serta Pembelajarannya. Bandung: Jurusan Pendidikan Matematika FPMIPA UPI.
Suprihatin, T. R., Maya, R., Senjayawati, E. (2018). Analisis Kemampuan Penalaran Matematis Siswa SMP pada Materi Segitiga dan Segiempat. Jurnal Kajian Pembelajaran Matematika. Vol.2 No.1. Hal. 9-13.
Sukardi. (2003). Metodologi Penelitian Pendidikan (Kompetensi dan Praktiknya). Yogyakarta: Bumi Aksara.
Suyatno. (2009). Menjelajah Pembelajaran Inovatif. Semarang.
Thobroni, M., dkk. (2013). Belajar dan Pembelajaran Pengembangan Wacana dan Praktek Pembelajaran dalam Pembangunan Nasional. Jogjakarta: Ar-Ruzz Med
Wahyudin. (2008). Pembelajaran dan Model-Model Pembelajaran. Bandung: UPI.
Yulianti, D. E., Wuryanto, & Darmo. (2013). Keefektifan Model-Eliciting Activities pada Kemampuan Penalaran dan Disposisi Matematis Siswa. Journal of Mathematics Education. Vol.1 No.1. Hal. 17-23.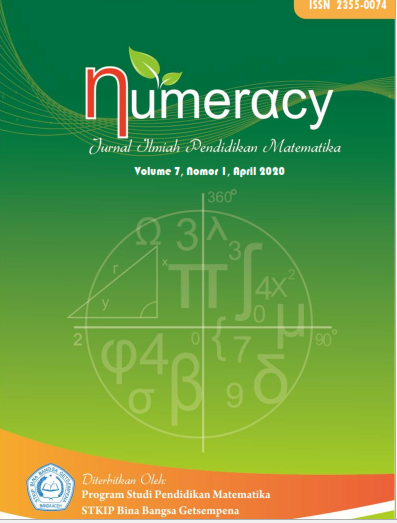 Article Metrics

Abstract views:
48

pdf
downloads:
22
How to Cite
Nuralam, N., & Maulidayani, M. (2020). CAPAIAN KEMAMPUAN PENALARAN MATEMATIS SISWA DENGAN MODEL AIR. Numeracy, 7(1), 35-48. https://doi.org/10.46244/numeracy.v7i1.997