KESULITAN SISWA DAN SCAFFOLDING DALAM MENYELESAIKAN MASALAH GEOMETRI RUANG
Buaddin Hasan

STKIP PGRI Bangkalan
Keywords:
Geometri, Difficulties, Scaffolding
Abstract
Mathematics as one of supporting human activities in their lives. Mathematics as a solution of various problems confronting humans. But there are some difficulties in studying mathematics. This research aims to analyze the difficulties faced by students when solving geometry problems and find solutions in the form of scaffolding. The subjects in this study were three eighth grade students with different levels of ability. This research is a qualitative research with data collection techniques using task-based test and interview methods. Technical data analysis using data reduction techniques, the presentation of data to the conclusion. The results showed that the difficulties experienced by students in solving geometry problems include, (1) not being able to dig up the information in the problem, (2) not being able to make a plan of completion correctly, (3) not being able to connect the concept of geomteriors with other concepts, (4) unable to use count operations correctly, (5) not checking the results of its work. Scaffolding given to overcome the problem include, they are: (1) reviewing: asking students to read the problem again carefully, (2) explaining: giving a description of the problem or instructions in the problem solving process to make a solution step, (3) developing conceptual thinking, explaining and restructuring (conducting question and answer to direct students to the correct answer. (3) connecting, developing conceptual.
Abstrak
Ilmu matematika  sebagai salah satu penunjang kegiatan manusia dalam kehidupannya. Matematika sebagai solusi dari berbagai permasalahan yang dihadapai manusia. Namun terdapat bebrapa kesulitan dalam mempelajari ilmu matematika. Penlitian ini bertujuan untuk menganalisis kesulitan yang dihadapi siswa saat menyelesaikan masalah geometri dan mencari solusi berupa scaffolding. Subjek dalam penelitian ini adalah tiga orang siswa kelas VIII dengan tingkat kemampuan yang berbeda. Penelitian ini merupakan penelitian kualitatif dengan teknik pengumpulan data menggunakan metode tes dan wawancara berbasis tugas. Teknis analisis data menggunakan teknik reduksi data, penyajian data sampai pada penarikan kesimpulan. Hasil penelitian menunjukkan bahwa kesulitan yang dialami siswa dalam menyelesaikan masalah geometri diantaranya, (1) tidak mampu menggali informasi yang ada pada soal, (2) tidak mampu membuat rencana penyelesaian secara benar, (3) tidak mampu menghubungkan konsep geomteri dengan konsep yang lain, (4) tidak mampu menggunakan operasi hitung dengan benar, (5) tidak melakukan pengecekan terhadap hasil pekerjaannya. Scaffolding yang diberikan untuk mengatasi masalah diantaranya, adalah: (1) reviewing : meminta siswa membaca soal kembali dengan teliti, (2) explaining: memberikan gambaran masalah atau petunjuk pada proses penyelesaian masalah untuk membuat langkah penyelesaian, (3) developing conseptual thinking, explainig and restructuring (melakukan tanya jawab untuk mengarahkan siswa pada jawaban yang benar. (3) connecting, developing conceptual.
Kata Kunci:  Geometri, Kesulitan, Scaffolding
References
Ahmad, A. M. (2017). Aspek Merencanakan Pemecahan Masalah Geometri Ditinjau dari Pendekatan Polya Berdasarkan Gender. Jurnal Magister Pendidikan Matematika Universitas Muhammadiyah Malang. Vol. 1. No. 1. Hal. 320.
Anghileri, J. (2006). Scaffolding Practices That Enhance Mathematics Learning. University of Cambridge. Hal. 33–52
Baxter, J. A., William, S. (2010). Social and Analytic Scaffolding in Middle School Mathematics. Managing the Dilemma of Telling. Vol.13. Hal. 7–26.
Bossé, M.J., Adu-Gyamfi, K.A. & Cheetham M. R. (2005). Synthesizing the Literature and Novel Findings. Assessing the Difficulty of Mathematical Translations. Vol. 6 No. 3.
Chairani, Z. (2015). Scaffolding Dalam Pembelajaran Matematika. Jurnal Pendidikan Matematika. Vol. 1 No. 1. Hal. 40.
Limardani, G. D. T. (2015). Analisis Kesulitan Siswa dalam Menyelesaikan Soal Operasi Aljabar Berdasarkan Teori Pemahaman Skemp pada Siswa Kelas VIII D SMP Negeri 4 Jember. Artikel Ilmiah Mahasiswa. Vol. 1. No. 1. Hal. 2.
Hasan, B. (2015). Penggunaan Scaffolding Untuk Mengatasi Kesulitan Menyelesaikan Masalah Matematika. Jurnal APOTEMA. Vol. 1 No. 1. Hal. 89-90.
Polya, G. (1973). How To Solve It. New Jersay: Princeton University Press.
Sholihah A. D. E. (2017). Analisis Kesulitan Siswa Dalam Proses Pemecahan Masalah Geometri Berdasarkan Tahapan Berfikir Van Hiele. Jurnal Mosharafa. Vol. 6 No. 2. Hal. 289.
Siemon, D. & Virgona, J. (2003). Identifying and Describing Teachers' Scaffolding Practices in Mathematics. Mathematics Education Research Journal. Vol.3. Hal. 241.
Vassiliou, A. (2011). The Education Audio-visual and Culture Executive Agency Mathematic in Europe Common Challenges and National Policies. English.
Wu, R., & Adams, R. 2006. Modelling Mathematics Problem Solving Item Responses Using a Multidimensional IRT Model. Mathematics Education Research Journal. Vol. 18, No. 2, 93-113.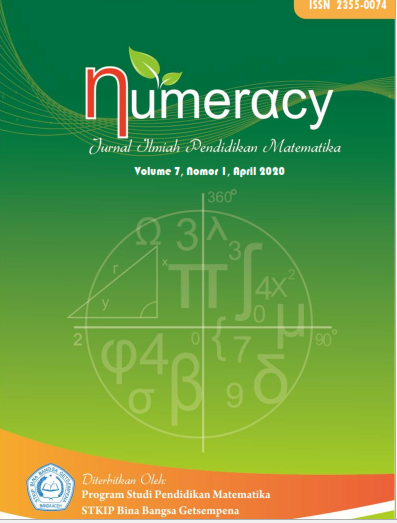 Article Metrics

Abstract views:
42

pdf
downloads:
30
How to Cite
Buaddin Hasan. (2020). KESULITAN SISWA DAN SCAFFOLDING DALAM MENYELESAIKAN MASALAH GEOMETRI RUANG . Numeracy, 7(1), 49-64. https://doi.org/10.46244/numeracy.v7i1.998