THE PERCEPTION OF ACEH DOCUMENTARY TRAINING PARTICIPANTS ON IMPROVING CRITICAL THINKING THROUGH DOCUMENTARY FILM APPLICATION
Rizki Dhian Nushur

STKIP Bumi Persada Lokseumawe

Diyana Dewie Astutie

STKIP Bumi Persada Lhokseumawe
Keywords:
Critical Thinking, Film Documentary, Aceh documentary
Abstract
The times are progressing rapidly so that the need for critical thinking is increasing. Some experts argue that those who think critically are able to solve problems responsively. Therefore, education practicer take various ways to create nowdays critical generation, as well as the Aceh Documentary (ADC) Foundation in Banda Aceh. The documentary film production training which is conducted annually by the ADC Foundation is believed to be able to improve the critical thinking of the participants. This study aims to determine the perceptions of four participants of Aceh Documentery Foundationabout improving their mindset after attending the documentary film production training. This is a qualitative research. The data for this study was collected from early June to August 2019, which the Data collection techniques used in the research were interview and FGD. The data analysis stage was carried out on September 2019 after the documentary film training was completed. The data analysis is carried out by using the Miles & Hubermen style, in which activities in the analysis include data reduction, data display, and conclusion drawing / verification. From this research, it can be concluded that the use of documentary films as a learning medium can improve the participants' critical thinking, eventhough the level of criticism obtained by each individual is different.
References
Alsaleh. N.J., (2020). "Teaching critical thinking skill: Literature review", TOJET. 19(1), 21 – 39
Bandyopadhyay, S. & Szostek, J. (2018). "Thinking critically about critical thinking: Assessing critical thinking of business students using multiple measures", Journal of Education forBusiness. 94(4), 259 – 270. doi
Bassham, G., Irwin, W., Nardone, H., & Wallace, J. M. (2013). Critical thinking: A student's introduction (5th ed.). New York, NY: McGraw-Hill.
Carless, D. (2015). Excellent in university assessment. Oxon: Routledge, Taylor & Francis group.
Changwong, k., Sukkamart, A., & Sisan, B. (2018). "Critical thinking skill development: analysis of a new learning management model fo Thai high school". Journal of international studies. 11(2), 37 – 38. Doi: 10.14254/2071-8330.2018/11-2/3
Costa, A. & Kallick. B. (2014). Dispositions: Reframing teaching and learning. Thousand Oaks, CA: Corwin Press.
Delisle, R. (1997). How to used problem based learning in the classroom. USA: Association for supervision and curriculum development.
Heijltjes, A., Gog, T.V., & Paas, F. (2014). "Empirical support for explicit instructions combined with practice". Applied cognitive psychology. Diunduh di http://wileyonlinelibrary.com
Jones, C., & Pimdee, P. (2017). "Innovative ideas: Thailand 4.0 and the fourth industrial revolution". Asian International Journal of Social Sciences, 17(1), 4 – 35. doi: 10.29139/aijss.20170101
Kraisuth, D., & Panjakajornsak, V. (2017). "Thai engineer ASEAN readiness: A structural equation model analysis". Asia-Pacific Social Science Review, 16(3), 96-117.
Martelli, C. D., & Watson, P. (2016). "Project – based learning: Investigating resilience as the connection between history, community, and self". Voice from the middle, 23(3), 10 – 16.
Mulyana,Y. (2016). "The use of documentary film as media to improve student's thinking ability in social science learning (classroom action research in class viii-6 of smp negeri 9 bandung city)", Pedagogy of social studies. 1(1), 1-13. Doi: https://doi.org/10.17509/ijposs.v1i1.2083
Miles, M.B., & Huberman, A.M. (1984). Qualitative data analysis. London: Sage.
More, B.N., & Parker, R. (2009). Critical thinking (9th ed.). New York: McGraw – Hill.
Nurlaelah. (2014). Thesis: "The effectiveness of documentary films as a medium for teaching the writing arguments in class X SMA 3 Maret Sleman Yogyakarta, Univ. Yogyakarta State University.
Nushur, R.D. & Astutie, D.D. (2019). The effectiveness of using hikayat prang sabi in PjBL approach to improve students' critical thinking. GEEJ, 6(2), 285 – 296.
Riza, S.I., (2016). Thesis: "The development of documentary film learning media to improve student learning enthusiastic of vocational senior high school pgri 1 sentolo grade x on accounting trading company", Yogyakarta State University
Rodzalan, S.A. & Saat, M.M. (2014). "The perception of critical thinking and problem solving among Malaysian undergraduate students". Procedia – social and behavior science, 172, 725 – 732.
Soleimani, H., Rahimi, Z., & Sadeghi, H. (2015). Project based learning and its positive effects on Iranian intermediate EFL learners' reading ability and vocabulary achievement. AESS, 4(1), 1-9.
Spector, J, M., (2019). Complexity, Inquiry Critical Thinking, and Technology: A Holistic and Developmental Approach. In Mind, Brain and Technology. Springer: Cham.
Sulaiman, W. S. W., Rahman, W. R. A., & Dzulkifli, M. A. (2008). "The relationship between critical thinking dispositions, perceptions towards teachers, learning approaches and critical thinking skills among university students." The Journal of Behavioral Science, 3(1), 122 – 133.
Willingham, D.T. (2007). "Critical thinking, why is it so hard to teach?" American educator, 31, 8-19.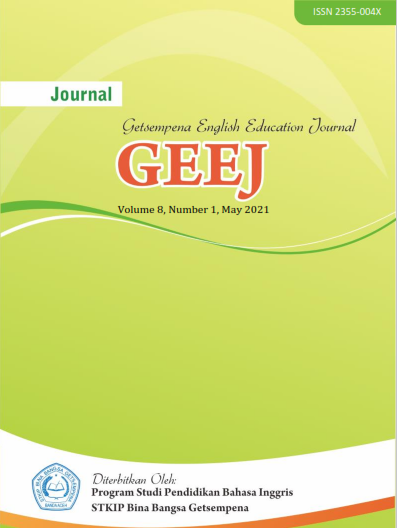 Article Metrics

Abstract views:
63

pdf
downloads:
57
How to Cite
Nushur, R. D., & Dewie Astutie, D. (2021). THE PERCEPTION OF ACEH DOCUMENTARY TRAINING PARTICIPANTS ON IMPROVING CRITICAL THINKING THROUGH DOCUMENTARY FILM APPLICATION. Getsempena English Education Journal , 8(1), 81-95. https://doi.org/10.46244/geej.v8i1.1245