PARENTAL PARTICIPATION TO MOTIVATE STUDENTS IN LEARNING ENGLISH DURING COVID-19 PANDEMIC: THE CASE OF INDONESIAN SECONDARY SCHOOL STUDENTS
Kheryadi

Universitas Islam Negeri Sultan Maulana Hasanuddin Banten

Fitri Hilmiyati

Universitas Islam Negeri Sultan Maulana Hasanuddin Banten

Husnul Hotimah

Universitas Islam Negeri Sultan Maulana Hasanuddin Banten
Keywords:
Parental Participation, Students, Achievement
Abstract
This research seeks to investigate the role of parents in the success of children's education. It is intended to evaluate parents' role and evaluate the participation of parents in the success of elementary school students in learning English. The qualitative approach was used in this study to derive the findings by using a questionnaire and documentation from the research subject. In this report, there are 28 students and parents involved. Furthermore, the data processing method is used to accumulate the data, reduce the data, show the data, and make a conclusion. The outcome of this research is a perfect reflection of the standards of English learning success by parents. In learning vocabulary, parents understand the limitations and challenges of their children. Parents' role is also excellent; 91 percent of parents help children learn English provides benefits, and positively affect children. Then, 23 percent of parents are only interested in getting support at home with children's education; therefore, the family or siblings can help unless the child has problems.
References
El Nokali, N. E., Bachman, H. J., & Votruba-Drzal, E. (2010). Parent involvement and children's academic and social development in elementary school. Child Development, 81(3), 988–1005. https://doi.org/10.1111/j.1467-8624.2010.01447.x
Epstein, J. (2007). Connections Count. Improving Family and Community Involvement in Secondary Schools. Undefined.
Fachriansyah, R. (2020). Work-from-home policy in effect at major Jakarta companies over virus concerns City. The Jakarta Post.
González, R. L., & Jackson, C. L. (2013). Engaging with parents: the relationship between school engagement efforts, social class, and learning. School Effectiveness and School Improvement, 24(3), 316–335. https://doi.org/10.1080/09243453.2012.680893
Hamlin, D., & Flessa, J. (2018). Parental Involvement Initiatives: An Analysis. Educational Policy, 32(5), 697–727. https://doi.org/10.1177/0895904816673739
Hornby, G. (2011). Parental Involvement in Childhood Education: Building Effective School. Springer.
Ingram, M., Wolfe, R. B., & Lieberman, J. M. (2007). The Role of Parents in High-Achieving Schools Serving Low-Income, At-Risk Populations. Education and Urban Society, 39(4), 479–497. https://doi.org/10.1177/0013124507302120
Jeynes, W. H. (2007). The Relationship Between Parental Involvement and Urban Secondary School Student Academic Achievement. Urban Education, 42(1), 82–110. https://doi.org/10.1177/0042085906293818
Kpolovie, P. J., Joe, A. I., & Okoto, T. (2014). Academic Achievement Prediction: Role of Interest in Learning and Attitude towards School. International Journal of Humanities Social Sciences and Education (IJHSSE).
Mailizar, Almanthari, A., Maulina, S., Suci Maulina, & Bruce, S. (2020). Secondary School Mathematics Teachers' Views on E-learning Implementation Barriers during the COVID-19 Pandemic: The Case of Indonesia. Ejmste.Com.
Niemeier, B. S., Hektner, J. M., & Enger, K. B. (2012). Parent participation in weight-related health interventions for children and adolescents: A systematic review and meta-analysis. In Preventive Medicine (Vol. 55, Issue 1, pp. 3–13). Academic Press. https://doi.org/10.1016/j.ypmed.2012.04.021
Nutbrown, C., Hannon, P., & Morgan, A. (2005). Early literacy work with families: Policy, practice and research.
Panattoni, L., Fedorenko, C., Greenwood-Hickman, M. A., Kreizenbeck, K., Walker, J. R., Martins, R., Eaton, K. D., Rieke, J. W., Conklin, T., Smith, B., Lyman, G., & Ramsey, S. D. (2018). Characterizing potentially preventable cancer- and chronic disease?related emergency department use in the year after treatment initiation: A regional study. Journal of Oncology Practice, 14(3), e176-185. https://doi.org/10.1200/JOP.2017.028191
Sanders, M. G. (2001). The role of "community" in comprehensive school, family, and community partnership programs. Elementary School Journal, 102(1), 18–34. https://doi.org/10.1086/499691
Sanders, M. G., & Sheldon, S. B. (2009). Principals Matter: A Guide to School, Family, and Community Partnerships.
Schonert-Reichl, K. A., Oberle, E., Lawlor, M. S., Abbott, D., Thomson, K., Oberlander, T. F., & Diamond, A. (2015). Enhancing cognitive and social-emotional development through a simple-to-administer mindfulness-based school program for elementary school children: A randomized controlled trial. Developmental Psychology, 51(1), 52–66. https://doi.org/10.1037/a0038454
Sheldon, S. B. (2007). Improving student attendance with school, family, and community partnerships. Journal of Educational Research, 100(5), 267–275. https://doi.org/10.3200/JOER.100.5.267-275
Singh, S., Roy, D., Sinha, K., Parveen, S., Sharma, G., & Joshi, G. (2020). Impact of COVID-19 and lockdown on mental health of children and adolescents: A narrative review with recommendations. In Psychiatry Research (Vol. 293, p. 113429). Elsevier Ireland Ltd. https://doi.org/10.1016/j.psychres.2020.113429
Sohrabi, C., Alsafi, Z., O'Neill, N., Khan, M., Kerwan, A., Al-Jabir, A., Iosifidis, C., & Agha, R. (2020). World Health Organization declares global emergency: A review of the 2019 novel coronavirus (COVID-19). In International Journal of Surgery (Vol. 76, pp. 71–76). Elsevier Ltd. https://doi.org/10.1016/j.ijsu.2020.02.034
Underwood, K. (2010). Involving and Engaging Parents of Children with IEPs. Exceptionality Education International, 20(1), 18–36. https://doi.org/10.5206/eei.v20i1.7655
Webster-Stratton, C., Jamila Reid, M., & Stoolmiller, M. (2008). Preventing conduct problems and improving school readiness: Evaluation of the Incredible Years Teacher and Child Training Programs in high-risk schools. Journal of Child Psychology and Psychiatry and Allied Disciplines, 49(5), 471–488. https://doi.org/10.1111/j.1469-7610.2007.01861.x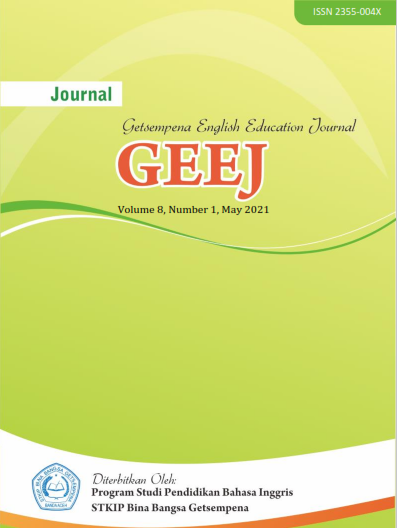 Article Metrics

Abstract views:
199

pdf
downloads:
122
How to Cite
Kheryadi, Hilmiyati, F., & Hotimah, H. (2021). PARENTAL PARTICIPATION TO MOTIVATE STUDENTS IN LEARNING ENGLISH DURING COVID-19 PANDEMIC: THE CASE OF INDONESIAN SECONDARY SCHOOL STUDENTS. Getsempena English Education Journal , 8(1), 147-163. https://doi.org/10.46244/geej.v8i1.1304