POLITENESS STRATEGIES ANALYSIS REFLECTED IN LITTLE WOMEN MOVIE BY GRETA GERWIG
Fridolini Fridolini

Darma Persada University

Dwi Asih Arisena

Universitas Darma Persada

Kurnia Idawati

Universitas Darma Persada
Keywords:
Linguistic, Pragmatic, Politeness Strategies, Brown and Levinson
Abstract
This research mostly discusses the politeness strategies that is shown in Little Women movie. Politeness is a social behaviour to a speaker towards deferent wishes of the addressee in different concerns. The purpose of this study is to find the politeness strategies and the most-frequent strategy that is used in Little Women movie. Based on Brown and Levinson (1978), there are four types of politeness strategies. Those are bald on record, positive politeness, negative politeness, and off record. Descriptive qualitative method was selected to analysed the data. The theory that are applied in this study are Brown and Levinson's theory (1978), which concerns about the politeness strategies. The result of this term paper was shown that all of the characters use all the politeness strategies from Brown and Levinson and the most frequent strategy that is used by the characters is positive politeness.  The researchers hope that this research will help the readers to get a better understanding about politeness strategies based on Brown and Levinson.
References
Agbaglo, E. (2017). The Use of Politeness Strategies in the Analysis and Discussion Sections of English Research Articles. Cape Coast, Ghana: University of Cape Coast.
Archia, J. J. (2014). A Pragmatic Analysis of Positive Politeness Strategies as Reflected by The Characters in Carnage Movie. Yogyakarta: Yogyakarta State University.
Chomsky, N. (2010). The logical structure of linguistic theory. Cambridge: MIT.
Cutting, J. (2012). Pragmatics and Discourse. London: Oxford University Press.
Grice, H. P. (1975). Language and Conversation. New York: Academic Press.
Hasmi, M. (2013). A Pragmatic Analysis of Politeness Strategies Reflected in Nanny McPhee Movie. Yogyakarta: Yogyakarta State University.
Hossein Sadegoghli, M. N. (2016). Theories on Politeness by Focusing on Brown and Levinson's Politeness Theory. Iran: Islamic Azad University.
Kreidler, C. W. (2010). Introducing English Semantics. London: Routledge.
Levinson, P. B. (1978). Politeness: Some Universals in Language Usage. Cambridge: University Press.
Murliati, Yuni. 2013. Politeness Strategies Used By George Milton In Jhon Steinbeck "Mice and Man". Graduating Paper. State Islamic Uneversity Sunan Kalijaga, Yogyakarta
Pishghadam, Reza and Safoora Navari. 2012. A Study into Politeness Strategies and Politeness Markers in Advertisements as Persuasive Tools. Journal. Mediterranean Journal Of Social Sciences
Ryabova, M. (2015). Politeness Strategy in Everyday Communication. Kemerovo: Kemerovo State University.
Steven J. Taylor, R. B. (2016). Introduction to Qualitative Research Methods: A Guidebook and Resource. New Jersey: John WIley & Sons.
Sugiyono. (2005). Memahami Penelitian Kualitatif . Bandung: CV Alfabeta .
Watts, Richard J.2003. Key Topics In Sociolinguistic:Politeness. Cambridge University Press, New York
Wiersma, W. (1995). Research Methods in Education: An Introduction (6th ed) . Boston: Allyn and Bacon.
Little Women (2019) • Screenplay • Greta Gerwig - 8FLiX Scripts (retrieved on December 1 2020)
https://www.imdb.com/title/tt3281548/awards (retrieved on January 9, 2021)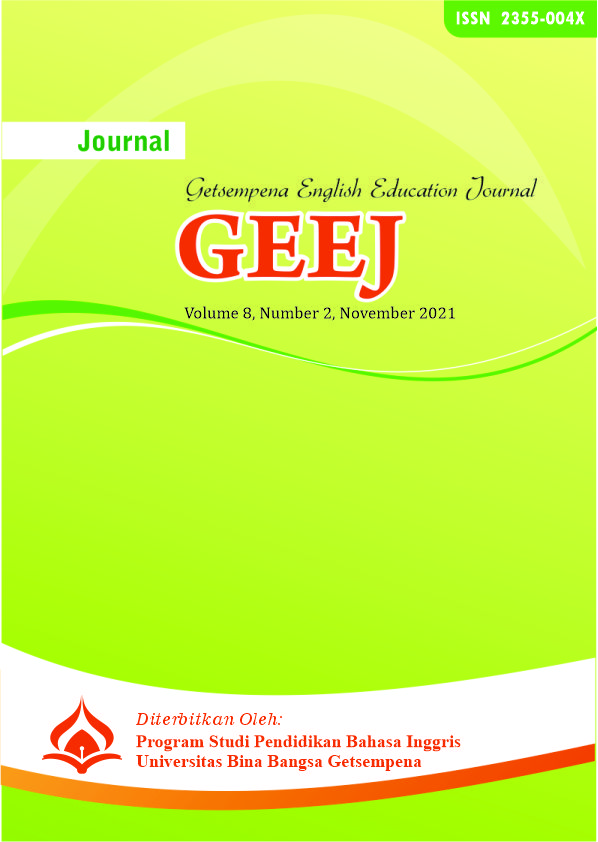 Article Metrics

Abstract views:
397

PDF
downloads:
250
How to Cite
Fridolini, F., Arisena, D. A., & Idawati, K. (2021). POLITENESS STRATEGIES ANALYSIS REFLECTED IN LITTLE WOMEN MOVIE BY GRETA GERWIG. Getsempena English Education Journal , 8(2). https://doi.org/10.46244/geej.v8i2.1375