ANALYSIS OF TEACHERS' MANAGEMENT AND INSTRUCTIONAL TALK IN ENGLISH FOREIGN LANGUAGE (EFL) CLASSROOM AT SMA NEGERI 1 BOMBANA
Roslina

1Universitas Sembilanbelas November Kolaka
Keywords:
English, instructional talk, teacher, management talk.
Abstract
This study aims were to determine the context of teacher management and instructional talks in senior high schools, especially in Senior High Schools of 1 Bombana and the frequency of use of teachers' native language (NL) and target language (TL). The study subjects were two Indonesian English teachers. The descriptive qualitative method was used to obtain and analyze data. Our study results showed four contexts of utterance related to management talk while three contexts were related to the instructional talk. Teachers prefer to use the native language than the target language in either management talk term or instructional talk term.  The frequency of using the native language was much higher both in management and instructional talk. It indicated by 86.9% average used in management talk, while 77.1% in the instructional talk. In addition, the reason for the domination of the native language was to reach the effectiveness of learning in EFL classes. However, it was also implied that the teacher's competence to use English in the classroom was inadequate.
References
Aisyah, N. (2016). An Analysis of Teachers' Talk in an EFL Classroom. Journal of English and Education, 4(2), 63-79.
Andini, D. M., & Supardi, E. (2018). Kompetensi Pedagogik Guru terhadap Efektivitas Pembelajaran dengan Variabel Control Latar Belakang Pendidikan Guru [Teacher pedagogic competence to learning effectiveness with control variables background teacher education]. Jurnal Pendidikan Manajemen Perkantoran, 3(1), 1-7.
Bleses, D., A. Højen, P. S. Dale, L. M. Justice, L. Dybdal, S. Piasta, J. Markussen-Brown, L. Kjærbæk, and E. F. Haghish. 2018. "Effective Language and Literacy Instruction: Evaluating the Importance of Scripting and Group Size Components." Early Childhood Reading Quarterly 42 (1): 256–269. doi:10.1016/j.ecresq.2017.10.002
Casta, Janet S & Esther R Hufana. 2016. Language Function in ESL Textbook. TESOL International Journal. Vol 11 Issue 1. English Language Education Publishing. Site Skills Training-Clark, Centennial Road, Clark Freeport Zone, Clark, Pampanga 2023, Philippines. Online avaiabe at https://files.eric.ed.gov/fulltext/EJ1251177.pdf
Fitriani, S. S., Prasetyaningsih, D. R., & Samad, I. A. (2017). The Influence of First Language toward Students' Achievement in Learning English. Jurnal Pencerahan, 11(1), 28-38.
Gould, J., & Roffey-Barentsen, J. (2018). Achieving Your Diploma in Education and Training. UK: Sage Publications.
Jouibar, B., & Afghari, A. (2015). Teacher Talk in Classroom Discourse: A Case Student. ELT Voices-International Journal for Teachers of English, 5(5), 19-24.
Kiassi, M. A., & Hemmati, F. (2014). The Importance of Teacher Talk in Teaching EFL Writing. Portal Linguarum, 22, 95-108.
Kovačić, A., & Kirinić, V. (2011). To Use or Not Use: First Language in Tertiary Instruction of English as a Foreign Language. 1st International Conference on Foreign Language Teaching and Applied Linguistics, May 5-7 2011, Sarajevo.
Krashen, S. D. (2015). Remarks on Language Acquisition and Literacy: Language Acquisition and Teaching, Free Reading, "Test-Prep" and its Consequences, the Use of the First Language, Writing, and the Great Native Speaker Teacher Debate. Indonesian JELT, 10(1).
Lo, Y. Y. (2015). How Much L1 is too Much? Teachers' Language Use in Response to Students' Abilities and Classroom Interaction in Content and Language Integrated Learning. International Journal of Bilingual Education and Bilingualism, 18(3), 270-288.
Mia C. Heller & Vibeke Grøver (2021) Teachers' instructional talk in a partly scripted language intervention targeting young second-language learners: developments over time, International Journal of Early Years Education, DOI: 10.1080/09669760.2021.1893665 https://www.tandfonline.com/doi/full/10.1080/09669760.2021.1893665
Miles, M. B, Huberman, A. M, & Saldana, J. (2014). Qualitative Data Analysis: A Methods Sourcebook. California, US: Sage Publications.
Muhayyang, M. (2010). Lecturer and Studets Talk in Classroom Interaction: A Classroom Management Scheme (Doctoral dissertation, Hasanuddin University, Makassar).
Oloninisi, & Omowumi. (2019). Communication Challenges of Teaching in English Language in Nigerian Primary Education. IOSR Journal of Research & Method in Education, 9(6), 18-23.
Paker, T., & Karaağaç, Ö. (2015). The Use and Functions of Mother Tongue in EFL Classes. Procedia- Social and Behavioral Sciences, 199, 111-119.
Pollard, L. (2008). Lucy Pollard's Guide to Teaching English. Retrieved from http://site.iugaza.edu.ps/akeshta/files/2010/02/Pollard-Lucy.pdf
Pratiwi, W. R. (2018). Teacher Talk and Instructional Language Choice: Two Problems Encountered in EFL Classroom. Jurnal Pendidikan Bahasa Inggris Exposure, 7(2), 214-227.
Shimizu, M. (2006). Monolingual or Bilingual Policy in the Classroom: Pedagogical Implications of L1 use in the Japanese EFL classroom. Maebashi Kyoai Gakuen College Ronsyu. Retrieved from https://gair.media.gunma-u.ac.jp/dspace/bitstream/10087/7277/1/2006-shimizu.pdf
Susanthi, Gusti Ayu Agung Dian, Made Sani Damayanthi Muliawan, & Anak Agung Gede Suarjaya . 2021. The Language Functions Used in Guiding Conversation: Pragmatics Approach. Retorika: Jurnal Ilmu Bahasa. Vol. 7 No. 1. Onlie available at file:///C:/Users/ASUS/Downloads/2903-Article%20Text-16259-1-10-20210430.pdf
Suwartono, S. (2007). A good Teacher of EFL Speaks the Languange in The Class. Conference Proceedings the 55th TEFLIN International Conference.
Thompson, G. L. (2006). Teacher and Student First Language and Target Language Use in the Foreign Language Classroom: A Qualitative and Quantitative Study of Language Choice (Doctoral dissertation, The University of Arizona). Retrieved from: http://arizona.openrepository.com/arizona/bitstream/10150/194958/1/azu_etd_1705_s ip1_m.pdf
Wang, H. (2014). The Analysis of Teacher Talk in "Learner-Centered" Teaching Model. International Journal of Social, Behavioural, Educational, Economic, Engineering, 8(4), 11-20.
Yanfen, L., & Yuqin, Z. (2010). A Study of Teacher Talk in Interactions in English Classes. Chinese Journal of Applied Linguistics, 33(2), 76-86.
Yatağanbaba, E., & Yildirim, R. (2015). EFL Teachers' Code Switching in Turkish Secondary EFL Young Language Learner Classrooms. International Journal of Linguistics, 7(1), 82-101.
Zulfah, Z., Rasyid, M. A., Rahman, M. A., & Rahman, A. Q. (2015). Teachers' Instructional Talk and Management Talk in English Foreign Language Classroom. Journal of Language Teaching and Research, 6(6), 1280-1288.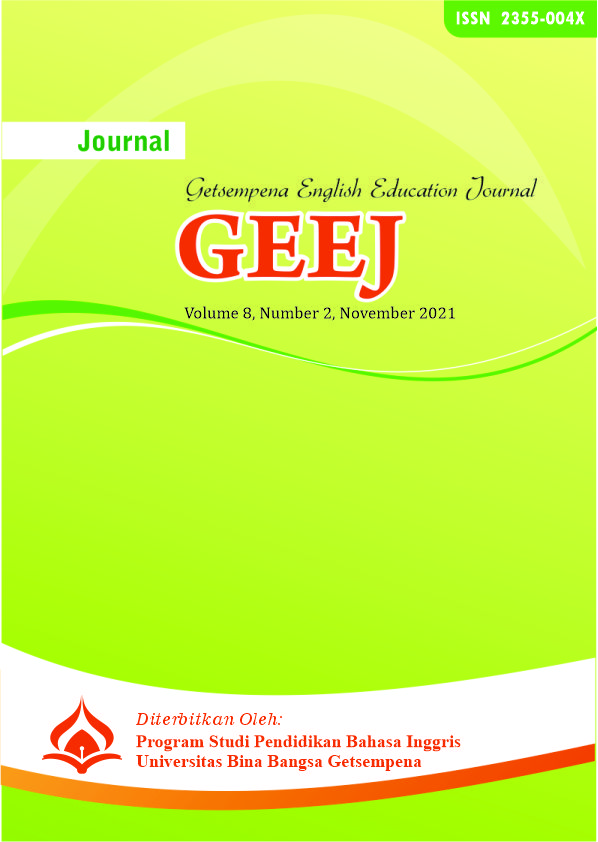 Article Metrics

Abstract views:
126

PDF
downloads:
59
How to Cite
Roslina. (2021). ANALYSIS OF TEACHERS' MANAGEMENT AND INSTRUCTIONAL TALK IN ENGLISH FOREIGN LANGUAGE (EFL) CLASSROOM AT SMA NEGERI 1 BOMBANA. Getsempena English Education Journal , 8(2). https://doi.org/10.46244/geej.v8i2.1380