CHALLENGES IN WRITING ACADEMIC RESEARCH: AN EXPLORATION OF MASTER'S STUDENTS' EXPERIENCES
Siti Kholija Sitompul

State University of Malang

Amira Wahyu Anditasari

State University of Malang
Keywords:
master's students, research writing, thesis difficulties.
Abstract
This study attempted to investigate the students' difficulties in research writing involving 39 master's students majoring in English Language Education at one of the universities in Malang. The data on the thesis writing difficulties were gathered through a close-ended questionnaire designed based on the theory proposed by Harris (2020), consisting of three aspects: research skills in the introduction, research method, and finding and discussion parts. The data was analyzed quantitatively by measuring the mean, mode, and percentage from each scale. The results revealed that many master's students encountered difficulties in most three aspects. First, one-third of 39 students perceived difficulty in the introduction part, such as selecting a research topic and formulating research problems. Second, the students also affirmed that they found challenging in the research method part, such as the dilemma of selecting an appropriate method, determining the sample, and designing instruments in which the results were slightly different from the students who were in the level of disagreement. However, finding appropriate instruments, determining the questionnaire scale, and collecting data were less problematic. Third, the study highlighted that the students found it difficult to process data, sort the data the results, and conclude the results by elaborating on research implications. This study concluded that master's students still faced difficulties although they have learned research at undergraduate and master's levels. It was recommended that further studies should intensively investigate students' difficulties and factors in research in linguistics.
References
Al-Yaseen, W. S. (2013). The Research Skills of Graduate Students in the Master Degree of Education at Kuwait University. Journal of Educational and Psychological Studies [JEPS], 7(4), 559–571. https://doi.org/10.53543/jeps.vol7iss4pp559-571
Basthomi, Y. (2006). The Rhetoric of Research Article Introductions Written in English by Indonesians. Universitas Negeri Malang.
Basthomi, Y. (2009). Examining Research Spaces. TEFLIN Journal, 20(2), 140–158.
Creswell, J. W. (2012). Educational Research: Planning, Conducting and Evaluating Quantitative and Qualitative Research (Fourth Edi). Pearson Education.
Harris, D. (2020). Literature Review and Research Design. In Literature Review and Research Design. https://doi.org/10.4324/9780429285660
Imafuku, R., Saiki, T., Kawakami, C., & Suzuki, Y. (2015). How do students' perceptions of research and approaches to learning change in undergraduate research? International Journal of Medical Education, 6(May), 47–55. https://doi.org/10.5116/ijme.5523.2b9e
Kheryadi. (2018). The Student's Ability and Problems in Writing Introduction of Research Proposal. EEAL Journal, 1(1), 69–81.
Lestari, D. M. (2020). An Analysis of the Students' Difficulties in Writing Undergraduate Thesis at English Education Study Program of Muhammadiyah University of Bengkulu. Premise: Journal of English Education, 9(1), 17. https://doi.org/10.24127/pj.v9i1.2588
Lian, A., & Pertiwi, W. H. S. (2017). Theorising for innovation: Implications for english language teacher education. GEMA Online Journal of Language Studies, 17(3), 1–17. https://doi.org/10.17576/gema-2017-1703-01
Nasution, S. S., Tito Dimas Atmawijaya, & Abdul Aziz. (2021). The Students' Needs in Learning Research Methodology in Linguistics. Eduvelop, 4(2), 79–87. https://doi.org/10.31605/eduvelop.v4i2.935
Oey-Gardiner, Mayling., Rahardi, Fandi., and Can, C. K. (2021). Ethics In Social Science Research In Indonesia (first edit). Yayasan pustaka obor Indonesia.
Pertiwi, W.H.S. & Weganofa, R. (2014). Kesulitan mahasiswa bahasa Inggris dalam belajar metode penelitian.
Pertiwi, W. H. S. (2020). Teaching research in undergraduate English language teacher education degree programs in Indonesia: A case study [Charles Darwin University]. http://dx.doi.org/10.1016/j.ndteint.2014.07.001%0Ahttps://doi.org/10.1016/j.ndteint.2017.12.003%0Ahttp://dx.doi.org/10.1016/j.matdes.2017.02.024
Rakhmawati, A. (2013). English Research Articles Written by Indonesian Academics : Coping with Common Practices and Rhetorical Diversity. 3rd International Conference on Foreign Language Learning and Teaching, 2002, 265–275.
Ruchina, A. V., Kuimova, M. V., Polyushko, D. A., Sentsov, A. E., & Jin, Z. X. (2015). The Role of Research Work in the Training of Master Students Studying at Technical University. Procedia - Social and Behavioral Sciences, 215(March 2016), 98–101. https://doi.org/10.1016/j.sbspro.2015.11.580
Safitri, C. D., Azisah, S., & Annur, M. J. (2021). the Analysis of Students' Challenges To Thesis Writing At Uin Alauddin Makassar. English Language Teaching for EFL Learners, 3(2), 41. https://doi.org/10.24252/elties.v3i2.21013
Sariyanto, Supardi, I., & Husin, S. (2015). An Analysis on Factors Causing Undergraduate Students' Difficulties in Writing Thesis. Jurnal Pendidikan Dan Pembelajaran Khatulistiwa, 4(3), 1–12.
Siregar, F., & Rakhmani, I. (2016). Global Development Network Working Paper Series Reforming Research in Indonesia: policies and practice Reforming Research in Indonesia: Policies and Practices. 92, 1–71. http://cipg.or.id/
Swales, J. M. (2004). Research Genres: Explorations and Applications. Cambridge University Press.
Swarni, B. R. (2016). Student's Problem in Writing Thesis: Case Study at English Department Mataram University. The University of Mataram.
Thomas, G. (2013). How to do your research project. SAGE Publication Limited.
Vehviläinen, S. (2009). Problems in the research problem: Critical feedback and resistance in academic supervision. Scandinavian Journal of Educational Research, 53(2), 185–201. https://doi.org/10.1080/00313830902757592
THE AUTHORS
Siti Kholija Sitompul is a Master's student of the State University of Malang (Universitas Negeri Malang) currently studying in English Language Education. She applied for an English Education study program for her undergraduate degree from State University of Medan.
Amira Wahyu Anditasari is a Master's students of the State University of Malang (Universitas Negeri Malang) currently studying in English Language Education. She pursued the same major in English Educational study program from State University of Malang as well.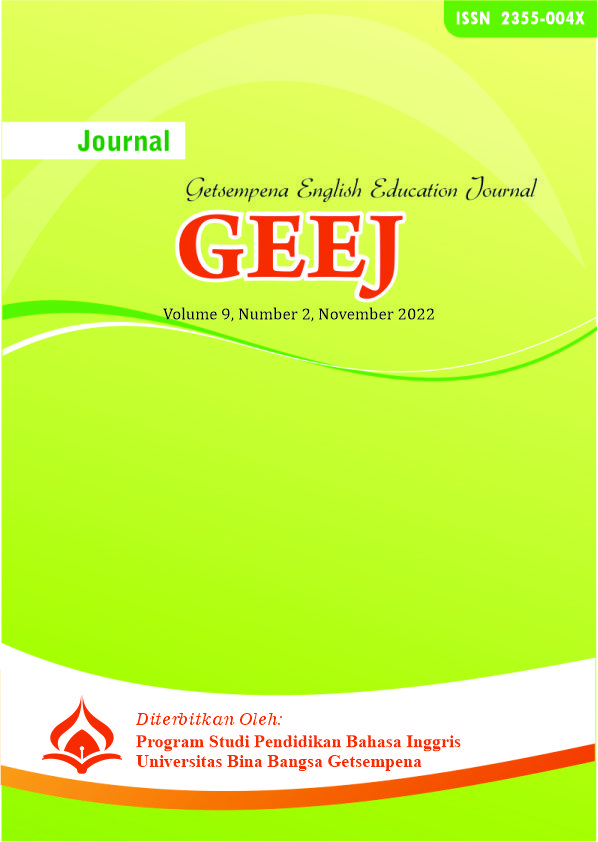 Article Metrics

Abstract views:
521

PDF
downloads:
4794
How to Cite
Sitompul, S. K., & Anditasari, A. W. (2022). CHALLENGES IN WRITING ACADEMIC RESEARCH: AN EXPLORATION OF MASTER'S STUDENTS' EXPERIENCES. Getsempena English Education Journal , 9(2), 136-148. https://doi.org/10.46244/geej.v9i2.1805