THE INDONESIAN GOVERNMENT'S LEGITIMATION TOWARD OMNIBUS LAW ON JOB CREATION: A CRITICAL DISCOURSE ANALYSIS STUDY
Rizki Ananda

STKIP An-Nur

Nurmainiati

STKIP An-Nur Banda Aceh
Keywords:
Critical discourse analysis, Legitimation Strategy, Omnibus Law on Job Creation, Semantics and Pragmatics.
Abstract
Omnibus law on Job Creation passed in 2021 by the Indonesian Government has sparked a nationwide protests from many elements of societies. In this case, with its positive belief in the law, the government has to legitimize it so that it obtains approval from the society. This study seeks to answer the legitimation strategies employed by the government to convice the societies regarding the positive sides of this law implementation. To attain its objective, the current study used qualitative approach with critical discourse analysis as its method and Leeuwen's framework on legitimation strategies as its analytical toolkit. The data was obtained from five giant online newspapers, namely The Jakarta Post, Serambi Indonesia, Kompas, CNN, and Republika from which 14 articles related to UU Cipker were extracted by means of Google search engine. The result of data analysis reveals that the government employed the moral evaluation strategy, rationalization strategy, and authorization strategy. Out of the three strategies, moral evaluation which is a legitimation built by referring to various moral values, was employed dominantly. Finally, this study suggests the society to critically listen to, read, and understand the government's language. This study can also be used as a reference by English teachers to legitimize each material presented to motivate their students to be life-long learners by telling them why they should learn those presented materials.
References
Ananda, R. & Sari, N. (2021). Linguistics legitimation strategies employed by members of an Indonesian political party. Studies in English Language and Education, 8(3), 1248-1266.
Baldi, B. & Franco, L. (2015). (De)Legitimation strategies in the "Austere Prose" of Palmiro Togliatti. Working Paper in Linguistics and Oriental Studies, 1, 139-158.
Bourdieu, P. (1991). Language and Symbolic Power. Cambridge: Polity Press.
Dreyfus, S. (2017). 'Mum, the pot broke': taking responsibility (or not) in language. Discourse and Society 28-4, 374-391.
Doskaya, F. C. (2002). Legitimating discourse: An analysis of Legitimation Strategies in U.S. Official Discourse on Cyprus. The Cyprus Review, 14(2), 71-98.
Esikot, I.F. (2013). Moral optimism versus moral pessimism: In search of an existential prima. Research on humanities and social sciences, 3, 83-88.
Faradi, A.A. (2015). Kajian modalitas linguistik fungsional sistemik pada teks debat capres-cawapres pada pilpres 2014-2019 dan relevansinya dengan pembelajaran wacana di sekolah [A study on systemic functional Linguistics modality on debate text of president and vice president candidates in 2014-2019 and its relevances with discourse study in schools. Retorika: Jurnal Ilmu Bahasa, 1(2), 233-249.
Habermas, J. (1976). Legitimation Crisis. London: Heinemann.
Karim, S.A. (2015). Analysis on political speech of Susilo Bambang Yudhoyono: common sense assumption and ideology. Retorika: Jurnal Ilmu Bahasa, 1(2), 309-318.
Kolzow, D.R. (2014). Leading From Within: Building Organizational Leadership Capacity. Available online at https://www.iedconline.org/clientuploads/Downloads/edrp/Leading_from_Within.pdf
Sacrre, G. (2002). Utilitarianism, 1st Edition. Routledge.
Leech, G. (1966) English in Advertising. London: Longman.
Leeuwen, T.V. (2007). Legitimation in discourse and communication. Discourse and Communication, 1(1), 91-112. DOI: 10.1177/1750481307071986.
Leeuwen, T.V. (2008). Discourse and Practice: New Tools for Critical Discourse Analysis. New York: Oxford University Press, Inc.
Lestari, Y. (2022). Kepanikan moral dan politics of moral di Sumatera Barat [Moral panic and politics of moral in West Sumatera]. Jurnal Sosiologi Andalas, 8(2), 192-202.
Mills, S. (1997). Discourse. London and New York: Routledge.
Madkur, A. (2018). A text analysis on President Joko Widodo's speech at APEC CEO summit Asian Pacific. Pedagogy: Journal of English Language Teaching, 6(1), 11-22. DOI: http://dx.doi.org/10.32332/pedagogy.v6i1.1113.
Matheson, Jonathan (2016). Moral caution and the epistemology of disagreement. Journal of Social Philosophy, 47 (2):120-141.
Noddings, N. (2002). Starting at Home: Caring and Social Policy. University of California Press.
Oxford. (2022). Oxford learner's dictionary. Oxford University Press. Available online at https://www.oxfordlearnersdictionaries.com/.
Putra, A. (2020). Penerapan omnibus law dalam upaya reformasi regulasi [Implementation of omnibus law as an attempt of regulation reformation]. Jurnal Legislasi Indonesia, 17(1), pp. 1-10.
Reyes, A. (2011). Strategies of legitimization in political discourse: From words to action. Discourse and Society, 22(6), 781-807. DOI: 10.1177/0957926511419927.
Said, H. (2017). Legitimation strategies in Egyptian political discourse: the case of presidential speech. (Postgraduate Thesis). The American University in Cairo.
Setiana, A., Munaris, Fuad, M. (2015). Aspek kebahasaan Jokowi pada debat Presiden dan kegunaannya dalam pembelajaran [Jokowi's linguistics aspects in the presidential debate and their uses in learning]. Jurnal Kata (Bahasa, Sastra, dan Pembelajarannya), 3(2), 1-12.
Setiawan, E. (2021). Kamus besar Bahasa Indonesia (KBBI): Kamus versi online/daring (dalam jaringan (versi 2.8)) [The great dictionary of Bahasa Indonesia (KBBI): Online versi of dictionary/Online: 2.8 version]. Badan Pengembangan dan Pembinaan Bahasa (Pusat Bahasa) [Language Development Council (Language Centre)]. Retrieved from https://kbbi.web.id/moral on November 15, 2022.
Singgih, M.N. (2006). Strategi penguatan usaha mikro kecil menengah (umkm) sebagai refleksi pembelajaran krisis ekonomi Indonesia [Strategy of Strengthening small and medium enterprises as a learning reflection of Indonesian economic crisis]. Jurnal Ekonomi Modernisasi, 3(3), 218–227.
Sudijono, A. (2006). Pengantar Statistik Pendidikan [Introduction of Education Statistics]. PT Raja Grafindo
vanDijk, T.A (1997). What is political discourse analysis? In J. Blommaert & C. Bulcaen (Eds.). Political Linguitics. Amsterdam: Benjamins.
Verba, S., Schlozman, K. L., Brady, H., & Nie, N. H. (1993). Citizen activity: Who participates: What do they say. American Political Science Review, 87(2), 303-318.
Vaara, E and Tienari, J. (2008). A discursive perspective on legitimation strategies in multinational corporations. Academy of Management Review, 33(4), 985-993.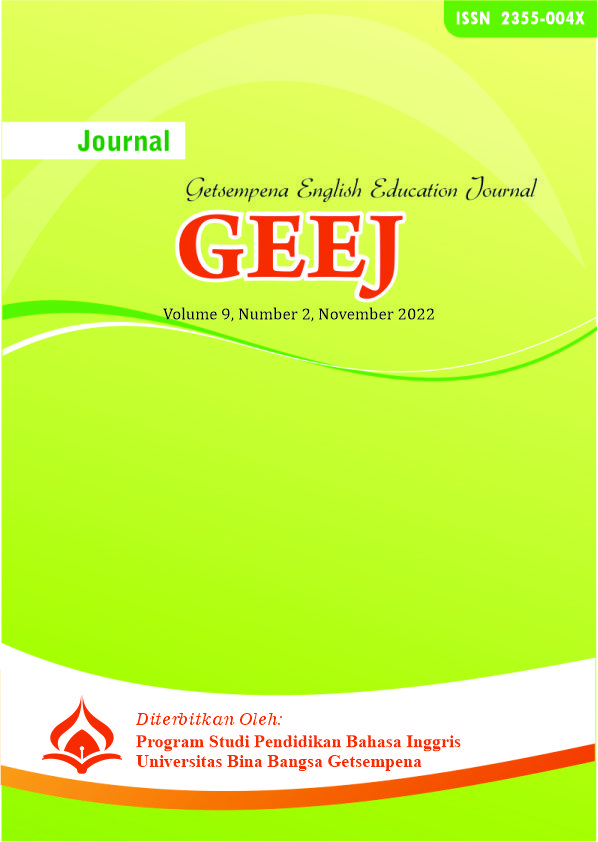 Article Metrics

Abstract views:
251

PDF
downloads:
286
How to Cite
Ananda, R., & Nurmainiati. (2022). THE INDONESIAN GOVERNMENT'S LEGITIMATION TOWARD OMNIBUS LAW ON JOB CREATION: A CRITICAL DISCOURSE ANALYSIS STUDY. Getsempena English Education Journal , 9(2), 64-78. https://doi.org/10.46244/geej.v9i2.1898