THE USE OF REPORT SCRIPT IN IMPROVING STUDENTS' WRITING ABILITY
(A Descriptive Study at The Second Year Students of STKIP Bina Bangsa Getsempena Banda Aceh)
Regina Rahmi

STKIP Bina Bangsa Getsempena

Muhammad Abrar

STKIP Bina Bangsa Getsempena
Keywords:
Report, Script, Improving
Abstract
This study which was conducted at the second year of English students of STKIP Bina Bangsa Getsempena Banda Aceh in academic year 2013/2014 which consists of 6 female students and 1 male student, intended to figure out "The use of report script in improving students' writing ability". The writers use students' writing sheet as instrument. Based on the analyzed data the writers infer conclusion that the use of report script toward students' writing ability conveys the student to decide themain idea in the general classification, the facts about topic as a supporting sentence in the description, and the result of the topic in the conclusion. The students are able to write related to the characteristics of writing such as coherence, cohesion, and unity. Although, the student's writing still have the errors, malformation and disordering in paragraph.
References
Gerot, L., & Wignell, P. (1994). Making Sense of Functional Grammar. Sydney: GerdStabler.

Ghazi, Ghaith. (2002). The Nature of Writing. Bieirut: American University of Beirut.

Harmer, Jeremy. (2005). Just Reading and Writing : for class or self-study. New York : Marshall Cavendish

Herrell, A. L., & Jordan, M. (2004). Fifty strategies for teaching English language learners (2nd ed.). Upper Saddle River, NJ: Merrill.

Langan, John. (2004). Sentence Skill, Form B A Work Book for Writers.United States: McGrawHill
Linda, Garod. (1994). Making Sense of Functional Grammar. Australia. Geed.

Meyers, Allan. (2005). Gateways to Academic Writing: Effective Sentences Paragraph and Essay. New York: Longman.

Sugiyono. (2005), Metode Penelitian Kualitatif, Bandung: Alfabeta.

Wardiman, A., Jahur, M.B., and Djusma, M.S. (2008). English In Focus 1.Jakarta: Pusat Perbukuan Departemen Pendidikan Nasional.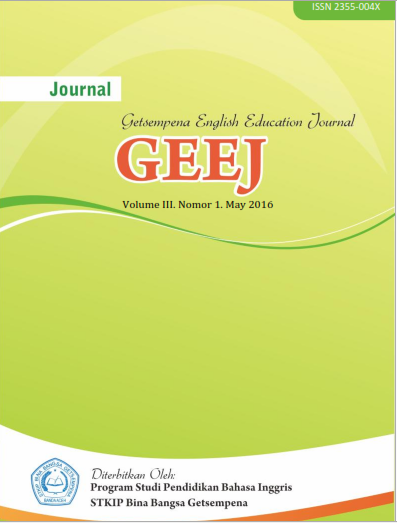 Article Metrics

Abstract views:
44

pdf
downloads:
29
How to Cite
Regina Rahmi, & Muhammad Abrar. (2016). THE USE OF REPORT SCRIPT IN IMPROVING STUDENTS' WRITING ABILITY : (A Descriptive Study at The Second Year Students of STKIP Bina Bangsa Getsempena Banda Aceh). Getsempena English Education Journal , 3(1), 46-61. https://doi.org/10.46244/geej.v3i1.700