ENGLISH TEACHING MATERIALS DURING GLOBAL PANDEMIC: A SURVEY ON ONLINE LEARNING AT VOCATIONAL SCHOOLS IN LAMPUNG
Nyanuar Algiovan

Lampung University

Ahmad Subhan Roza

State Islamic Institute of Metro
Keywords:
Coronavirus, Disaster Education, English Teaching Materials
Abstract
Coronavirus spread around the world affects many things. Education is one of many affected sectors. Indonesia is a country which mostly effected by Coronavirus. Thousand students throughout the nations left the schools and start adapting a distance learning. It forces all teachers and students to learn and adapt to online learning. English teaching materials play a role in providing students with contextual knowledge. By far, English learning materials have only been inserted about moral values and other values. Though, English teaching materials are considered possible to be a means of learning students on issues related to disaster education. This research investigates the media platforms and materials used by English teachers during the pandemic in vocational high schools in East Lampung. The study used Cross-sectional Designs Survey with questionnaires as data collection techniques. Participants of 27 vocational schools of English teachers. The survey was done in the beginning of first semester. The aims are to know the materials and platforms which are used also to see the teachers' understanding regarding the disaster education during a global pandemic. The findings gained are (1) Most teachers use WhatsApp in providing teaching materials. (2) The majority of respondents were aware of disaster education but only limited to COVID issues. (3) English teachers have not understood the overall disaster education. There are three main suggestions of this current work : Incorporating of teaching materials integrated with disaster education, environmental, and natural issues. Maximizing the fore on the application of online learning. Enhancing of disaster education at all levels of education.
References
A. Erizar, and Mohd Nazri Latiff Azmi. 2017. "The Impact of Natural Disaster Teaching Module (NDTM) on Secondary Schools Students in West Aceh." International Journal of Academic Research in Business and Social Sciences 7(4).
Amri, Avianto. 2017. "Pendidikan Tangguh Bencana." 79.
Arifa, Fieka Nurul. 2020. "Tantangan Pelaksanaan Kebijakan Belajar Dari Rumah Dalam Masa Darurat Covid-19." Info Singkat;Kajian Singkat Terhadap Isu Aktual Dan Strategis XII(7/I):6.
Asmara, R. 2020. "Teaching English in a Virtual Classroom Using Whatsapp During Covid-19 Pandemic." Language and Education Journal.
Awada, Ghada. 2016. "Effect of Whatsapp on Critique Writing Proficiency and Perceptions toward Learning." Cogent Education 3(1).
Azzahra, Nadia Fairuza. 2020. "Mengkaji Hambatan Pembelajaran Jarak Jauh Di Indonesia Di Masa Pandemi Covid-19." Center for Indonesians Policy Studies 19(2):1–9.
Dewi, Nita Sari Narulita. 2017. "Cultural Values Integration in English Language Learning for Indonesian Young Learners." Script Journal: Journal of Linguistic and English Teaching 2(2):145.
Dewi, Ratih Puspita. 2020. "Fieldwork and Research Impact on Learning of Disaster Risk Reduction." Universal Journal of Educational Research 8(8):3718–24.
DJEBBARI, Zakia. 2012. "Integrating Culture in EFL Classrooms:A Plea for an Integrated Model." Language Teaching 1–10.
Gon, Sonia, and Alka Rawekar. 2017. "Effectivity of E-Learning through Whatsapp as a Teaching Learning Tool." MVP Journal of Medical Sciences 4(1):19.
Hauschild, Staci, Elena Poltavtchenko, and Fredricka L. Stoller. 2012. "Going Green: Merging Environmental Education and Language Instruction." English Teaching Forum 50(2):2–13.
Honesti, Leli, and Nazwar Djali. 2012. "Pendidikan Kebencanaan Di Sekolah – Sekolah Di Indonesia Berdasarkan Beberapa Sudut Pandang Disiplin Ilmu Pengetahuan." Jurnal Momentum 12(1):51–56.
hundred.org/ OECD. 2020. "Spotlight: Quality Education for All during COVID-19 Crisis." Spotlight: Quality Education for All during COVID-19 Crisis (April).
International Labour Organization. 2020. "ILO Sectoral Brief: COVID-19 and the Education Sector." (March):1–8.
Iyengar, Karthikeyan, Ahmed Mabrouk, Vijay Kumar Jain, Aakaash Venkatesan, and Raju Vaishya. 2020. "Learning Opportunities from COVID-19 and Future Effects on Health Care System." Diabetes and Metabolic Syndrome: Clinical Research and Reviews 14(5):943–46.
Lubis, Andre Hasudungan, Syed Zulkarnain Syed Idrus, and Salleh Abd Rashid. 2020. "The Exposure of MOOC Usage in Indonesia." International Journal of Scientific and Technology Research 9(2):2716–20.
Muttarak, Raya, and Wiraporn Pothisiri. 2018. "The Role of Education on Disaster Preparedness Case Study of 2012 Indian Ocean Earthquakes on Thailand'S." Tạp Chí Nghiên Cứu Dân Tộc 18(24).
Nasional, Ujian. 2020. "C. d. 0.0075 300." 300.
Nguyen, Trang Thi Thuy. 2017. "Integrating Culture into Language Teaching and Learning: Learner Outcomes." The Reading Matrix 17(1):145–55.
Purwanto, Agus, Rudy Pramono, Masduki Asbari, Priyono Budi Santoso, Laksmi Mayesti Wijayanti, Chi Hyun Choi, and Ratna Setyowati Putri. 2020. "Studi Eksploratif Dampak Pandemi COVID-19 Terhadap Proses Pembelajaran Online Di Sekolah Dasar." EduPsyCouns: Journal of Education, Psychology and Counseling 2(1):1–12.
Sadikin, Ali, and Afreni Hamidah. 2020. "Pembelajaran Daring Di Tengah Wabah Covid-19." Biodik 6(2):109–19.
Salem M. Alqahtani, Mufleh, C. Vijaya Bhaskar, Kesavan Vadakalur Elumalai, and May Abumelha. 2018. "WhatsApp: An Online Platform for University-Level English Language Education." Arab World English Journal 9(4):108–21.
Sampurno, Pandu J., Yessi A. Sari, and Agusta D. Wijaya. 2015. "Disaster (STEM-D) Education for Building Students' Disaster Literacy Climate Change and STEM Education in Indonesia View Project Using Technology to Develop Teaching Material Based on Local Potential in Learning Physics View Project Pandu Joy and Disaster." (September).
Selby, D., and F. Kagawa. 2012. Disaster Risk Reduction in School Curricula: Case Studies from Thirty Countries.
Shereen, Muhammad Adnan, Suliman Khan, Abeer Kazmi, Nadia Bashir, and Rabeea Siddique. 2020. "COVID-19 Infection: Origin, Transmission, and Characteristics of Human Coronaviruses." Journal of Advanced Research 24:91–98.
Tsai, Meng Han, Ming Chang Wen, Yu Lien Chang, and Shih Chung Kang. 2015. "Game-Based Education for Disaster Prevention." AI and Society 30(4):463–75.
Tuna, ÿzlem KaraaĿaç, and Salim Razı. 2016. "Integrating Culture into ELT Classes: What, Why, and How?" Procedia - Social and Behavioral Sciences 232:41–48.
We Are Social & Hootsuite. 2020. "Digital 2020." Global Digital Insights 247.
Yulia, Henny. 2020. "Online Learning to Prevent the Spread of Pandemic Corona Virus in Indonesia." ETERNAL (English Teaching Journal) 11(1):48–56.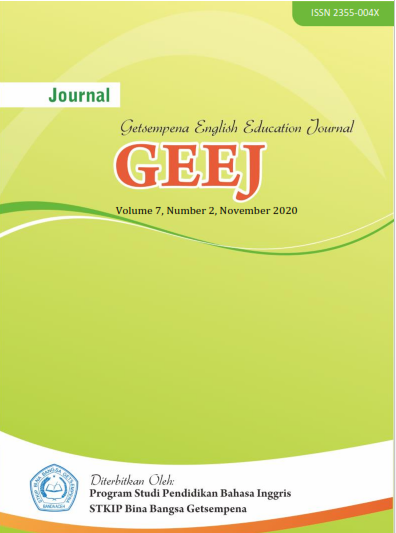 Article Metrics

Abstract views:
482

pdf
downloads:
242
How to Cite
Nyanuar Algiovan, & Ahmad Subhan Roza. (2020). ENGLISH TEACHING MATERIALS DURING GLOBAL PANDEMIC: A SURVEY ON ONLINE LEARNING AT VOCATIONAL SCHOOLS IN LAMPUNG. Getsempena English Education Journal , 7(2), 307-316. https://doi.org/10.46244/geej.v7i2.1180