A SMARTPHONE-BASED ADAPTIVE LEARNING APPROACH TO ENHANCE STUDENTS' LEARNING OUTCOMES IN ENGLISH SUBJECT
Farhanirahma

Muhammadiyah University of Jakarta

Lidiyatul Izzah

Muhammadiyah University of Jakarta

Muhamad Sofian Hadi

Muhammadiyah University of Jakarta
Keywords:
Adaptive Learning, Smartphone, English Education
Abstract
The purpose of this study is to improve student learning outcomes through a smartphone-based adaptive learning approach to 28 students from the 11th grade students in the 2020/2021 academic year. It is important to consider the educational context when evaluating the barriers to adopting adaptive learning approaches on digital platforms. The method used in this study is a quantitative method, everything observed was measured and converted into numbers so that statistical analysis techniques were possible. The author chose  a pre-experimental design with a pre-test post-test group design, in which a group of subjects is taken from a certain population and performed in a pre-test and then undergoes treatment one after another. After the treatment, the person received a posttest to measure the learning outcomes of the group. The grades given have the same weight. The difference between the results of the pretest and the post-test shows the results of the treatment performed. The results of this study were analyzed using the t-test by comparing the mean values of the pre-test and post-test. The results showed that the t-observation value (7.8) was higher than the t-table value (1.70562) at the 5% significance level. It can be concluded that the learning approach adaptive smartphone-based improves student learning outcomes in English subjects.
References
Ary, D., Jacobs, L. C., & Sorensen, C. K. (2016). Introduction to research in education (8th ed.). Cengage Learning.
Barteit, S., Jahn, A., Bowa, A., Lüders, S., Malunga, G., Marimo, C., Wolter, S., & Neuhann, F. (2018). How Self-Directed e-Learning Contributes to Training for Medical Licentiate Practitioners in Zambia: Evaluation of the Pilot Phase of a Mixed-Methods Study. JMIR Medical Education, 4(2), e10222. https://doi.org/10.2196/10222
Blanchard, E. G. (2015). Socio-cultural imbalances in AIED research: Investigations, implications and opportunities. International Journal of Artificial Intelligence in Education. https://doi.org/10.1007/s40593-014-0027-7
Conn, K. M. (2017). Identifying Effective Education Interventions in Sub-Saharan Africa: A Meta-Analysis of Impact Evaluations. Review of Educational Research. https://doi.org/10.3102/0034654317712025
Gavrilović, N., Arsić, A., Domazet, D., & Mishra, A. (2018). Algorithm for adaptive learning process and improving learners' skills in Java programming language. Computer Applications in Engineering Education, 26(5), 1362–1382. https://doi.org/10.1002/cae.22043
Holmes, W., Anastopoulou, S., Schaumburg, H., & Mavrikis, M. (2018). Technology-enhanced Personalised Learning : Untangling the Evidence. August, 116.
Kitchenham, A. (2011). Models for Interdisciplinary Mobile Learning: Delivering Information to Students (1st ed.). IGI Global.
Luckin, R., Holmes, W., Griffiths, M., & Forcier, L. B. (2016). Intelligence-Unleashed-Publication. https://www.pearson.com/content/dam/one-dot-com/one-dot-com/global/Files/about-pearson/innovation/Intelligence-Unleashed-Publication.pdf
Ma, W., Adesope, O. O., Nesbit, J. C., & Liu, Q. (2014). Intelligent tutoring systems and learning outcomes: A meta-analysis. Journal of Educational Psychology. https://doi.org/10.1037/a0037123
Martin, E. (2015). Teaching and Learning Physics with Smartphones. May. https://doi.org/10.4018/JCIT.2015010103
Nye, B. D. (2015). Intelligent Tutoring Systems by and for the Developing World : A Review of Trends and Approaches for Educational Technology in a Global Context. 177–203. https://doi.org/10.1007/s40593-014-0028-6
PC Magazine Encyclopaedia. (2013). Smartphone. In PC Magazine Encyclopaedia. http://www.pcmag.com/encyclopedia/term/51537/smartphone
Quinn, C. (2011). The mobile academy: mLearning for higher education (1st ed.). John Wiley & Sons.
Rogozin. (2012). Physics Learning Instruments of XXI Century. Proceedings of the World Conference on Physics Education 2012, 1–1432.
Saufi, M. (2018). PENGARUH SMARTPHONE TERHADAP PRESTASI BELAJAR SISWA KELAS 8 MTs.WALI SONGO SUGIHWARAS BOJONEGORO. In digilib.uinsby (Vol. 2). UNIVERSITAS ISLAM NEGERI SUNAN AMPEL SURABAYA.
Toronto, U. of. (n.d.). Developing Learning Outcomes : A Guide for University of Toronto Faculty. Centre for Teaching Support & Innovation.
Tuti, T. (2020). a Smartphone-Based Adaptive Learning Approach To Gamified Clinical Training in Low-Income Countries.
Vandewaetere, M., Cornillie, F., Clarebout, G., & Desmet, P. (2013). Adaptivity in Educational Games: Including Player and Gameplay Characteristics. International Journal of Higher Education. https://doi.org/10.5430/ijhe.v2n2p106
Vandewaetere, M., Desmet, P., & Clarebout, G. (2011). The contribution of learner characteristics in the development of computer-based adaptive learning environments. In Computers in Human Behavior (pp. 118–130). Computers in Human Behavior. https://doi.org/10.1016/j.chb.2010.07.038
Williams, B. K., & Sawyer, S. C. (2011). Using Information Technology: A Practical Introduction to Computers & Communications. (9th edition) (9th ed.). McGraw Hill.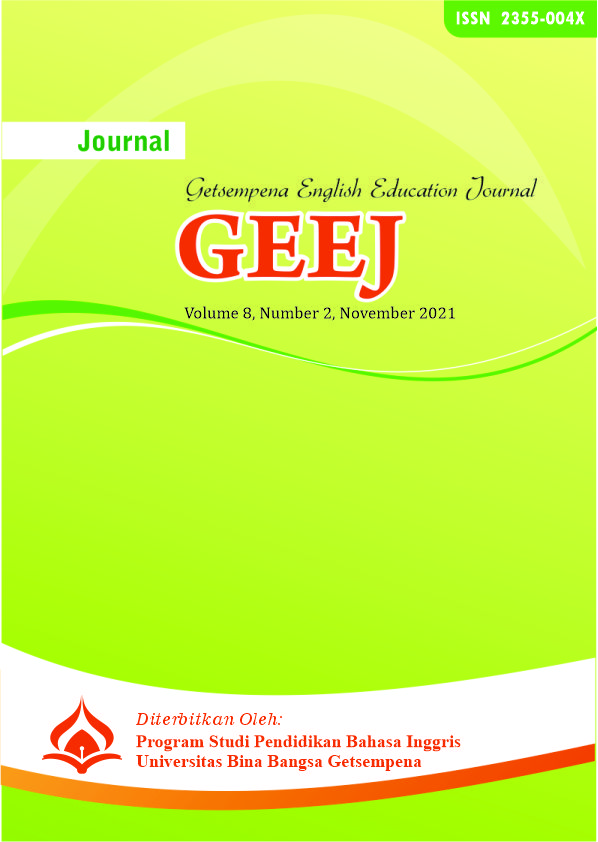 Article Metrics

Abstract views:
80

PDF
downloads:
67
How to Cite
Farhanirahma, Izzah, L., & Hadi, M. S. (2021). A SMARTPHONE-BASED ADAPTIVE LEARNING APPROACH TO ENHANCE STUDENTS' LEARNING OUTCOMES IN ENGLISH SUBJECT. Getsempena English Education Journal , 8(2). https://doi.org/10.46244/geej.v8i2.1430