THE USE OF FLASHCARD MEDIA IN IMPROVING STUDENTS' ABILITY IN LEARNING VOCABULARY AT ENGLISH CLASS VII AN-NURMANIAH JUNIOR HIGH SCHOOL
Latifah Rakhma Romadhon

Universitas Muhammadiyah Jakarta

Mutiarani

Muhammadiyah University of Jakarta

Muhamad Sofian Hadi

Muhammadiyah University of Jakarta
Keywords:
Flashcard media, Student Ability, English, Vocabulary
Abstract
The purpose of this study was to determine the learning process and increase students' vocabulary skills in learning English using flashcard media in Class VII SMP An-Nurmaniyah. The research method used is classroom action research with the following stages: planning, implementation, observation and reflection. Data collection techniques used in this study are: (1) tests, (2) interviews, (3) observation. The results obtained from this study are that the implementation of the first action learning has not achieved maximum results, it appears that there are still students who are less involved in the use of flashcard media and there are still students who feel confused about what the teacher bothered so that the average score obtained by students in the first cycle was 68, with learning completeness around 72%. By looking at the Minimum Completeness Criteria (KKM) that has been set at SMP An-Nurmaniyah, namely 65, there are 13 people who reach the completeness criteria, meaning only 72%, while according to the KTSP a learning is said to be complete if the completeness score obtained by students is 75% of the total the number of students. Meanwhile, the second cycle has increased with the average score obtained by students in the second cycle is 84, with learning completeness around 100%.
References
Ahmad Susanto (2011) Perkembangan Anak Usia Dini: Pengantar Dalam Berbagai Aspeknya. Jakarta: Prenada Media Grup.
Arsyad, A. (2011) Media Pembelajaran. Jakarta: Rajawali Press.
Brown, H.D. (2008). Prinsip Pembelajaran dan Pengajaran Bahasa, edisi kelima, Kedutaan Besar Amerika Serikat di Jakarta.
Chatib, M. (2011). Gurunya manusia: menjadikan Semua Anak Istimewa dan Semua Anak
Faridatuunnisa, I. (2020) 'Kebijakan Dan Pelaksanaan Pembelajaran Bahasa Inggris Untuk Sd Di Indonesia.', Seminar Nasional Pendidikan, Pp. 191–199. Available At: Https://Jurnal.Ustjogja.Ac.Id/Index.Php/Semnas2020/Article/View/7510.
Fitriani, Nulanda.(2017). Efektivitas Media Flash Cards dalam Meningkatkan Kosakata Bahasa Inggris. Jurnal Ilmiah Psikologi Volume 4, Nomor 2, 2017: 167-182
Fitriyani, E. And Nulanda, P. Z. (2017) 'Efektivitas Media Flash Cards Dalam Meningkatkan Kosakata Bahasa Inggris', Psympathic : Jurnal Ilmiah Psikologi, 4(2), Pp. 167–182. Doi: 10.15575/Psy.V4i2.1744.
Hasil, M. Et Al. (2012) 'Jurnal Pendidikan Ipa Indonesia Pembelajaran Science-Edutainment Berbantuan Media', 1(2), Pp. 192–197.
Indriana, Dina. 2011. Ragam Alat Bantu Media Pengajaran. Yogjakarta: DIVA Press
Juara. Bandung: PT Mizan Pustaka.
Maryanto, R. I. P. And Wulanata, I. A. (2018) Penggunaan Media Flashcard Untuk Meningkatkan Pengenalan Bentuk Huruf Siswa Kelas I Pada Mata Pelajaran Bahasa Indonesia Di Sekolah Abc Manado. Pedagogia, 16(3), P. 305. Doi: 10.17509/Pdgia.V16i3.12073.
Nasution, D., Harahap, S., Siregar, S., & Hasibuan, A. (2021) 'Pendampingan Bahasa Inggris Pada AnakAnak Setingkat Sekolah Dasar Di Desa Wisata Pagaran Gala- Gala, Mandailing Natal- Sumut, Dalam Mengahadapi Masyarakat Ekonomi Asean (Mea) Melalui Metode Drilling Dan Repetition', Jurnal Pengabdian Kepada Masyarakat, 1(2), 63-72. Retrieved from https://stp-mataram.ejournal.id/Amal/article/view/573.
Riyana, C & Susilana, R. (2009). Media pembelajaran. Bandung: CV Wacana Prima.
Said, Budimanjaya(2015). 95 Strategi Mengajar Multiple Intelligence. Kencana Prenadamedia group.
Santosa, P. P. P. (2017) 'Kemampuan Membaca Teks Persuasif Bahasa Inggris Siswa Kelas X Smk Negeri 2 Depok (The Ability To Read Text United Kingdom Language Grade Persuasive X Smk Negeri 2)', Deiksis, 09(02), Pp. 170–181.
Sekarini, W. (2018) Penggunaan Media Flash Card Untuk Meningkatkan Kemampuan Menghafal Kosa Kata Bahasa Arab Siswa Madrasah Ibtidaiyah Terpadu Muhammadiyah 01 Sukarame. Lampung: Universitas Islam Negeri Raden Intan.
Sholichah, A. S. (2018) 'Teori-Teori Pendidikan Dalam Al-Qur'an', Edukasi Islami : Jurnal Pendidikan Islam, 7(01), P. 23. Doi: 10.30868/Ei.V7i01.209.Arsyad, A. (2010). Bahasa dan Metode Pengajarannya: Beberapa pokok pikiran. Yogyakarta: Pustaka Belajar.
Windura, S. (2010). Memory Champion School: Rahasia mengingat materi pelajaran apa saja. Jakarta: PT Elex Media Komputindo.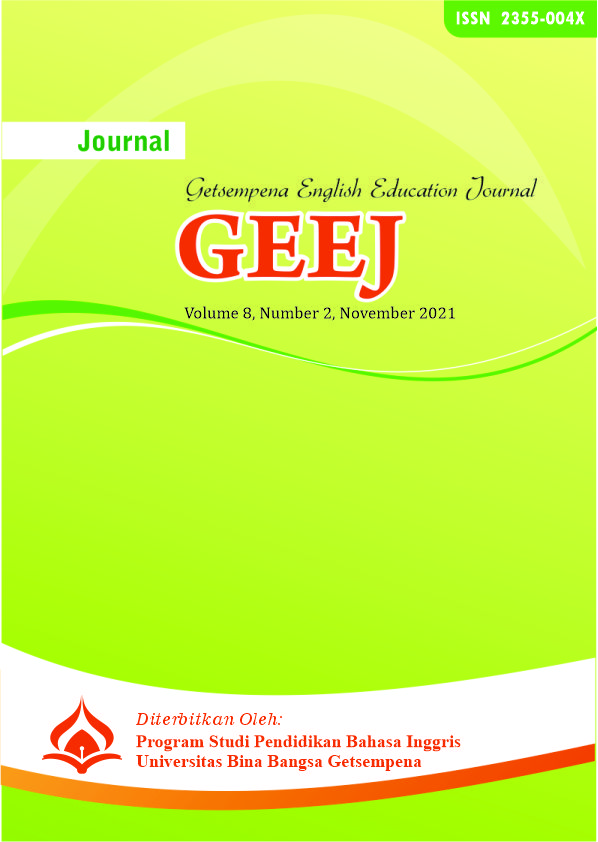 Article Metrics

Abstract views:
187

PDF
downloads:
144
How to Cite
Romadhon, L. R., Mutiarani, & Hadi, M. S. (2021). THE USE OF FLASHCARD MEDIA IN IMPROVING STUDENTS' ABILITY IN LEARNING VOCABULARY AT ENGLISH CLASS VII AN-NURMANIAH JUNIOR HIGH SCHOOL. Getsempena English Education Journal , 8(2). https://doi.org/10.46244/geej.v8i2.1498