THE CHARACTERISTICS OF CULTURE-BOUND SYNDROME OF ACEHNESE SPEAKERS IN A SOCIOPSYCHOLINGUISTICS PERSPECTIVE
Budi Rizka

Department of English Education, Faculty of Teacher Training and Education, Iskandar Muda University, Banda Aceh, Indonesia

Lismalinda Lismalinda

Institut Seni Budaya Indonesia, Aceh, Indonesia
Keywords:
Culture-Bound Syndrome, Acehnese Speakers, Socio-Psycholinguistics
Abstract
This study aims to classify the characteristics of Culture-Bound Syndrome in Acehnese speakers from the perspective of Socio-Psycholinguistics, particularly in Aceh Besar, Pidie, and Aceh Utara by comparing gender, age, and the education level of the patient. The researchers chose to use a case study approach to conduct data to be able to provide an overview of the characteristics of Culture-Bound Syndrome behaviour displayed. In analysing the data, the researcher refers to Spradley Theory who said that analytical technique with four advanced paths, namely (1) domain analysis; (2) taxonomy analysis; (3) componential analysis; and (4) cultural values ​​analysis. After the research done, the researchers found that the characteristics of Culture-Bound Syndrome in Acehnese speakers are five characteristics, namely (1) Coprolalia, this research found that females more often use Coprolalia than males, more often in adult patients than in adolescents and elderly patients, and only appeared in patients with a low level of education; (2) Echolalia was found in adolescents, adults and the elderly, more often in female patients than in male, and more often used by lower education level than high level of education; (3) Auto Echolalia was only appears of females while in males and elder it is not found. Meanwhile, the most Auto Echolalia were found at adolescents than adults. If we look at the aspect of education level, the patients with a low education level more often than higher education level; (4) Auto Obedience was not found at category of females and adolescents; and (5) Religio was only appears in category of adult, elderly, males, and higher education levels. The last characteristic has never existed in the results of previous research studies, therefore, there is a need for a more in-depth study with a larger scope to examine this section.
References
American Psychiatric Association. (2000). Diagnostic and Statistical Manual of Mental Disorders, 4th ed., American Psychiatric Publication. ISBN 978-0-89042-025-6
Arifudin. (2010). Neuropsikolinguistik. Jakarta: PT. Raja Grafindo Persada.
Banton, M. (2011). A Theory of Social Categories. Sociology, 45(2), 187-201. https://doi.org/10.1177/0038038510394013
Basuki, A.M.H. (2006). Penelitian Kualitatif Untuk Ilmu-Ilmu Kemanusiaan dan Budaya. Jakarta: Gunadarma Press.
Bungin, B. (2003). Analisis Data Penelitian Kualitatif. Pemahaman Filosofis dan Metodologis Ke Arah Penguasaan Model Aplikasi. Jakarta: PT. Raja Grafindo Persada.
Christy, N. A. (2015). Interjeksi Bahasa Maanyan Pada Seorang Latah Di Desa Hayaping, Kecamatan Awang, Kabupaten Barito Timur. Jurnal Bahasa, Sastra dan Pembelajarannya, 5(1), 133-141. https://ppjp.ulm.ac.id/journal/index.php/jbsp/article/view/3718
Dardjowidjojo, S. (2005) Psikolinguistik: Pengantar Pemahaman Bahasa Manusia. Jakarta: Yayasan Obor Indonesia.
Fitriyani, N. H., Kurnniawati, F., & Sumarlam. (2018). Ekspresi Verbal Siswa Latah di SMA Negeri 1 Sukoharjo. Diglosia, 9(2), 87-95. Retrieved from http://journal.unipdu.ac.id:8080/index.php/diglosia/article/view/692
Harianto, B., Wibisono, B., & Kusnadi. (2013). Perilaku Berbahasa Latah Warga Desa Jatigono Kecamatan Kunir Kabupaten Lumajang Sebuah Kajian Psikolinguistik. Publika Budaya, 1(1). 1-10. https://jurnal.unej.ac.id/index.php/PB/article/view/578
Maramis, W. F. (2009). Catatan Ilmu Kedokteran Jiwa Edisi 2. Surabaya: Airlangga University Press.
Pamungkas, S. et al. (2017). Menafsir Perilaku Latah Coprolalia pada Perempuan Latah dalam Lingkup Budaya Mataraman: Sebuah Kajian Sosiopsikolinguistik. Mozaik Humaniora, 17(2), 273-290. https://e-journal.unair.ac.id/MOZAIK/article/view/5752
Pamungkas, S., & Djatmika. (2016). Perilaku Latah Coprolalia Pada Laki-Laki Berperilaku Latah di Kabupaten Jombang Jawa Timur (Ancangan Psikolonguistik Terhadap Perilaku Berbahasa Yang Menyimpang). Proceeding in The Sixth International Seminar on Language Maintenance and Shift (LAMAS), 321-327. https://eprints.undip.ac.id
Rizka, B. (2017). Lexical Process in Acehnese Borrowing. Getsempena English Education Journal, 4(1), 17-26. https://ejournal.bbg.ac.id/geej/article/view/719
Rizka, B., & Zainuddin. (2016). Lexical Change with Reference to Social Among the Speakers of Pase Dialect. Lingua Didaktika: Jurnal Bahasa dan Pembelajaran, 10(1), 1-8. http://ejournal.unp.ac.id/index.php/linguadidaktika/article/view/6296
Spradley, J.P. (2007). Metode Etnografi. Yogyakarta: Tiara Wacana.
Sudaryanto. (1993). Metode dan Teknik Analisis Bahasa. Yogyakarta: Duta Wacana University Press.
Sutopo, H.B. (2002). Metodologi Penelitian Kualitatif. Surakarta: Sebelas Maret University Press.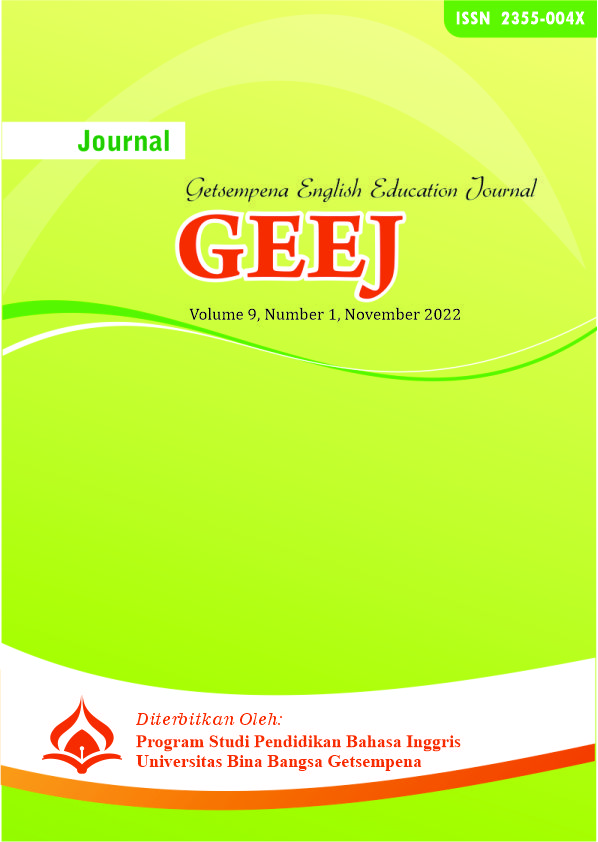 Article Metrics

Abstract views:
111

PDF
downloads:
68
How to Cite
Budi Rizka, & Lismalinda, L. (2022). THE CHARACTERISTICS OF CULTURE-BOUND SYNDROME OF ACEHNESE SPEAKERS IN A SOCIOPSYCHOLINGUISTICS PERSPECTIVE. Getsempena English Education Journal , 9(1), 29-42. https://doi.org/10.46244/geej.v9i1.1661