THE IMPLEMENTATION OF COMMUNICATIVE APPROACH IN TEACHING READING COMPREHENSION
Maulizan ZA

STKIP Bina Bangsa Getsempena
Keywords:
Teaching Reading, Communicative Approach
Abstract
This Study is talk about "The Implementation Of Communicative Approach In Teaching Reading Comprehension (an experimental study in the second year student of SMP Negeri 18 Banda Aceh). The aim of this study is to Know the improvement of students' achievement through the application of communicative approach than the grammar-translation method in reading comprehension. The sample of this study was two classes taken from the second year students of Sekolah Menengah Pertama Negeri 18 Banda Aceh. The total samples from both of second year student from SMPN 18 who took part when the data taken ware 54 students. In collecting data, the writer gave a set of test to the two groups. The test was provided by a passage titled Charity Day taken from English book for Junior High School Student. The test consisted 10 WH questions, five multiple choice and five True- False questions. In analyzing the data the writer used t-test to see the significant different between the two groups in reading comprehension.  The mean and standard deviation score for group A (experimental group) was 62,64 and 13,50. While the mean and standard deviation for group B (control group) was 60,96 and13,23. The result of t-test of the two groups was 1,697. It was considered higher than t value on the table of significance at level 0,05 and 52 for the degree of freedom which was stated 1,684. So the research hypothesis (H1) was accepted and null hypothesis (Ho) was rejected. The writer concluded that the application of communicative approach is more effective than grammar translation method in teaching reading comprehension to the second year students of Junior High School (SMP) Negeri 18 Banda Aceh.
References
Azar, B. S.(1993). Understanding and Using English Grammar. Englewood Hills, NJ: Prentice Hall Regents.
Boer. John J. and Dalmann. Martha. 1960. The Teaching of Reading. New York: Holt, Rinehart and Winston.
Deschan, H. 1995. Reading Skill for Collage Students, Third Edition. New Jersey. Prentice-Hall Inc.
Furchan, Arief, H. 2004. Pengantar Penelitian Dalam Pendidikan. Yogyakarta: Pustaka Pelajar.
Gillet huock and Rowlad Temple. 1996. Academic Reading and Study Skill for International Students. Englewood Cliffs, New Jersey. Prentice-Hall Inc,
Hancock,G. 1969. Directing Reading Maturity as a Cognitive Process. New York. Harper and Row Publisher.
Larsen, Freeman and Diana. 1986. Techniques and Principles in Language Teaching. London: OUP.
Littlewood, William. 1991. Communicative Language Teaching. An Introduction. New York: Cambridge University Press.
Muller. J. K et al. 1961. Statistical Reasoning in Sociology. Boston: Houghton Miffin Company.
Shepherd, David L. 1982. Comprehensive High School reading Method, Third Edition. London. Charles E Merril Publishing co.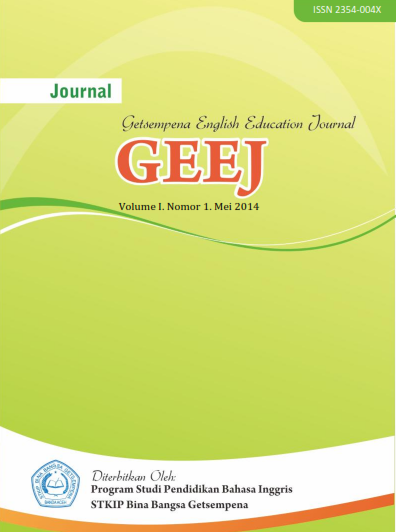 Article Metrics

Abstract views:
86

pdf
downloads:
46
How to Cite
Maulizan ZA. (2014). THE IMPLEMENTATION OF COMMUNICATIVE APPROACH IN TEACHING READING COMPREHENSION. Getsempena English Education Journal , 1(1), 1-12. https://doi.org/10.46244/geej.v1i1.666