AN ANALYSIS OF ENGLISH AND INDONESIAN IDIOMS AND PROVERBS
Syarfuni

STKIP Bina Bangsa Getsempena
Keywords:
Analysis, Idiom, Proverb, English and Indonesian
Abstract
This study described a study about an analysis of English and Indonesian idioms and proverbs. This research purposed to analyze the differences and similarities between English and Indonesian idioms and proverbs that used in daily life. Idiom is a set of word that have different meaning from the basic word. Proverb is a speech that can be used in everyday life for many situation that containing parable, comparison, and advice to that can apply as the way of life. The researcher used some research methodology such as research design, source of data, collecting data, data analysis and research instrument. The methodology of this study is library research. Based on researcher analysis English and Indonesian idioms and proverbs actually almost the same in meaning, but they have their own culture to deliver ideas about idioms and proverbs. It is misunderstanding among the people when they have to deliver the proverb in different culture and socities. So the writer concluded that there are similarities and differences between idioms and proverbs of English and Indonesian but it is depended on their culture.
References
Abdul, Khak. Muh. 2007. Idiom dalam bahasa indonesia, Jakarta.
Anoymous. 2013. Komunikasi Non-verbal dan Verbal. Retrieved on February 25, 2013 from http://adiprakosa.blogspot.com/2008/10/komunikasi-verbal-dan-non-verbal.html
Anonymous. 2013. Idiom. Retrieved on February 27, 2013 from
http://geralprambudi.blogspot.com/2011/12/pengertian-idiom-dalam-bahasa-indonesia-html
Anonymous. 2013. Idiom. Retrieved on March 19, 213 from http://makalahpembabakansastra.blogspot.com/.
Arikunto, Suharsimi. 2006. Prosedur Penelitian Suatu Tindakan Praktik, Jakarta: Rineka Cipta.
Azman, Nur. Drs. 2001. 1770 Peribahasa Indonesia, Bandung: Penabur Ilmu.
Brenner, Gail. 2003. American Idiom Handbook, America: Webster New World.
Cecilia, G. Samekto. 2011. Popular Proverbs, Yogyakarta: Kanisius.
________________. 1994. Popular Proverbs, Yogyakarta: Kanisius.
Departemen Pendidikan dan Kebudayaan. 1989. Kamus Besar Bahasa Indonesia, Edisi kedua, Balai Pustaka.
Departemen Pendidikan Nasional. 2003. Tata Bahasa Baku Bahasa Indonesia, Jakarta: Balai Pustaka.
Goffin, R.C. 1976. English Idioms and How to Use Them, Hongkong: Oxford University Press.
Guntur, Tarigan Henry, Prof. Dr. 1985. Pengajaran Semantik, Bandung: Angkasa Bandung.
Hayakana S.I and The Funk and Wagnall's Dictionary Staff. 1968. Modern Guide to Synonym and Related Words, New York and Tokyo: Funk and Wagnall's, Toppan Company, Ltd Tokyo.
Keraf, Gorys. 1984. Tata Bahasa Indonesia, Jakarta: Nusa Indah.
___________. 2009. Diksi dan Gaya Bahasa, Edisi kesembilan belas, Jakarta: PT Gramedia Pustaka Utama.
Martin, H, Manser. 1991. Oxford Learner's Dictionary, Oxford: Oxford University press.
McGill, John., Soetrisno, Eddy. 2000. Kamus Idiom Populer Inggris-Indonesia, Jakarta: Ladang Pustaka dan Intimedia.
Nugroho, R. Wahyu. 2004. 1500 Peribahasa Indonesia dan Inggris, Surabaya: Indah.
Panut, Sugeng. 2004. Kamus Peribahasa Inggris. Jakarta: Kesaint Blanc.
Pamuntjak, K, St., dkk. 2004. Peribahasa, Jakarta: Balai Pustaka
Ramlan, M. Drs. 1987. Morfologi Suatu Tindakan Deskriptif, Yogyakarta: CV. Karyono.
Riyanto, Slamet. Drs. 2010. 51 Jalan Pintas Kuasai Idiom dan Proverbs Bahasa Inggris yang Sering Dipakai, Jakarta: PT Buku Seru.
Santoso, L.H. 2000. Kamus Lengkap 2200 Peribahasa Indonesia, Surabaya: CV. Pustaka Agung Harapan.
Wahyuni, Sri. 2006. The Equivalent of English and Indonesian Proverbs, Banda Aceh. Unpublished.
Wiyatmi. 2009. Pengantar Kajian Sastra, Yogyakarta: Pustaka Book Publisher.
Yunanto, Toni., Prapto, Noviean. Fajar. 2010. Cara Asyik Belajar Bahasa Inggris Lewat Lirik Lagu, Jakarta: Redaksi Tangga Pustaka.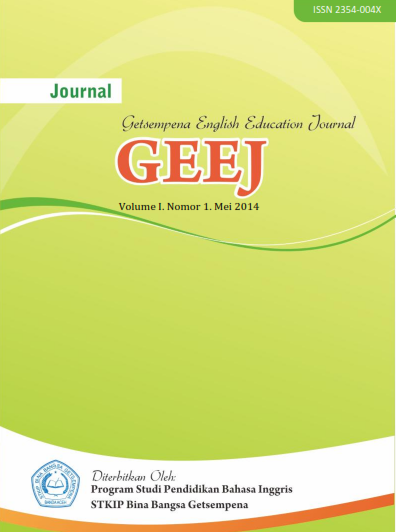 Article Metrics

Abstract views:
28

pdf
downloads:
186
How to Cite
Syarfuni. (2014). AN ANALYSIS OF ENGLISH AND INDONESIAN IDIOMS AND PROVERBS. Getsempena English Education Journal , 1(1), 26-48. https://doi.org/10.46244/geej.v1i1.668