THE IMPLEMENTATION OF ASSERTION, REASON, EVIDENCE AND LINK BACK (AREL) IN TEACHING SPEAKING
Sri Wahyuni

STKIP Bina Bangsa Getsempena

Mulyadi Syahputra

STKIP Bina Bangsa Getsempena

Defi Irmayanti

STKIP Bina Bangsa Getsempena
Keywords:
Speaking, Assertion, Reasoning, Evidence, Link Back
Abstract
This study analyses the students' perceptions about the use of Assertion, Reason, Evidence and Link Back in teaching speaking. The population of this research was second grade students of SMAN 4 Banda Aceh which consist of 250 students and only 32 students at class XI IA 2 took as the sample of this research. The instruments of this research was questionnaire. This study was applied qualitative analysis by using percentage formula. The result of this study shows that the students' perception performance got a positive impact after learning A.R.E.L. Thus, the students have been motivated to speak in front of class and A.R.E.L effect students' speaking understanding in giving their argument.
References
Asrida, D. (2012). Using debating activities to foster students' communication and critical thinking skill. Ta'dib, 15(2), 149–156.
Burns, Chistine (2012) Teaching Speaking : A Holistic Approach. New York. Cambridge University Press.
Baso, Farisha A. (2016). The Implementation of Debate Technique to Improve Students' Ability in Speaking. Makassar: Muhammadiyah University of Makassar.
Darby, M. (2007). Debate: a teaching-learning strategy for developing competence in communication and critical thinking. Journal of Dental Hygiene : JDH / American Dental Hygienists' Association, 81(4), 78.
Finkel, Victor (2016). Introduction to Public Speaking. Monash association of Debaters, Member Training Handbook.
Freely & Stainberg. 2009. Argumentation and Debate; Critical Thinking for Reasoned Decision Making. Canada: Wadsworth Cengage Learning.
Iman, J. N. (2017). Debate Instruction in EFL Classroom : Impacts on the Critical Thinking and Speaking Skill. International Journal of Instruction, 10(4), 87–108.
Iqramullah. (2019). Potential Use of AREL in English Song Analysis to Improve Argumentation Skills and English Proficiency. International Journal of Research in English Education (2019) 4:1 Retrieved from. ijreeonline.com on October 25, 2019
Krieger, D. (2005). Teaching Debate to ESL Student: A six-class Unit. The Internet TESL Journal, 11 (2).
Liu, T. Y. (2009). A Content-Aware Ubiquitous Learning Environment for Language Listening and Speaking. Journal of Computer Assisted Learning, 6(25), pp. 515-527.
Nirwana, S.C. & Kurniawat, N. (2018). Arel to Enhance Students' Speaking Skills in Debating. Journal Joepallt. Vol 6, No 2 (pp. 1-16). Universitas Suryakancana. Retrieved from https:// https://jurnal.unsur.ac.id/jeopallt/article/view/413/326
Rieke R.D. Sillars M.O., Paterson. T.R. (2012). Argumentation and Critical Decision Making. Downloaded from : https://www.researchgate.net/publication/235419889 on January 29, 2020.
Sonnreich, T. (2012). Monash Association of Debaters Guide to Debating Tips, Tactics, and First Principles. Accessed on June 20, 2019 from http://www.monashdebaters.com/downloads/Tim%20Sonnreich's%20Guide.pdf
Sugiyono. (2013). Metode Penelitian Kombinasi (Mixed Method). Bandung: Alfabetha.
Wardaniah, Nining. (2015). Implementation Debating Technique in Teaching Speaking. Center of Language Innovation Journal of Linguistics and Language Teaching. Vo.2 No 2. pp 114-127.
Yuliati. (2018). Penerapan metode debat pro dan kontra untuk meningkatkan proses pembelajaran PPKn. Jurnal Ilmu-Ilmu Sosial, 15(1), 27–36.
Zhang, X., & Head, K. Dealing with Learner Reticence in Speaking Class. ELT Journal, 64 (1). Pp. 1-9.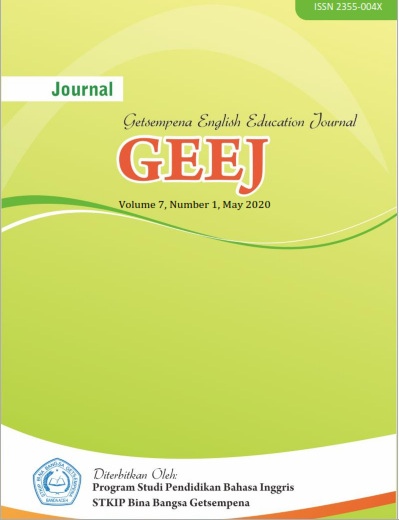 Article Metrics

Abstract views:
1405

pdf
downloads:
372
How to Cite
Sri Wahyuni, Mulyadi Syahputra, & Defi Irmayanti. (2020). THE IMPLEMENTATION OF ASSERTION, REASON, EVIDENCE AND LINK BACK (AREL) IN TEACHING SPEAKING. Getsempena English Education Journal , 7(1), 12-26. https://doi.org/10.46244/geej.v7i1.1060