THE INFLUENCE OF NATIVE ENGLISH LECTURER IN IMPROVING STUDENTS MOTIVATION IN COMMUNICATION SKILL
(A RESEARCH ON STUDENTS VII SEMESTER AT ENGLISH LANGUAGE AND CULTURE PROGRAM IN DARMA PERSADA UNIVERSITY)
Yoga Pratama

Universitas Darma Persada

Fridolini Fridolini

Universitas Darma Persada
Keywords:
Native, English, Lecturer, Research, Darma Persada
Abstract
The development of information and technology has influenced many aspects of life including education. a lot of people start from students in the university and worker already speaking English fluently, but still there are some problem specifically for the students to speak English, university that have English English language programt is looking to find the solution. By hiring native English teacher or leacturer to improve their student's motivation in English communication skill, the question is can the native English teacher gives the influence to the student. This research made to analyze how well the native English teacher can give the influence to the students especially in  Darma Persada University for the students that are majoring in English Literature and in English Department. This research  showed whether hired Native English teacher is a good idea or it isn't. In this study, researcher used aquantitative approach to analyze the influence of native English lecturer in improving students motivation communication skill.. This research was conducted using the experimental method using pre-test and post-test control design.
References
Aye, K. K. & Phyu, K. L. (2015). Developing students' speaking skill through short stories. Yangon University of Education Research Journal, 5(1), 1-11.
Ahmadi, M. R. (2017). The Effect of Integrative and Instrumental Motivation on
Iranian EFL Learners" Language Learning. ELT Voices, 1(2), 7-16.
Alizedah, M. (2016). The Impact of Motivation of English Language Learning. Islamic Azad University: Iran. Use the "Insert Citation" button to add citations to this document.
Al-Ahdal, et.al,. (2014). A Comparative Study of Proficiency in Speaking and Writing among EFL Learners in Saudi Arabia. American International Journal of Contemporary Research, Vol. 4, N0. 2: 141-149.
Al-nawrasy, O. (2013). The Effect of Native and Nonnative English Language Teachers on Secondary Students ' Achievement in Speaking Skills, 9(2), 243–255.
Bahadorfar, Maryam & Omidvar, Reza. (2014). Technology in teaching speaking skill. International Journal of Multidisciplinary Research Review. 2. 9-13.
Benabou, R., & Jean, T. Instrinsic and Extrinsic Motivation.The Review of Economic Studies, 70, 489-520.2003. Retrieved on January 5th, 2019 from: http://www.fatih.edu.tr/~hugur/study_hard/Intrinsic%20and%20Extrinsic%20Motivation.pdf
Gomes Nelson, Lopes Sérgio, and Araújo Sílvia. (2016). Mobile learning: a powerful tool for ubiquitous language learning. (CC BY-NC-ND 4.0).
Hayikaleng, N., Nair, S. M., & Krishnasamy, H. N. (2016). The Students Motivation on English Reading Comprehension. Utara Malaysia University: Malaysia.
Ozden Mehtap. (2018). A language learning adventure of a person succeeded the language training. Journal of Language and Linguistic Studies, 14(3), 233-252.
Sepahvand, H. (2014). The effect of oral reproduction of short stories on speaking skill in Iranian high school students (case study: khorram abad, Iran). International Journal of Science and Research (IJSR), 3(7), 1847-1851.
Tahir, S. Z. A. (2015). Improving Students' Speaking Skill through Yahoo Messenger at University of Iqra Buru. International Journal of Language and Linguistics, 3(3): 174-181. doi: 10.11648/j.ijll.20150303.20
Tambunan, A. R. S., & Siregar, T. M. S. (2016). Students Motivation in Learning English Language (A Case Study of Electrical Engineering Department Student). Universitas Negeri Negeri Medan: Medan.
Tuan, L. T. An Empirical Research into EFL Learners" Motivation. Theory and Practice in Language Studies, 2(3), 430-439. 2012. Retrieved January 6th, 2019 from: http://www.ojs.academypublisher.com/index.php/tpls/article/download/tpl s0203430439/4411
Al-nawrasy, O. (2013). The Effect of Native and Nonnative English Language Teachers on Secondary Students ' Achievement in Speaking Skills, 9(2), 243–255.
Yee Chee Hong & Malini Ganapathy (2017). To Investigate ESL Students' Instrumental andIntegrative Motivation towards English Language Learning in a Chinese School in Penang: Case Study. English Language Teaching; Vol. 10, No. 9; 2017. P 19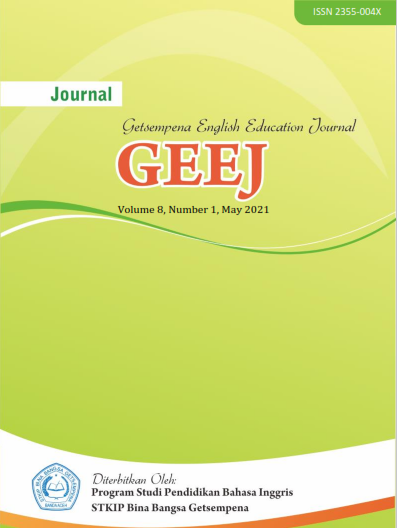 Article Metrics

Abstract views:
248

pdf
downloads:
128
How to Cite
Pratama, Y., & Fridolini, F. (2021). THE INFLUENCE OF NATIVE ENGLISH LECTURER IN IMPROVING STUDENTS MOTIVATION IN COMMUNICATION SKILL: (A RESEARCH ON STUDENTS VII SEMESTER AT ENGLISH LANGUAGE AND CULTURE PROGRAM IN DARMA PERSADA UNIVERSITY). Getsempena English Education Journal , 8(1), 192-204. https://doi.org/10.46244/geej.v8i1.1343