AN ANALYSIS OF STUDENTS' WRITING SKILLS IN PARAPHRASING: A CASE STUDY OF THE 5TH-SEMESTER DIPLOMA STUDENTS OF ENGLISH LANGUAGE AND CULTURE DEPARTMENT OF DARMA PERSADA UNIVERSITY
Yoga Pratama

Universitas Darma Persada

Anjar Prawesti

Universitas Darma Persada

Fridolini

Universitas Darma Persada
Keywords:
Paraphrasing, Academic Writing, Research Paper, Taxonomy of Paraphrase Types, Strategies of Paraphrasing
Abstract
It is significant for students to have competence in writing research papers that requires writing skills. Using formal language and avoiding plagiarism are mandatory for academic paper writers. Paraphrasing is one of the writing skills, which can be interpreted as rewriting a source text using the writers' own words by changing it syntactically or semantically while maintaining the main idea. Other than investigating the barriers to paraphrasing and how to overcome them, this research aims to analyze the paraphrasing strategy generally applied by the 5th-semester Diploma students of the English Language and Culture Department of Darma Persada University. By approaching mixed-research methods, this study uses a questionnaire and a writing task as the instruments. Likert Scale is used as a data collection technique in the quantitative research method, which is further processed using SPSS. Meanwhile, the qualitative research method approaches Keck's Taxonomy of Paraphrasing Types and the paraphrasing strategies by Jackie Pieterick. The analysis results find that the majority of the students have difficulties in paraphrasing. A lack of vocabulary and using their own words become their barriers to paraphrasing. In that case, comprehensive learning about paraphrasing skills and strategies taught by lecturers or educators are expected to overcome the obstacles. Furthermore, using synonyms becomes the paraphrasing strategy generally applied by the students. The paraphrased version of the writing task also indicates that the students try not to copy similar words or sentences from the source and therefore the most of the paraphrasing results are included in the Minimal Revision.
References
Almalki, S. (2016). Integrating Quantitative and Qualitative Data in Mixed Methods Research—Challenges and Benefits. Journal of Education and Learning, 5(3). doi:10.5539/jel.v5n3p288
Creswell, J. W. (2014). Research Design: Qualitative, Quantitative, and Mixed Methods Approaches (4th ed.). USA: SAGE Publications.
Firdaus, A., Kusdibyo, L., & Hardiyanto, N. (2021, August 4-5). Analisis Persepsi Aktivitas Pemasaran Media Sosial dan Niat Beli: Studi Kasus Merek Pakaian Lokal di Indonesia. The 12th Industrial Research Workshop and National Seminar. Retrieved from https://jurnal.polban.ac.id/ojs-3.1.2/proceeding/article/view/ 2831/2210
Harlacher, J. (2016). An educator's guide to questionnaire development. Institute of Education Sciences. Retrieved from https://files.eric.ed.gov/fulltext/ ED562653.pdf
Hasanah, Y. A., & Fatimah, S. (2020). Undergraduates' Ability in Writing Paraphrase and Their Perceptions of Plagiarism. Conference: 7th International Conference on English Language and Teaching (ICOELT 2019). doi:10.2991/assehr.k.200306.019
Irmadamayanti. (2018). An Analysis of Paraphrasing Experienced by English Students in Academic Writing (Bachelor's thesis, Ar-Raniry State Islamic University, Banda Aceh, Indonesia). Retrieved from https://repository.ar-raniry.ac.id/id/eprint/3582/1/ IRMADAMAYANTI.pdf
Keck, C. (2006). The use of paraphrase in summary writing: A comparison of L1 and L2 writers. Journal of Second Language Writing, 15, 261–278. doi:10.1016/j.jslw.2006.09.006
Leavy, P. (2017). Research Design: Quantitative, Qualitative, Mixed Methods, Arts-Based, and Community-Based Participatory Research Approaches [e-book]. Retrieved from https://www.pdfdrive.com/
Lee, S. C., Dinis, M. C. S. N., Lowe, L., & Anders, K. L. (2016). Statistics for International Social Work and Other Behavioral Sciences (1st ed.). [e-book]. Retrieved from https://www.pdfdrive.com/
Masniyah. (2017). The Use of Paraphrasing Strategy to Improve the Students' Writing Ability at the 2nd Year Students of SMAN 1 Tinambung (Bachelor's thesis, Alauddin State Islamic University, Makassar, Indonesia). Retrieved from http://repositori.uin-alauddin.ac.id/4914/1/MASNIYAH_20400113134
Mishra, L. (2016). Focus Group Discussion in Qualitative Research. TechnoLearn An International Journal of Educational Technology, 6(1), 1–5. doi:10.5958/2249-5223.2016.00001.2
Monash University. (n.d.). Using academic language. Retrieved from https://www.monash.edu/rlo/research-writing-assignments/writing/features-of-academic-writing/academic-language
National Library of Medicine. (n.d.). Standard Deviation. Retrieved from https://www.nlm.nih.gov/nichsr/stats_tutorial/section2/mod8_sd.html
Nyumba, T. O., Wilson, K., Derrick, C. J., & Mukherjee, N. (2018). The use of focus group discussion methodology: Insights from two decades of application in conservation. Methods in Ecology and Evolution, 9(9), 20-32. doi:10.1111/2041-210X.12860
Pertiwi, I. (2019). Students' Paraphrasing Techniques in Writing (A Study at the Senior Students of English Program of IAIN Parepare) (Bachelor's thesis, State Islamic Institute (IAIN), Parepare, Indonesia). Retrieved from http://repository.iainpare.ac.id/943/1/ 14.1300.042.pdf
Rogerson, A. M., & McCarthy, G. (2017). Using Internet based paraphrasing tools: Original work, patchwriting or facilitated plagiarism? International Journal for Educational Integrity, 13(1). doi:10.1007/s40979-016-0013-y
Stratton, S. J. (2018). Likert Data. Prehospital and Disaster Medicine, 33(2). Retrieved from https://www.cambridge.org/core/services/aop-cambridge-core/content/view/ C5F8B7F320E3E9E8A98FD4C26CDBB24F/S1049023X18000237a.pdf/likert-data.pdf
Subedi, B. P. (2016). Using Likert Type Data in Social Science Research: Confusion, Issues and Challenges. International Journal of Contemporary Applied Sciences, 3(2). Retrieved from https://ijcar.net/assets/pdf/Vol3-No2-February2016/02.pdf
Vrbanec, T., & Meštrovi´c, A. (2020). Corpus-Based Paraphrase Detection Experiments and Review. Information 2020, 11(5), 241. doi:10.3390/info11050241.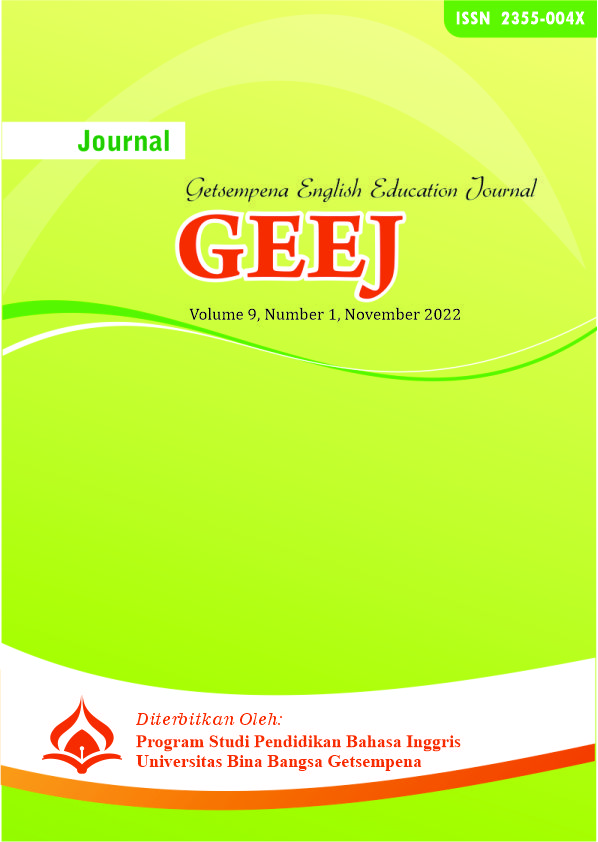 Article Metrics

Abstract views:
383

PDF
downloads:
194
How to Cite
Pratama, Y., Prawesti, A., & Fridolini. (2022). AN ANALYSIS OF STUDENTS' WRITING SKILLS IN PARAPHRASING: A CASE STUDY OF THE 5TH-SEMESTER DIPLOMA STUDENTS OF ENGLISH LANGUAGE AND CULTURE DEPARTMENT OF DARMA PERSADA UNIVERSITY. Getsempena English Education Journal , 9(1), 13-28. https://doi.org/10.46244/geej.v9i1.1711