APPLYING REALIA TO IMPROVE STUDENTS' WRITING ON A DESCRIPTIVE TEXT
Rosdiana

STKIP Bina Bangsa Getsempena
Keywords:
Writing, Realia
Abstract
In learning process, a teacher is required to be able to select the appropriate method for teaching students to write text. One of the texts that should be learned by students is descriptive text. The purpose of this research is to improve students' writing descriptive text. It is an experimental study that employed One – Group Pretest-Posttest Design in which there was one class as an experimental class which was taught using Realia. The subject of this study conducted in class VII  at SMPN 18 Banda Aceh. There were 21 students taken as sample of this research. Technique of data collection in this research is using test. While to analyze the data, the writer used quantitative analysis by using some statistical formulas. After the writer applied the media, the writer looked at a positive improvement on the students' writing. It was turned out that this media really help students in writing descriptive text. The result of data analysis demonstrated that there was a significant difference on students' achievement from both tests proved by average of the pre-test and post-test's score. As a result, the post-test's mean score (84, 07) is higher than pre-test's mean score (60, 7), which the score of t-test was 18,45 and the value for t-table was 2,08 at a level of significance 0,05. It can be concluded that the students who were taught by using realia had a better performance in learning writing especially on descriptive text. In brief, realia enables to increase the students' achievement in learning writing and it gave a positive effect on writing teaching and learning process. It helps students' in writing a descriptive text by looking directly the object that they would describe.
References
Anderson, M. & Anderson, K. (1997). Text types in English 2. Macmillan: South Yarra. (cited of http://library.sacs.nsw.edu.au/Texttypes/ttexplanation.htm )

Andrianne, H., & Jordan, M. (2008). 50 Strategies for Teaching English Language Learners, 3rd ed. Upper Saddle River, NJ: Pearson Education, Inc

Arikunto, S. (1998). Procedur Penelitian, Satuan Pendekatan Praktek.
Jakarta: Rhineka cipta

Evawina S., & Ervina. (2010). The was of Improving Students' Achievement on Writing Descriptive Paragraph through the Application of Student Team Achievement Divwasion. Medan: State University of Medan

Harmer, J. (1983). The practice of English Language Teaching. London and New York: Longman.

Harmer, J. (2004). How to teach writing. Harlow: Pearson Education Limited.

Harmer, J. (2009). The practice of English Language Teaching. Britain: Pearson Longman.

Heaton, J. B. (1994). Writing English Language Tests. UK: Longman.

Herrel, A.L & Jordan, M. (2008). 50 Strategies for Teaching English Language Learners. Upper Saddle River, NJ: Pearson Education

Listyiani, H. N. (2006). Generic Structure; Analisys on Written Texts Found in the English Textbook for the Twelft Year of Senior High School. Semarang: Paper writing.

Master, P. (2004). English Grammar and Technical Writing. Washington, DC; Bereau of educational and cultural affairs United states Department.

Murphy. (2005). Correcting Students' Writing. The Internet TESL Journal, Vol. III, No.2, http://iteslj.org/.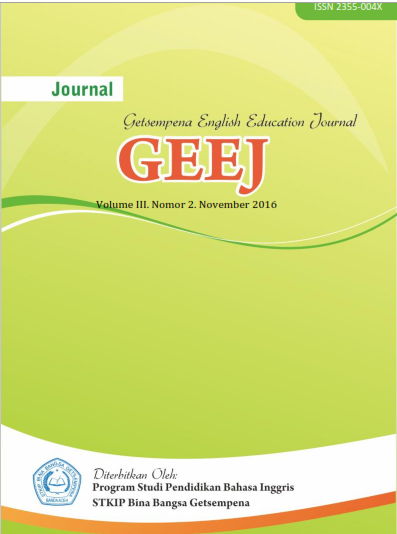 Article Metrics

Abstract views:
77

pdf
downloads:
92
How to Cite
Rosdiana. (2016). APPLYING REALIA TO IMPROVE STUDENTS' WRITING ON A DESCRIPTIVE TEXT . Getsempena English Education Journal , 3(2), 32-39. https://doi.org/10.46244/geej.v3i2.707